Staycation Time At Treasure Island And Mount Frontenac
By Rhett Arens
Sometimes I find myself humming that catchy jingle, "Treasure Island Resort and Casino…" It immediately puts me in the mood for Island Time! I'm sure the marketing wizards who came up with that snippet would pat themselves on the back, but the truth is 'The Island' as it's known is truly an oasis in a sea of uncertainty these days. Down the road and up the hill Mount Frontenac Golf Course offers that same escape only from a higher vantage point. All of this otherworldliness is a heady mix when you combine the two fun spots into a splendid day of stay and play shenanigans.
Whether you stay first and play golf second or do it in reverse, it doesn't really matter (unless you go to bed too late), but let's assume that didn't happen and you decide to hit Treasure Island at hotel check-in time and play golf the next day. Your day will be filled with options that both relax, refresh, invigorate and surprise you. Your evening will be filled with laughter, entertainment, fine dining and a determination to beat the odds at those card tables and slot machines.
When I say options there are an abundance of them, something for everyone. The headline news is THE ISLAND IS OPEN! They have moved into the second phase of their reopening process so visitors will be able to enjoy more options when they visit. They are back to Island Time baby! 24 hours a day, seven days a week. Here's a recap of the changes in place: a) the hotel is open, which gets you closer to the action and reservations can be made at the TIcasino.com as usual or by calling 1-888-867-STAY; b) there is limited slot machines and table games that are open, with proper social distancing measures in place; c) the Island Bingo is in session and has temporarily moved to the Island Event Center; d) Tradewinds is now serving a limited menu of individually packaged meals, like prime rib and spaghetti & meatballs, straight to your table; e) Mongo Bay and select bars and lounges are also open with additional, non-smoking seating available in Parlay Lounge. Treasure Island has implemented a robust set of parameters like most customer centric businesses. Be assured all of it is in place for your safety and convenience. I'm talking sneeze guards, sanitizers, employee temperature checks, ventilation optimization, masks and high-tech cleaning procedures. They've got you covered.
Treasure Island's hotel accommodations are set-up under three towers – The Buffalo, The Eagle and The Wolf. The Buffalo has both smoking and non-smoking rooms and is located close to the action. The rooms are finished in soothing earth tones. The Eagle is completely smoke-free with functional design layouts for a relaxing stay. This tower is near the Wave Spa and The Lagoon water park and offers comfortably furnished rooms in clean, natural earth tones which makes it a perfect fit for families. The Wolf tower is luxury orientated with spacious rooms that offer premium furnishings, modern décor and the best views of the great outdoors. Overall the hotel offers options for all types and preferences.
The Islands' dining options are many and varied which again serves a wide range of preferences at any time of day. They range from very casual to fine dining. The Mongo Bay Grill is a casual, grab-and-go style stop. There are juicy burgers, Impossible™ Burgers, chicken strips, cheese curds, onion rings and more as you dine in properly spaced tables in both Mongo Bay and the Parlay Lounge. The Island Perk is set-up to allow you to take a break and refuel your energy with a selection of premium coffees, specialty drinks, freshly baked pastries, gourmet salads, sandwiches and desserts. The Tradewinds is offering delivered meals where they will bring your meal to you when you dine. This classic upscale option offers your choice of spaghetti and meatballs, prime rib, fried walleye and more classics. All individually packaged and served tableside. Top it off with tasty dessert options like New York cheesecake and their famous chocolate cake. The Tado Steakhouse is currently closed and will remain closed until further notice. The Currents Restaurant is a sit down, full plate of comfort food style eatery. It serves breakfast any time of the day with classics like biscuits and gravy or buttermilk pancakes. They have signature burgers and sandwiches like the bacon cheddar burger or chicken cordon bleu sandwich and offer a variety of gluten-sensitive meals. Both the Prime Thyme Sub Shop and Xtreme Café will remain closed until further notice.
The Wave Spa is currently closed and will be assessing an opening date per instructions and guidance from the MDH in the future. There are nine different bars and lounges spread across the property offering perfect spots to relax and enjoy some Island Time with friends.
The entertainment business and more specifically the concert side is determining what will work and what won't. The Island has both an inside 3,000 seat indoor venue and a 16,000 seat amphitheater offering both reserved and general admission type seating. Some shows have been cancelled, others postponed and some are still on the calendar like John Fogerty, Foreigner, Chicago and local favorites Trampled by Turtles. Check with the box office for updates and date changes.
The 'play' side of your visit to the Red Wing area should include a round or two of golf at Mount Frontenac Golf Course. General Manager Dan Diggins and his stellar staff have this elevated, picture-perfect golf course humming with course conditions in top-notch form. The views from a number of greens and tee boxes are simply breathtaking. The course is perched on the Mississippi River Bluffs nine miles south of Red Wing with Lake Pepin spread out below your feet. Like Treasure Island, Dan has put all the required 'no-touch' safety measures in place for a safe round with friends and family.
This course is a visual stunner with 18 tree-lined fairways overlooking the river valley. All that scenery doesn't mean the golf isn't challenging because it is. Tight and tilted fairways need to be played carefully. A preference for target layups and careful wedge play will reward the mindful players. From the longest tees the course play at 6,226 yards at a par of 71. The course plays at 6,003 yards from the whites. Don't be fooled by the shorter yardage because roll-outs and smaller greens need to be respected. The course was designed by Gordon Emerson and opened in 1985 to much excitement.
It's no surprise that Mount Frontenac specializes in hosting events. It is a beautiful, tranquil setting for celebrations large or small. Whether you are hosting a birthday party, corporate outing, anniversary dinner, class reunion or planning a wedding ceremony, Dan and his staff are experienced hosts. They offer a broad array of menu choices, complete beverage services and custom room set-ups for groups up to 240 guests inside and the option of additional seating outdoors. With a gourmet chef on staff and a full bar, the cozy, comfortable clubhouse is a perfect setting for any occasion.
You won't find a more selfie/photo inducing course anywhere in Minnesota. The golf compliments your stay and play plans perfectly for some outdoor recreation after a day of indoor action. Just a short drive from the Twin Cities, but far enough to have that 'on vacation' vibe, the Treasure Island – Mount Frontenac one-two punch is just what the doctor ordered.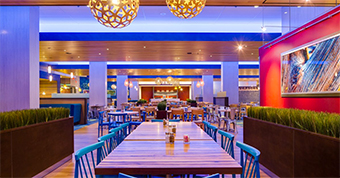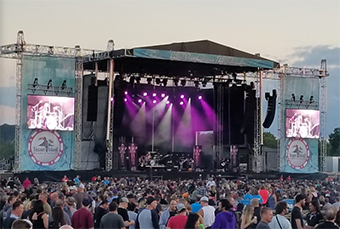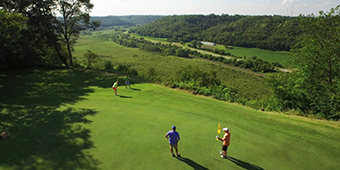 Mount Frontenac Golf Course