Giants Ridge – Living Up To The Legend
By E. Nolan
There's a Legend that dates back to 1984, about a piece of Mesabi Iron Range land in "Up North Minnesota" too perfect for skiing – "too perfect" in the sense it begged to be used for something else… something more. The dramatic Northwoods land (a "mostly interstate" three hours north of the Twin Cities) was mountainous (for Minnesota) and incredibly beautiful in winter – snow covered slopes ideally squeezed between lines of Superior National Forest trees – but it got even more beautiful in summer, with exposed boulders, thawed lakes and a crystal, clean air reminiscent of the Colorado Rockies at altitude.
"Imagine a golf course here," someone on the Iron Range Resources and Rehabilitation Board said (around 1993), perhaps half-kidding. "That'd be surreal," someone else on the board agreed, completely taking the notion seriously. "An American Top 100 Course… in the right hands." (Visualize nodding heads.) But, who could be convinced to come build up here, and trusted to get the most out of the land? (Good question, considering outsiders with little geographical sense tend to think of our "upper lake lands" as barren turf – like tundra.)
Well… a guy knew a guy who knew a guy who knew former PGA TOUR Pro Lanny Wadkins, and Lanny Wadkins knew they could pay a big name architect a massive royalty to do the site partial justice, or they could bring in someone Lanny knew wouldn't balk at building a golf course in Northern Minnesota, and would give it 100% beginning to end. "Lanny's guy" was Jeff Brauer, a creative mind with no "Top 100 Track Record" – certainly no credentials related to building golf courses on rock-covered landscapes. Somehow, Jeff wowed the curious crowd with his creative plan (one of his 26 proposed routings). He got the "green light" to build a golf course on some of the Midwest's most beautiful property, and masterfully pulled off a 6,930-yard, 18-hole championship course that did indeed make the "American Top 100 Public Courses" list – a course that features a 17th hole on Lake Sabin that Golf Getaways Magazine listed among the "101 Most Beautiful Holes in America."
Jeff didn't get to rest on his newfound laurels for long. Within a year he was coerced back to build a second course. He knew EXACTLY where he wanted to build "Course Two" and pitched the plan – 18 holes on the cliffs and banks of Wynne Lake. "Imagine holes four through ten at Pebble Beach for an entire 18 holes," he said. "I have little doubt the course would've been Top 10 in America." That would have been something! Alas, environmental concerns shuttered that idea before it began, and the land he got instead was rugged and useless to environmentalists. "They were happy to have me clean it up," Jeff said.
And clean it up Jeff did, polishing a rough and shaggy parcel of land into a "Top 20 in America Public" golf course (while simultaneously building another Top 100 Course just north of Giants Ridge at The Wilderness). "The Quarry, as it stands today," Jeff explains, "is a combination of the brilliant projects I scouted in developing it – Pine Valley, Pinehurst #2, Tobacco Road and World Woods."
As Brauer's most ardent ambassador, I've spent a great deal of time traveling with him, picking his brain and taking in his incredible stories. I asked about my favorite golf hole in Minnesota – the 3-par 17th on Legend – and how that hole came to be. "Half by luck, half by how-do-you-not?" Jeff replied. "Holes 13-17 weren't even part of the original design. But, when I DID eventually see that parcel, I saw it as my "Cypress" moment – my chance to replicate Cypress Point's famous 16th in Minnesota."
Having played both holes I would say, "They are nothing alike and yet equally memorable, in the most complimentary of ways." Then I asked him about my favorite hole on Quarry – the massive crater of a Par 5 that is #2. "Interestingly enough, Quarry's second hole is where we pulled a majority of our dirt for Legend," Jeff said. "The remnants – that giant hole – were just too good not to shape and include in Quarry." (Couldn't agree more!)
Quarry tends to be viewed as the tougher of the two, typically favored by the better players. Players like myself, who are more impressed with beauty, and less likely to post low numbers on scorecards, often gravitate towards Legend. Wherever you stand on "your favorite" or if you haven't played either/both of them yet, THIS is the year to PLAY BOTH! Their 37-Hole "Summer Special" (18 holes on each course plus lunch for only $145 Monday-Thursday and $160 Friday-Sunday) has to be "The Best Value in Minnesota Golf."
You'll find it's impossible not to be awed by just how respectively brilliant AND different the two courses are. Legend has an iconic pair of nine-hole starters (at 1 and 10) that I dub "shotgun holes" for how they barrel away from the clubhouse, and a giant footprint bunker on the 3rd hole that is both gimmicky and groovy. 17, as I've mentioned, is my favorite hole on the course, at the resort AND in the state, but Jeff says that's only because I haven't yet seen his "plans for 18." (In his "maybe someday" folder.)
On a separate but equally interesting note, the entire Quarry course began as three holes – the stretch from 6 to 8 – and then expanded outward from there. And… Quarry's most popular "signature" hole – the short 4-par 13th never even showed up on topographical maps (it was a blank spot of sorts, a glitch). As they cleared brush and dirt from that spot, Jeff couldn't believe his luck. Every day we dug the hole got better." (Imagine if they'd kept digging!)
Giants Ridge has come a LONG way since 1984 – now a full-scale, four-season resort with TWO "Top 100 Worthy" golf courses, a wide variety of lodging options, restaurants, shopping, lake activities and an expanding mountain bike trail system (soon to be among the top destinations in the mountain biking world) that converts to ski trails, 35 downhill runs and a fun snow tubing park in winter, all just one hour from Duluth (and about 3 hours from The Cities).
Giants Ridge IS OPEN and welcoming guests daily (with online and phone-in reservations). Statewide COVID-related restrictions fluctuate weekly so, instead of listing them all, I suggest you visit GiantsRidge.com for current COVID / Social Distancing guidelines, and to check out their amazing drone/video/photo galleries.
Both Bunkers Grill (at Legend) and the Wacootah Grille (at Quarry) are open with all state regulations in effect, so golf and overnight guests have ample tasty options to fill up on. Overnight guests are always given special treatment at Giants Ridge, with the ability to choose from luxurious lodge rooms (adjacent the Legend golf course), the Villas at Giants Ridge (just down the street – with an assortment of spacious, multi-bedroom options) on Wynne Lake, and the one-of-a-kind hand-crafted Green Gate Guest Houses (across from Quarry) – choose from a Barn House, Farmhouse, "Tiny" Log Cabin and the brand NEW Miner's House – all built by the meticulous genius, Shawn Callahan.
I have no less than two dozen friends heading north this summer from Iowa and Wisconsin to check out Giants Ridge – most for the first time ever. They've heard me rave about the people, the place, the lodging and (of course) the golf. I fully expect the collective summary to be, "Better than expected, so 100% as advertised."
It lives up to The Legend… I assure you.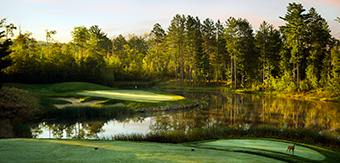 The Legend at Giant's Ridge #11 Photo Courtesy Peter Wong Photography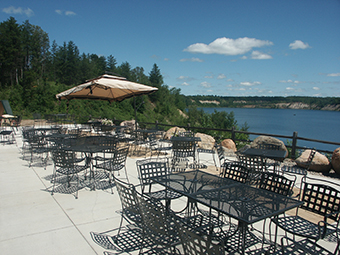 Wacootah Grille at The Quarry Clubhouse overlooking Lake Mine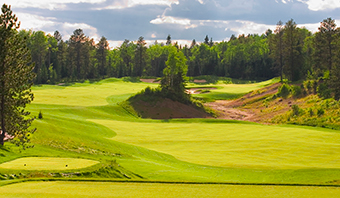 The Quarry at Giant's Ridge #2 Photo Courtesy Peter Wong Photography