Breezy Point Resort – Always On Point
By E. Nolan
Pulling through the main gate at Breezy Point Resort feels like entering a luxurious campground. There's a golf course to your right decked out with flowers, a spiderweb of narrow, cabin-lined streets, and a lake up ahead to your left. The lake becomes a beach and marina, the marina becomes a dockside restaurant and pier, and that floating entertainment center leads to more lodging, more lake, playgrounds, beaches, Gooseberry Island and acres of paradise, all under the cool shadow of the signature, blue, Breezy Point water tower.
There's an unmistakable "summer camp vibe," too. Friendly staff, smiling faces… laughter everywhere. You see swimmers and kayakers, boaters pulling out, volleyball players and kids running all over the place with cookies, candy and ice cream in their sticky hands. Step inside one of the main buildings and you find souvenir shopping, arcade games, swimming pools and more around-the-clock dining options. Continue down the halls to spacious, comfortable rooms, with furniture fit for resting and doors leading you back into the sun for further recreation. It's a neverending maze of amazing opportunities for kids and adults alike to make memories and perhaps start some annual family traditions.
Some resorts would bristle at the "family camp" association, preferring to emphasize more luxury than leisure in their promotion. Breezy Point management and ownership have always bucked that trend, embracing the casual elegance and welcoming the sentimental comparison. Don't take that for a second to mean Breezy is lacking in luxurious experiences. Quite the contrary. From fine dining to lakeside cabins, the Serenity Spa and (in my opinion) the legendary Arnold Palmer's "Best American Golf Course Design" at Deacon's Lodge, there is plenty of categorical opulence at this Central Minnesota oasis.
The four-season resort has been an iconic establishment in Minnesota for 99 years now (HUGE celebration planned for next summer!), and current General Manager Dave Gravdahl will tell you like he feels he's been there for all of them. The most humble, kind and genuine of gentlemen, Mr. Gravdahl has gained "legend" status with my kids over the past decade. And the owners' generous, personable, hands-on approach (Bob and Dave Spizzo) is no different – no matter who you are or where you're from – they treat you like family and genuinely want you to have your best possible experience every single (and pursuant) time. That "I'm here for you, whatever you need" warmth starts with those three, but it sure doesn't end there. It distinctly permeates throughout the resort from the front desks of the hotels to the golf pro shops, restaurant staff and friendly maintenance people who will drop what they're doing to help you. I hesitate to call it "Minnesota Nice" because it's nicer than that. I'll go with "Minnesota Nicest."
Breaking the Breezy Point experience into specific categories allows me to accentuate the highlights of each better, and for you (the reader) to understand why I feel the resort deserves your visit for their Dining, Lodging, Amenities AND Golf. You'd expect – for all you get in a Breezy vacation – the price tag to be quite high. That's the best part… every guest – to a person – that I've asked over the years have said that, "Regardless of what they paid for their experience, it's always been worth a whole lot more." Don't you wish all your vacations were like that?
DINING: There are four restaurants at Breezy Point. The Dockside Lounge is arguably the most "popular" given its perch literally ON Pelican Lake. The casual atmosphere serves a variety of grilled and kid-friendly food (great take-out menu) then doubles as a concert venue and draws in the crowds (most summers) for an assortment of acclaimed events. While this summer figures to be "less crowded" at Dockside (see COVID note below), you can expect that they'll put on as much of a show (and as many) as they can for their guests, and that OUTDOOR venue does allow for boat, beach and dockside spacing for plenty of people. Marina II is more upscale waterfront dining – upstairs from Dockside – with a stellar panoramic view to complement the steaks, chops and seafood. Even more elegant, but further from the water, Antlers Restaurant in the Whitebirch Clubhouse (½ mile from the resort gate) offers golf views to go with their premium meats and seafood menu. And, from one golf clubhouse to another, Deacon's Lodge is home to Palmer's Grille and a menu I could eat from every day where I'd play every day and sleep every night (if they'd let me).
LODGING: There are more lodging options at Breezy Point than I can count (and I can count pretty high). There are Lodge Apartments, Inn Rooms and Inn Suites, Unique Luxury Retreats (ranging from 3 to 11 bedrooms) and literal neighborhoods of one and two bedroom villas, condos, houses and "apartments" both on the lake and on the golf course at Whitebirch (plus three awesome cabins at Deacon's Lodge). Look up "Lodging" on their website and click the links to preview all the options. It's my personal goal to stay in their signature "Boat House" just once – to find ONE summer where it's not already booked for two consecutive nights!
AMENITIES: There's not the space to cover them all, but I've mentioned many already and could add a full catalog of activities to those. Beach and water sports, bike trails, boating, cruises, island hopping, fishing, tennis, hiking and golf. There's all of that for the active, and for those who prefer to be more "passive" there are (typically) a variety of concerts and events at Dockside.
COVID-19 NOTE: Coronavirus has imposed itself upon us plenty this year, so I don't want to give it much more time. Suffice it to say Breezy Point is taking every detailed measure in both sanitation and socialization practices this summer. While LIVE entertainment has been shuttered for June and food service is restricted to takeout and limited spaced seating, expect those restrictions to lift as soon as allowed, and expect Breezy Point to ALWAYS take your safety seriously.
GOLF: Breezy Point has three golf courses. The Traditional is a bit tight, considered a "shot maker's" course, a great and historic "walk in the park." It's a beautiful stroll through the trees with a few clubs in hand. Driver on most of The Traditional is like bringing a grenade to a pillow fight.
Whitebirch is more open – the first championship course in the Brainerd Lakes. At just over 6,700 yards it is a beautiful mix of water, trees and wetlands. The head pro, Mark Johnson, loves the place so much he built his home there.
Speaking of love… the third course at Breezy Point is Deacon's Lodge. It's hard for me to be anything less than effusive in my praise for Arnold Palmer's tribute to his father, and for the wonderful people that maintain and manage it today. Hole after beautiful hole, I can imagine myself walking the fairways alongside The King, and there are few hours more special to me in life than the evenings I've shared at Deacon's with my son.
I used to shed tears when I'd leave summer camp as a kid. It was gut wrenching… I was heartbroken. My kids feel that way about leaving Breezy now and I get it, but I also know this… that's the ultimate compliment – loving a place so much it hurts to leave… and missing it so much you can't wait to get back.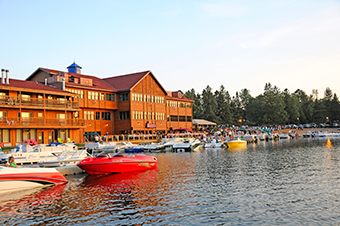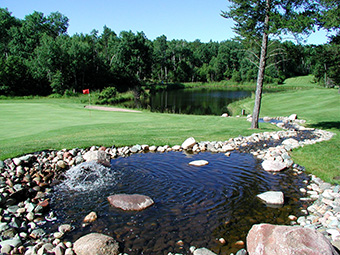 Whitebirch Golf Course #17