Medora And Bully Pulpit Golf Course – Bucket List Bests
By E. Nolan
There are certain things in life every American should do at least once: Eat lobster in Maine and BBQ on Sea Island. Visit the Grand Canyon and Statue of Liberty. Drive up Old Fall River Road in Rocky Mountain National Park and around Crater Lake. See the lighting of Mount Rushmore and Niagara Falls. Attend a Blue Man Group concert and the Medora Musical.
The list goes on, of course – my collection of travel highlights is lengthy – but every one of those things is both impactful and permanently memorable. Some are easier to do than others – many of you have likely visited Mount Rushmore – but I'm guessing that way too few of you have seen the Medora Musical… or perhaps even been to Medora, for that matter. Could this be your year? Sure should be!
Medora is a super smooth 8-hour (550 mile) drive west on I94 from the Twin Cities (two hours past Bismarck). In a sense, the closer you get to Medora, the further it seems you travel back in time. I say that to mean, if you've ever wondered what it was like to live in the Old West, Medora gives you a few nostalgic hints of generations past. Yes, it is a tourist attraction today, but this is a place that clings to its history and roots, and LOVES to show that pride of the "good ole days" off. A few shops have wooden boardwalks, but it's not hard to envision the entire town lined with them. Several of the storefronts even look like they could have been used as sets in Clint Eastwood films. In fact, hearing the train whistle, I can close my eyes and be in the old Lone Ranger movie (the black and white one). You're in the North Dakota Badlands, mere miles from free-roaming bison in Theodore Roosevelt National Park. Cowboys and cowgirls ride around on horseback, there are ranches everywhere, and men (my wife found) will still tip their cap and hold doors open for you. Chivalry lives in North Dakota.
There's no internet in Medora. So I tell my kids. (There is, of course, but shh!) It was an easier sell a decade ago – when my oldest was 7 and still got his monthly allowance from the Tooth Fairy. More importantly, it worked then to get them out and exploring. They had snorting contests with the buffalo on a Jeep Tour through Theodore Roosevelt National Park and walked the old streets of Medora, buying something from every ice cream and souvenir shop. We had dinner in Theodore's Dining Room inside the historic Rough Riders Hotel, ate steaks off of pitchforks in the Badlands, and golfed a Top 100 U.S. course carved into those Badlands, just like Lewis and Clark used to do. (Maybe.) Every year my kids ask me when we're going back, and every year I tell them "maybe next summer." Now, even my youngest remembers I said that last year, so now – no more stalling – time to go!
These are different times – strange times – but Medora is rolling with the punches. "Do what you can, with what you have, where you are," Theodore Roosevelt once said. You don't have to tell local businesses or the Tourism Board twice. Using "ND Smart Restart" practices, they are opening everything up in Medora (by June 19th) with only a few space-and-safety-concerned restrictions (Visit Medora.com for complete COVID-19 restrictions).
Medora has changed a lot in the past ten years, but only in the sense that there are even MORE attractions now than ever.
The Medora Musical is an "Ode to Patriotism, Theodore Roosevelt, and the Great American West" in the stunning, outdoor Burning Hills Amphitheatre. It opens on June 19th with nightly shows and an extra show on Saturdays and Sundays to both meet demand AND compensate for seating restrictions. Each show is preceded by the mega-award-winning Pitchfork Steak Fondue "Dinner With a View" – covered extensively by virtually every American Travel magazine. (Other theatrical performances in town: The Teddy Roosevelt Show, Comedian Bill Sorensen and his Live, Laugh, Love Tour, and Theodore & Edith – a Conversation with the Roosevelts.)
Medora is home to Bully Pulpit – a Top 100 U.S. Golf Course (more below) – and is introducing a NEW Little Bully Pulpit Mini Golf course in July. Also debuting this year is Manitou – the Point-to-Point Zip Line – allowing you to see Medora and the Badlands from the air. Magicians young and old will love the optical illusion park Perception, which takes you through the Slant House. There's a park and the Medora Children's Park. The town is renowned for drawing in the big shows (and audiences). Jeremy Camp was scheduled to appear in 2020 (now committed to 2021), the Classic Car Show will also return in 2021, C. Willi Myles IS bringing his comedy show to town (this year) on July 13th and the popular Memories of Elvis will shake up The Amphitheatre on August 24th. Medora wraps its summer of entertainment on September 12th and 13th with their Hot Air Balloon Rally & Badlands Kite Fest (truly an incredible spectacle).
Outside town, you can explore Theodore Roosevelt National Park, the famous, 150-mile Maah Daah Hey Trail, the Riding Stables & Trail Rides and (again) that incredible "Best in America" Golf Course – Bully Pulpit.
Bully Pulpit is an otherworldly 18-hole championship course, designed by Dr. Michael Hurdzan, that opened in 2004. A Par-72 course playing to 7,166 yards at the back tees, it has all sorts of tricks (false fronts) and treats (killer views) in store for you. The first thirteen holes lead you through meadow and patches of forest along the Little Missouri River. There is so much variety through just those first thirteen holes that you really don't NEED anything crazy to make your round memorable. But "crazy" you'll get anyway. Hole 14 launches you up a canyon towards a plateau green, then further up from that green to a tee box sitting on one butte aiming at a green on another butte. From that topographical and emotional high, you send a bombed drive down another canyon lined by Badland walls – back-to-back tee shots you'll never forget. The last two holes are fun, but you'll still be marveling at the Badland Trio and wishing you could play them again. ($40 Off for the Replay Rate, and Juniors play FREE after 3PM 6 days a week!) FACT: However you do it, you're short-changing yourself by only playing Bully once!
I mentioned Theodore's Dining Room at the Rough Rider Hotel earlier. That's certainly a popular option in town. We've also covered the Pitchfork Fondue. Beyond those two highlights, The Gospel Brunch is amazing, you can find fine wine at Medora UNCORKD and consider venturing out of town a bit for the fabulous Trappers Kettle. (Other Dining Options: Badlands Pizza and Saloon, Maltese Burger, Hatlee and Brae, The Farmhouse Café, Boot's Bar & Grill, Buffalo Gap Guest Ranch Steakhouse & Saloon, the Cowboy Café, Little Missouri Saloon & Dining, plus tons of snack and coffee shops!)
We always stay at the Rough Riders Hotel, but I've heard great things about the Spirit of the Badlands Lodge as well. (Additional Considerations: the Badlands Motel, Elkhorn Quarters, Hyde House, Wooly Boys Inn and AmericInn Lodge & Suites.)
Medora isn't going anywhere. It will be there, in western North Dakota, next year if you can't swing over this summer, and I'll be here telling you not to wait another year. There's no time like the present, and no present like a vacation. Especially THIS year.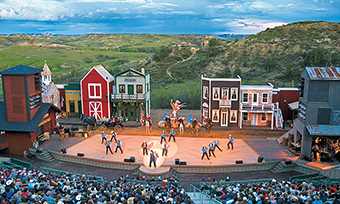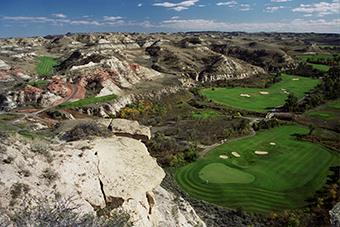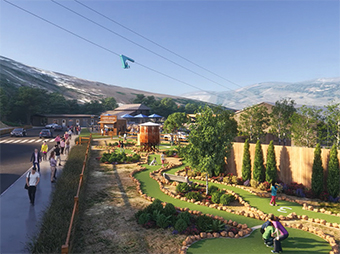 Manitou Point to Point Zipline