Jack Nicklaus-The Golden Bear Roars
By Rhett Arens
As they say… 'the data doesn't lie.' On the other hand, we all know it doesn't tell the whole story. In fact, as strange as it sounds the PGA TOUR did not officially collect and analyze individual player statistics until 1980. I'm referring to stats like GIR, drive distance, strokes gained, total putts and all the indexes that can be derived from stuff like that. If that data had existed it would have told the backstory behind a big, burly, All-American from Columbus Ohio named Jack Nicklaus. His domination was primarily focused around the Major Tournaments where his laser focus and unwavering competitive spirit resulted in exactly what he was striving for – lots of Major wins. Everyone around the game knows he closed the deal on 18 majors and that has led to much speculation about whether that record will hold into the future. Only one player has the potential to break through that benchmark in the foreseeable future; and the clock is ticking on that…. right Mr. Woods?
As a star athlete Jack attended Upper Arlington High School in Ohio where he wore the Arlington Golden Bear Team colors during his multi-sport career in basketball, track and field, football, tennis and golf. An era with a much different mindset than the sports specialization that we have today. Given his solid stature, blond hair, good looks and that 'Bearish' high school mascot, his nickname was coined by an Australian journalist at the 1967 U.S. Open and followed him from that day forward. That suited Jack just fine and soon he was off and roaring as the Golden Bear.
Jack evolved his unique swing and fine-tuned his mental approach while attending Ohio State where he won an NCAA Championship and two U.S. Amateur titles. His one-of-kind swing would have heads shaking and shoulders shrugging as he emerged into the pro ranks. He stubbornly adhered to a short-list of swing principles throughout his career namely consistent tempo, target commitment, let the arms work and don't reinvent yourself when things get off-kilter. It wasn't always pretty but clearly it got the job done. Overlay that swing with a Jedi mental focus and the rest as they say, is history.
While it's true he dominated the 1970's with 8 Major titles he was no slouch in the 60's either, having won 7 Majors and eventually another 3 in the 1980's. His last Major win came on the glorious fairways at Augusta in 1986 – at age 46! Throughout his career many battles were fought with both golfs' elite players like Palmer, Weiskopf, Crenshaw, Kite and Norman as well as the unknowns. It didn't matter to the Golden Bear, when he was locked in there was a palpable intensity that radiated from the TV broadcasts straight into living rooms across the U.S. You could feel it. Even today when watching highlight films from those years you can see it in his step, his posture, his overall demeanor. This type of mental approach is appreciated and immolated to no end by today's modern players. Overall he competed in 164 major tournaments, more than any other player in golf history and finished with 73 TOUR victories, third behind Sam Snead (82) and Tiger Woods (82).
The Golden Bear became the first player to win each major championship three times. This record was eventually tied by Tiger Woods when he won the 2008 U.S. Open. Nicklaus and Woods also share the distinction of being the only two players to win three Career Grand Slams. Nicklaus always considered his career pinnacle to be the win at the 1978 British Open at St. Andrews. He would later say, "It was the best golf I ever played and I played it on my favorite course." Perhaps his love of the Old Course at St. Andrews became the inspiration for the broad creativity he brought to his own course designs and the eventual rise of his golf architectural brand.
In 1990 at age 50, he officially qualified for participation in the Senior Tour where he announced his arrival with a win in his first event. He went on to dominate that field with Senior wins and top-ten finishes across the board and added another 8 Senior Major titles (no surprise) within 6 years before he retired in 1996. Amazingly he finished with 100 professional wins knocking Hale Irwin out of contention with a 65 on the final round. He would go on to compete in several other Majors but given his age and emergence of the next generation of super stars (namely Tiger), his competitive playing years were winding down. Taking a deep bow in a well-deserved encore, Jack's last professional match was fittingly at his favorite course in 2005, St. Andrews. Where at age 65 a moment of reflective look-back brought tears to his eyes as he made his way down the last fairway. He knew it was time to bid farewell to the past and open the door to his legacy-filled future.
Jacks' focused play on the course would echo in his enthusiasm and commitment to course architecture and design. If you have had the good fortune to play a Nicklaus design you will understand that not everything is as it seems. Fairways bleed into trouble spots, at times bunkers may strike more fear than needed, green complexes differ greatly from hole to hole. In a nutshell, he transforms the land to stimulate the mind. His company Nicklaus Design has operated on a global basis for nearly five decades with over 425 courses in operation and a full hopper of projects under development. Probably no surprise that the business is a family affair with his sons and son-in-laws working under the corporate umbrella. His courses have spanned the globe, showing his unique vision and a wide variety of signature design elements in over 45 countries and nearly every state in the union. That is reach and that is influence but it doesn't stop at golf course design. There is also his ubiquitous apparel line, accessories, headwear, home furnishing, beverages and even restaurants. All the result of a life well-lived and a desire to connect his brand of All-American with the masses.
Jacks' encore years are being spent side-by-side with his wife of 60 years Barbara. They work together guiding the Nicklaus Children's Health Care Foundation in North Palm Beach, Florida. The focus is on providing access, programs and services free of charge to more than 4,000 hospitalized children and their families through three philanthropic organizations – the Child Life programs, the Pediatric Oncology Support Team, and the Safe Kids program.
As expected with a career of Jack's magnitude the awards and honors keep rolling in like a two-foot putt. At age 80 he can still swing a club better than most of us. It's staggering to think when you consider he won Rookie of the Year in 1962 and then went on to win Player of the Year five times. It's only natural he was inducted into the World Golf Hall of Fame with the inaugural class in 1974 along with a handful of other giants of the game. There are numerous other awards, honors, and recognition from all corners of the sports world. The capstone came in 2014 when the all-American boy from the center of the country, nicknamed the Golden Bear, was awarded the Congressional Gold Medal in 2014 for promoting excellence and sportsmanship. While dominating the leaderboard for nearly two decades and then leveraging that success into an impeccable post-playing career, perhaps his most important contribution to the game was in setting the 'Gold' Standard on what it means to be a leader and a good person at the same time.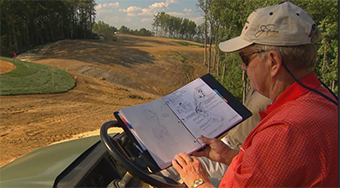 Jack Nicklaus Golf Club in Korea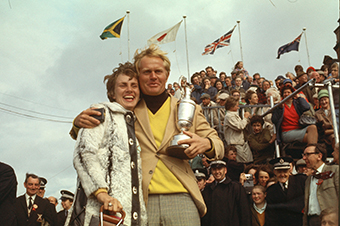 Jack Nicklaus wins first Major at St. Andrews in 1970