Power Players – A "Golf Profile" Series
Sand Valley Developer: Michael Keiser, Jr.
By E. Nolan
PEOPLE move the needle in golf – from merchandisers and marketers to players, architects and course builders. But golfers wouldn't have places to play, and architects wouldn't have courses to build if it weren't for visionary developers and financiers- industry catalysts like the Keiser family.
Bandon Dunes. Barnbougle. Cabot. Sand Valley. Coul Links.
Perhaps you've heard these names before. Maybe you've played one or some of them. (Coul Links isn't open yet.) Whatever your knowledge is of these properties, you might not realize the Keiser family is behind ALL of them. Bandon Dunes defined "Destination Golf" and remains THE Mecca of American golf travelers. Their other properties – in Australia, Nova Scotia, Wisconsin and Scotland, respectively – have furthered patriarch Mike Keiser's mantra of "golf as it was meant to be" while also allowing his sons, Michael and Chris, to make their own names in the game.
Michael Keiser, Jr. is largely responsible for the development of Wisconsin's Sand Valley (180 miles from the Twin Cities). The original course – Sand Valley – was built by the brilliant duo of Bill Coore and Ben Crenshaw, and won Golf Magazine's "Best New Course" in 2017. The second championship course – Mammoth Dunes – was built by Scottish superstar David McLay Kidd and won Golf Magazine's "Best New Course" in 2018. (Back-to-back "Course of the Year" honors.) Sand Valley Resort added a 17-hole Par 3 course, The Sandbox – another Coore & Crenshaw design – and have a Par 67 course in development with Tom Doak. If you have any idea how much work goes into building ONE course from scratch, imagine what it takes to build FOUR… all the lodging, routings, time and maintenance… especially in the Midwest where weather is infrequently a friend. The Keisers are blessed to have an excellent property manager in Glen Murray, and the phenomenal marketing brand (and brand-width) of KemperSports behind them, but blessings only get you so far. The original vision dare not be overlooked, and the work put in ever since merits even more respect.
"I'd like to think we're still in the early stages of Sand Valley's development," Michael says. (Seriously???) "I'm struck by how much more there is to do. Obviously, I'm thrilled with everything our team has created, but I suspect our guests would like us to keep going." (Umm… YES please!!!)
So, when do you determine a property is "at capacity?" When will you finally say "enough?" Michael's answer here is succinct (and perfect)… "We'll stop building when people stop coming!"
In other words, they'll never stop building. A couple years ago, before Mammoth Dunes and The Sandbox opened, I walked each routing with Michael Keiser, Jr., absorbing his vision and excitement. His love for golf and for the growth of golf was so apparent, and his personal connection to the entire Sand Valley property (where he's essentially lived since Day 1) couldn't have been more transparent. This was "his baby" and he couldn't have been more proud of its progress or excited about it's potential.
The first project Michael Keiser, Jr. worked on with his legendary father was the private Dunes Club in Michigan. Michael was 7 or 8 at the time, and his job was to clear center lines for hole routings, cutting down small pine trees while his dad cleared the big ones. 30 years later, he and his dad (and his brother Chris has since joined the team) are still thinning out the thick groves at the Dunes Club. The better story comes even before that, when Michael and his dad (and siblings) would play what they called "Wilderness Golf" on the sand dunes of the eventual Dunes Club property. The rules were simple. Pick a tree and hit the base of it in the fewest number of strokes. The trees eventually were replaced by actual holes when The Dunes Club opened, but Michael never let go of the primitive roots and deep love of the game he discovered there.
He didn't play much "actual golf" until he visited Royal Dornoch (in Scotland) at age 12 or 13. "I was never pushed to play," Michael says (giving his dad a TON of credit for his love of golf), "but I caught the bug in Scotland and never got over it." As a teenager Michael and his dad visited many of the world's best golf courses throughout the United States, the United Kingdom and Australia. When asked about his favorite courses in the world, Michael took the question another direction. "As great as it is to play the best, I'd really like to see more courses like Wild Horse (Nebraska) and Lawsonia Links (Wisconsin) get attention. Neither is perfect, but they are accessible and affordable gems – courses with great sites and genius architects that yield quality golf experiences for everyone."
Michael moved to Australia straight out of college and worked in Golf Operations at Barnbougle Dunes. It was there he realized he'd rather focus on the development of golf properties than the management of them. I was particularly interested in Michael's development at Sand Valley. I'm constantly blown away by the scope of the property and can't imagine how surreal and overwhelming it had to have been to stand there on day one and envision what the resort could become. Michael just laughs. "I've always been inspired by the words of Bruce Lee," he says. "It's not the daily increase but the daily decrease. Hack away at the unessential." (Simplify Life.)
In other words, Michael has become adept at tackling tasks one at a time… at peeling back "layers of the onion" one at a time. "I knew how great Sand Valley could become right away. The possibilities that exist on a site like that are literally endless. Five minutes on the property and your mind is flooded with ideas. The challenge of a developer is to diligently hack away at the unessential, to cut the infinite possibilities down to a single vision that reflects the truest representation of our virtues and values."
What has Michael learned from some of the architects he'd partnered with? "I've learned a great deal from Ben Crenshaw about golf architecture, but I've also learned a great deal from him about leadership. Ben is a total gentleman. He's blessed with natural charisma that draws people into his orbit. He is generous with his grace, and as a result people are happier when he is around, and they perform their best." (Michael won't say it of himself, but I've seen it in person… that's how Michael leads his team – he's very inspirational, selfless and generous with his praise.)
How do they pick architects for their courses? "It's hard to ignore experience," Michael says. "Mastery of any skill comes through practice. Masters like Tom Doak have an enormous advantage (in our projects) because they (and their shapers) have had more practice on great sand sites. But Mike Devries is on our list and we also have an eye on extremely talented architects like Rob Collins and Craig Haltom."
Of all the courses he and his family have developed does he have a favorite to PLAY? He can't pick a favorite but… "If you want to get to know someone well, play 36 holes with them at Old Mac and Bandon Trails (at Bandon Dunes Resort). Tom Doak's Old Mac allows for maximum creativity and imagination. And Bill Coore and Ben Crenshaw's Bandon Trails is a sage teacher. It exposes one's character and nudges us towards a better way. I learn something about myself every time I play it."
Bill Coore and Ben Crenshaw are currently building the newest course at Bandon Dunes Resort – Sheep Ranch. Michael beams when asked about that oceanfront course. "It may become the best of the bunch… seriously." Any other projects in the pipeline? The question draws a sly smile and guarded reply. "We have several sites that could conceivably go live in the next year. Stay tuned…"
What is he most excited about in future Keiser developments?
"Introducing ancient traditions of golf to the U.S. golfer. If you want to know where our product is heading, look at the courses in the UK. Our greatest inspiration still comes from the game's past. Our simplified recipe is to marry those traditions with world class hospitality."
Michael has led a great and richly blessed life, and he knows that. "My dad has given me just about every opportunity that exists in the game. I can't thank him enough. But Dad has also always kept me focused on this truth – To Whom Much is Given, Even More is Expected." Those are big shoes to fill, but if anyone is up to the task, it's Michael Keiser, Jr.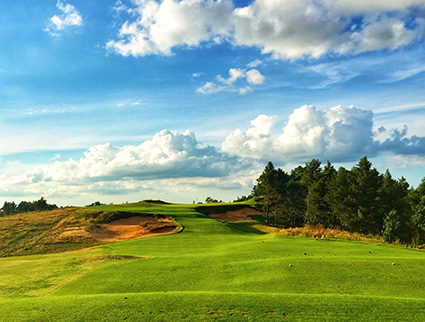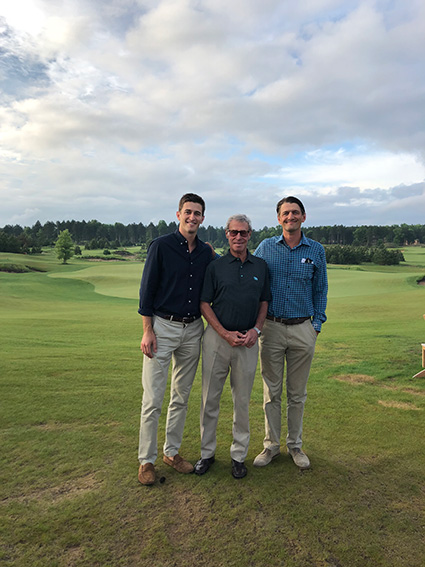 Mike Keiser with his sons Michael and Chris