Stairway To Deer Run Golf Club
By Rhett Arens
At Deer Run Golf Club, there is a clear sense that someone has their eye on the big picture and someone has an eye on the small details. You notice it as you pull into the well-organized layout, make your way up to the clean clubhouse and check in for what is about to become a truly first-class golf outing. There is a good chance you will be greeted with a smile by that 'someone', Tom Abts. Tom is the long-standing Head Golf Professional/General Manager at Deer Run and an all-around ambassador for the game. He is a voice for those of us that care about golf's legacy and its healthy future. Tom's knowledge and appreciation for the game is quite apparent the moment you pass through the doors of the beautifully appointed former farm estate in Victoria, from the vintage golf equipment adorning the walls to the collection of fine Scottish Whiskey over the fireplace mantel. Take a seat at the comfortable tables overlooking the 18th green, order a cold refreshment and soak it in.
At Deer Run, the well-attended details and quality-first mentality will seep into your customer experience quickly. Starting with the clubhouse check-in and continuing out to the player services where they will load your clubs into a brand new cart with all the bells and whistles, pointing you towards the practice range. The range has a great layout with a generous line of hitting platforms that feature automated pop-up ball dispensers and tees. The multi-yardage targets are flagged and ready for anything you can hit at them. The practice green is smartly situated to allow you to dial in the green speed and roomy enough to give you plenty of time to do so. These types of amenities are often taken for granted, but not in Tom's world. There is tremendous value in taking full advantage of these high-end extras so I would suggest arriving early. The evidence is a nearly full tee sheet on a daily basis with both men and ladies out on the course. During a recent visit on one of those marginal weather days we seem to be having with more regularity, the parking lot was full, the practice green was humming, the range was swinging hard and everyone seemed to have that extra hop in their step.
Deer Run is championing a very important program for the Ladies, and the Ladies are responding in droves. Lori Money is Assistant Golf Professional and Manager at Deer Run, but her title might as well include Rock Star because she brings her 'A' game to the office every day. She is the magic behind the newly created Ladies Day, which will run through the entire 2019 season. There are 300+ ladies competing in the Tuesday Ladies Day leagues and I would venture to guess no other courses in the state can claim that type of participation from the forward tees.
Lori has been a PGA member for over 20 years… at Torrey Pines (California), Angel Park (Las Vegas), Rush Creek (Maple Grove) and now Deer Run. She moved to Minnesota to build Rush Creek – and in the first few years hosted the LPGA. On June 4th, Deer Run celebrated Women's Golf Day with the theme 'Flower Power.' Lori's message to the league coincides with National Women's Golf Day on June 4th, which engages and empowers women all day. It was time to break out those go-go boots, mini-skirts, or anything hippie… as Deer Run went back in time to the 1960's, which were known as the "Decade of Change for Women." Lori and her team are letting everyone know they've come a long way baby! The founders of the LPGA could never fathom this would happen, but it is… at Deer Run. In addition to the golf and prizes, they will be serving a complimentary buffet and a selection of beverage samples throughout the day.
Hosting events is right in the Deer Run wheelhouse. Tom, Lori and their staff have created one of the premier event destinations in the greater Twin Cities area. One look at the six month planning calendar and it's clear that they will be hopping with everything from corporate outings to intimate weddings. The same detail-orientated approach that Tom insists on for the golf operation also gets applied to the event hosting side of the business. The picturesque clubhouse and outdoor space is perfect for getting everyone in a celebratory mood. This fraternal vibe was felt during a round I played with long-time Deer Run player and former President of Northland Country Club (Duluth), Jerry Brown. Jerry commented several times about the hands-on approach Tom takes with his customers and the positive atmosphere that permeates Deer Run. Maybe that's why every one of Jerry's drives were straight down the middle.
Looking back at the 2018 Tee Times Readers' Choice Awards will support Jerry's claims where Deer Run finished in the top 5 in eight of the categories with #1's for Best Golf Experience, Favorite Clubhouse, Best Hospitality, and Favorite for Tournaments. That's some heady company alongside top contenders like Madden's, Troy Burne, Deacons Lodge and the Legends Club, all courses that consistently rank in the top tier. Tom is a maestro and he has Deer Run rocking. Come climb the stairway to heaven at Deer Run and stay for the encore.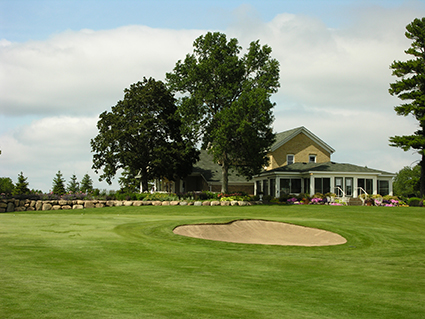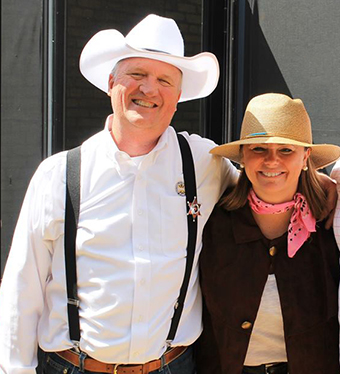 Tom Abts and Lori Money during a Fun Play Friday at Deer Run