A Welcome Feeling At Dahlgreen Golf Club
By Tim Cotroneo
It's a rare instance when you're instantly welcomed by a stranger. The accompanying feel good exchange lasts well beyond the meeting. That's exactly what occurs when golfers make the trek to play 18 holes at the inviting Dahlgreen Golf Club in Chaska.
On a drizzly Friday in May, a Dahlgreen first time visitor was received by Director of Golf Peer Finstad like a long, lost friend. Five minutes later, staffer Matt Foss checked in to make sure all was well. Finstad and Foss were then joined by Superintendent Keith Flatebo to make sure the newcomer's questions were answered and that he felt at home.
This all occurred before the Dahlgreen newbie even stepped up to the course's well-manicured 336-yard first hole. Before you inquire if there's friendly juice in the Chaska water table, realize a precursor to Dahlgreen's kinder, gentler approach can be felt during the drive west on Highway 212 just 15 minutes from Eden Prairie. 
City To Country Vibe
You'll notice a subtle city to country transition as you motor past the rolling farmland, barns, silos, and windmills. If you're a city slicker, this wide-open spaces metamorphosis has an unconscious healing effect. Your shoulders relax, your breathing evens out, and you can't help but appreciate the undulating terrain.
Chaska, a bustling, growing suburb, is home to dozens of businesses and manufacturers, as well as the prestigious 2016 Ryder Cup. That's why an Animal Kingdom visual occurring before the turn at 6940 Dahlgren Road may catch you off guard.
The ambassadors across the road to your left come in the form of several dozen Holstein cows found grazing near Dahlgreen's 506-yard 7th hole. After witnessing the boisterous antics at this year's Bethpage Black PGA Tourney, a cow's occasional "moo" is a refreshing step back in time. Who would have thought the country could be so close to the city?
Try And Top These Greens
One reason why Dahlgreen is a 50-year-old golf success story is their storied greens. Dahlgreen can humbly boast that their greens compare with any private course in the Midwest.
Finstad pulled his new friend aside and whispered that Dahlgreen's Best in Show greens are due to their six-foot-two-inch most valuable asset. Keith Flatebo, Dahlgreen's Superintendent, started working at the golf course in 1993 and has never looked back.
In January, when the golf course is experiencing freezing temperatures and knee-deep snow, Flatebo chips the ice off each green by hand. The resulting summer surfaces are greens that putt super smooth, or what Foss refers to as, "firm and fair."
Worth The Drive
Holsteins aside, Dahlgreen grabs your attention even before entering the clubhouse to pay your green fee. Look to your left beyond the practice green and witness a tee box with views to spare.
The Par 4, 373-yard, 10th hole features a driving perch that may be intimidating for golfers who are afraid of heights. From the tee box you'll head down a massive slope before evening out to the fairway. Then it's time for an approach shot to another smooth as silk green.
Finstad describes the view from 10 as "you can see all the way to the city of Cologne." What's interesting is this scenic platform isn't the golf course's tallest point.
Look Back And Look Forward
Before you thrill to the 10th view, you must play the Par 4, 367-yard, 9th hole. From this tee box you'll stand on Chaska turf with a geographical claim to fame. That's because this 9th hole looker is also Carver County's highest elevation.
If you turn around and strain your neck a bit, you'll see fencing to another dairy farm to the east. More than once Flatebo has been called on to rustle a cow that decided to hop the fence because he heard the Dahlgreen grass is always greener.
With a little prodding, Flatebo will share that there were a couple of other wildlife encounters during Dahlgreen's early days. "There's a fact or fiction story about a handful of Cantebury jockeys who raced our golf carts before taking a dip into the pond on the back nine," Flatebo said with a smile.
The Honor System
Like all golf courses with character, the stories start at the very beginning for Dahlgreen. When the course first opened in 1969, golfers were trusted to deposit their green fees in a cigar box nailed to a Basswood tree.
As a legacy to this humble beginning, there's another well-worn cigar box inside the clubhouse pro shop. In a testament to the honor system that serves as a Dahlgreen cornerstone, golfers plunk a dollar down in this cigar box for a cup of piping hot coffee.
If you desire something a little more substantial after your round, Dahlgreen's Sticks Tavern has got you covered. Try the Bloody Mary dry rub chicken wings and a cold glass of locally brewed Waconia craft beer.
You've Got A Friend At Dahlgreen
Before heading home, you notice for a second time how the lush the Dahlgreen terrain is. This 6,700-yard home to this year's Minnesota State Open Qualifier and MGA Women's Match Play Championship makes an unmistakable connection with golfers.
Could this bond be attributed to your surprise exchange with the four-legged ambassadors across from the Dahlgreen entrance? No, that's when you realize there's something gratifying about being welcomed like a long, lost friend.
At Dahlgreen's Golf Course in Chaska, you're a stranger only once. Next time around, Peer Finstad and the team will have the coffee waiting for you next to the cigar box.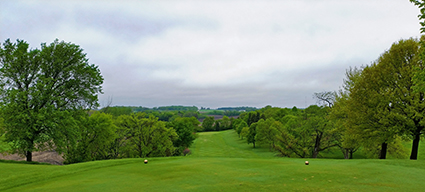 Dahlgreen #10 Photo Courtesy Tim Cotroneo