The Road To New Richmond Golf Club
By Rhett Arens
The New Richmond Golf Club is as solid as they come. It features some of the best golf holes in Western Wisconsin, a practice facility with few equals and a clubhouse that echoes the stately atmosphere of those types of places that beckon you to hang out after a round. On top of all that they've added a new set of eyes with a philosophy that target's adding more fun to the whole mix. After all, the game, the round, the clubhouse and the gathering of friends and family is supposed to be fun.
Todd Kueppers is that new face in the Pro Shop. He is the new General Manager-Head Golf Professional who came from Chisago Lakes Golf Course in February with a backpack full of energy which is already being felt across the whole operation. He is shaking a lot of hands and going through many introductions as he opens the 2020 season to the dedicated customer base that have enjoyed New Richmond Golf Club for years.
You can feel the golf course history at New Richmond throughout the clubhouse facility – from the dining area, to the pro shop, to the patios, to the cozy bar in the lower level. Those tall glasses of Spotted Cow are clinking among the tables of foursomes enjoying their post-game highlight reel. The bets are settled and the appetizers are on the way. It's a darn good day for everyone.
That history got its start back in 1923 when the first nine holes were opened. Back then I imagine the course served mostly local doctors, business owners and sports enthusiasts and maybe a car dealership owner or two. In 1984 the second nine was added and that started drawing the Twin Cities folks in to this tree lined beauty. It required a bit of persistence as traffic through Stillwater was always a drag coming and going. Today that is all changed. The new St. Croix Crossing Bridge has been a game-changer in terms of routing into New Richmond (which was a large part of the rationale for building the new bridge). The road to New Richmond is paved with ease these days. Highway 36 blends into Wisconsin 35 which forks into Highway 64 which leads you by the hand to the first exit into New Richmond.
Follow that for a mile or so and you'll see the 9-hole New Richmond Links Course on your left. The Joel Goldstrand designed Links Course opened in 1998. It's a reversible 9-hole par 36 golf course which compliments the Old Course with a personality all its own and offers a nice touch of diversity. There are 10 greens so the course can be reversed and set-up on a weekly basis. As is the case with links style courses, there are large greens, fairway waste bunkers, berms and mounds. Of course, all that exposure brings a bit of that Scottish wind to keep things interesting.
One of the key differentiators at New Richmond is the amazing practice facility. Opened in 2007, the Joe Swanda Learning Center has been awarded the distinction of being "The Best Practice Facility in Western Wisconsin." It features 32 hitting stations and measures 320 yards deep so you'll be able to hit every club in your bag including the big dog. You can work on tempo and consistency on the 8,000 square foot putting green and then switch over to the 4,000 square foot pitching green to work those wedges. There is a broad practice bunker for dialing in your sand game, this is something most of us never put enough time into – no excuses not to at New Richmond Golf Club. As you drive in you will see this excellent facility on your right and you'll be enticed into taking advantage of its full-service capabilities. You can put the final touches on your pre-game warm-up on the smaller, undulated practice green right in front of the clubhouse. The first tee is right there. It's a great, classic layout.
The winter was kind to New Richmond this year. Superintendent Chip Norman and his crew have the course in fantastic condition as would be expected by a schedule that includes rolling the greens three times per week. This detail and many others are part of reenergized commitment that Todd has brought with him to New Richmond Golf Club.
There is much to love about this classic course, its newish links course and the elegant, functional clubhouse. All intended to create a fun atmosphere where smiles and friendships happen. It's never been easier with the new bridge and a philosophy aimed at customer happiness.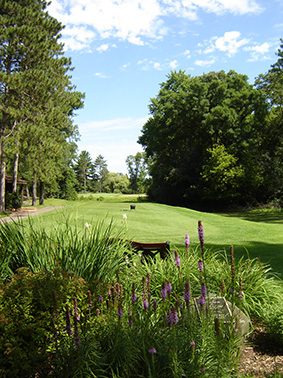 New Richmond Golf Club #7