Golden Eagle Golf Club – The Spectacle In Spectacular
By E. Nolan
There are a handful of golf courses often mentioned as the "Best of Brainerd," but many savants somehow overlook, forget or are completely unaware that Golden Eagle is very much a "Brainerd Area golf course" and absolutely should be considered among the best.
In case YOU don't know, Golden Eagle (technically in Fifty Lakes, MN) is "nest-ed" snugly amongst at least 50 lakes just 30 miles north of Brainerd and Nisswa, 20 miles from Breezy Point, 110 miles straight east of Duluth and roughly 140 miles from the Twin Cities (an easy drive from everywhere in Minnesota). If Golden Eagle hasn't been a part of past Brainerd Golf itineraries and/or isn't part of your current itinerary for THIS summer it's not too late to add it, and there are a number of reasons why you shouldn't hesitate to do so (or schedule a visit specifically for it).
A good friend of mine employed by a neighboring Brainerd Resort said that, while he's not encouraged to express these views publicly, few from the area would disagree that, "Golden Eagle would probably be THE best (golf) course in a couple of our neighboring states. The scenery and serenity are so irresistible, my wife and I visit there regularly." If it's the "getaway course" for locals, you can understand why those of us from a bit further away enjoy (or would enjoy) such an escape so much more.
A great deal of the aforementioned "serenity" comes from the fact Golden Eagle was built on a tumultuously-turfed 210-acre parcel of a former nature preserve. Walls of trees, bays of water and marsh, hills, creeks and abundant beauty at every turn makes for a pretty cool critter haven. As such, you're bound to see, hear and perhaps even meet an assortment of wildlife throughout your round. I've stood 20 feet beneath a bald eagle, 20 feet from a baby fawn and 20 feet over some playful otters in a single round.
A Northco Golf and Resort property, Golden Eagle has made a point in recent years of emphasizing they want their impression on visitors to be lasting – beyond "good," beyond "great." The goal: "Spectacular Golf and Spectacular Hospitality." They're well aware they've been somewhat overlooked in the past and are intent on making sure that happens less and less every day. Director of Golf Operations, Aaron Johnson said, "It only takes one visit now – one – and if you're already up here (in the Brainerd Lakes) why wouldn't you drive over and see what you've been missing?"
I've always enjoyed the "course to myself" feeling of playing at Golden Eagle and am surprised when I come out of the rows of trees to find a full parking lot. It just never feels cramped or crowded and feels so comfortable out there. I've enjoyed the course much more since they flipped the nines. The current first hole is a great dogleg-left that lets you fearlessly flail away. The 3-par 2nd hole is a sharp replica of the 3rd hole at Major Championship host Bethpage Black – just as challenging and beautiful. I asked the architect if that imitation was intentional and he said. "Yes, I intentionally made it a great hole." (Lol. I asked for that.)
The 3-par 4th hole is my favorite on the front nine – a stunner over water to a tricky green. And the tricky only gets trickier from there with a massive, intimidating, twisting 5-par that I've yet to figure out, followed by a series of great but challenging holes with all sorts of curves, carries and elevation changes. The 3-pars stand out at Golden Eagle, especially on the front, but the lack of weak holes overall may be the course's greatest strength. "You have to think your way around this golf course," Aaron says, "but that's a good thing. You don't come up here to rush. You're here to relax."
The back nine tends to be friendlier on the scorecard. There are more wide-open spaces with fewer daunting carries and calculated layups. Somehow, the greens on the back nine "feel" twice as big as those on the front. "You'll actually see people on the back nine," Aaron concedes. "But you'll see them having fun."
My favorite hole on the back nine is the closing 18th – a beautiful downhiller that ends beside the clubhouse and, incidentally, another great hole … the 19th. There's something about sitting out on that clubhouse patio after your round and soaking in the entire experience. The driving range, front and back nines, indoor and outdoor vibes of the clubhouse… they're each their own complementary piece of what I've termed the "Golden Gratefulness."
As thankful as you are to be there… they're just as thankful you're there, too.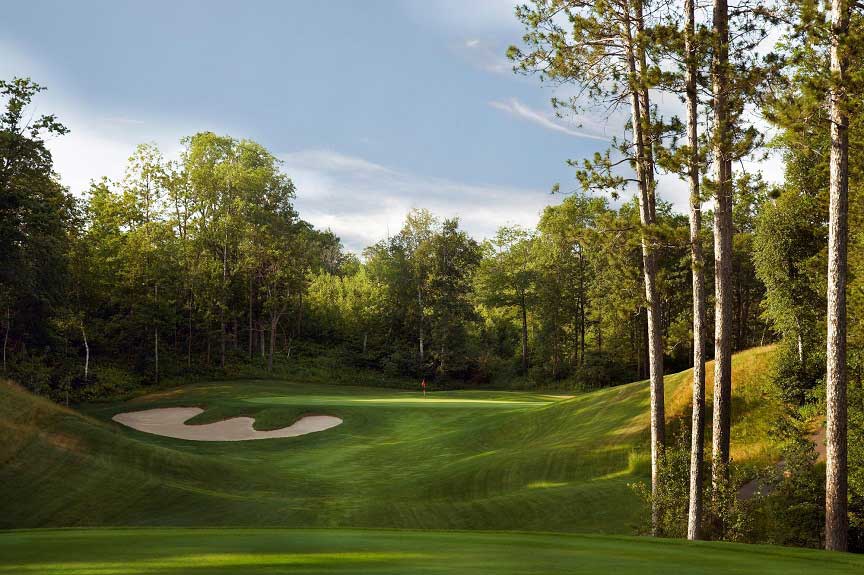 Golden Eagle Golf Club #4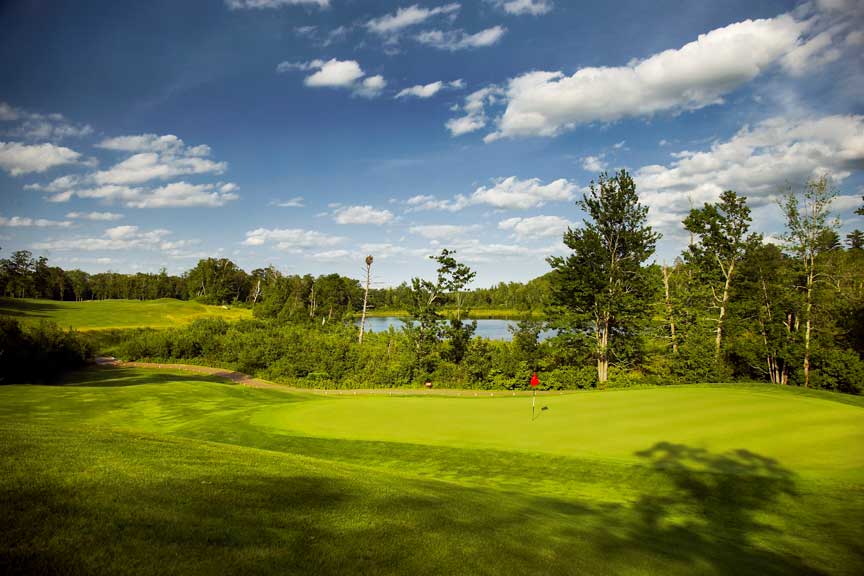 Golden Eagle Golf Club #14