Cragun's Resort – Generating A Buzz
By E. Nolan
Pal•pa•ble (adjective): A feeling so intense as to seem almost tangible (touchable).
Example: The excitement at Cragun's Resort in the Brainerd Lakes area of Minnesota is palpable these days, as they continue a massive overhaul of their "Best in State" rated golf resort and courses.
Cragun's was "waist deep" in resort renovations when my family visited last year, but I only caught wind of the "golf course" renovations a couple months ago. A good friend of mine, Judd Duininck (of Duininck Golf) clued me in. "We've got a huge project in the pipeline," he said. I pushed for more details, but even between friends he was tight-lipped. "Craguns. Duininck Golf. Tom Lehman."
Wait… what? Hearing those names mentioned together I understood immediately this wasn't just a "bunker fixing" or "re-turfing" project. Not a "little here-and-there" course tweaking. This was indeed going to be huge.
Cragun's announced last year – as part of their "80 Year Anniversary" celebration – that they were "making the turn" on their $20 Million Dollar resort renovation. Yes… 20. Million. Dollars. "Hopefully you bought all your lumber when you started," I joked with resort GM, Eric Peterson. "Or that $20 Million plan will cost $30 Million today."
"I hear you," Eric replied (acknowledging the exorbitant costs of building materials these days). "But this project is actually a 30 Million Dollar renovation anyway. The golf renovations are IN ADDITION TO the resort renovations.
"Holy…"
"Yeah," Eric nods. "But we're ready for it. We've been ready for this a long, long time!"
He can say that, of course, and mean it. But I mean this too, when I say it. Cragun's was already an incredible, year-round, family-and-golfer-friendly resort. (Midwest Living even named them a "Top Ten Resort.") They didn't "need" to invest 20 (or 30) million dollars to "keep up with the Joneses." Sure, there were upgrades to be made, but they've (quite honestly) made them every year, both before and during this renovation. New cabins. New homes. New restaurants. New docks. New amenities. This isn't a resort that was falling behind (especially not on the golf side). But it is very much a resort demonstrating it intends to plow straight ahead… to make a wake for other lake resorts to follow in.
Already they've invested in their resort lobby and gift shop, their marina, purchased a 65-foot luxury yacht from Destiny Cruises to open the NEW Gull Lake Cruises, added pontoons, speedboats, jet skis, paddleboards, rowboats, canoes, bicycles, converted Lodge room fireplaces from wood to electric, added a food cart, expanded their Cabana Café, rebuilt or remodeled their Hillside Cabins and opened NEW (6BR/7BA) Bayview Villas.
And that's not all. They're essentially upgrading everything but the lake. Their 21 Shoreline Suites and 80 other Lodge Rooms were completely updated in furniture, appliances, lighting and décor. Six more Homes at the Legacy were added off the resort property near the golf courses.
The resort is also promoting their newly enhanced recreation amenities with a Recreation Pass in 2021. New amenities include a resurfaced activity court with tennis and 3 pickleball courts, 9-hole disc golf course, refreshed outdoor pool, downpour derby, and a new recreation club.  The Recreation Pass includes unlimited use of bike rentals, tennis & pickle ball equipment, disc golf, lawn games, hydrobikes, kayaks, paddleboards, water wars, and much more. The Recreation Pass is good for the entire stay and can be purchased for $35 (individual) or $100 (family of 4).     
If you're daring me to go on, I sure could, but this is a golf story, and we haven't even touched on the significant golf renovations yet.
Before a hole on a course was shut down, Cragun's management gave a sign of things to come by investing in an entirely new Electric Golf Cart Fleet equipped with high-definition GPS systems. They repaired or replaced all the Legacy Course bridges and updated the Legacy Clubhouse. They were fully prepared to welcome the Mackenzie Tour (PGA TOUR Canada) to the resort for the inaugural CRMC Championship last year, and then… well… COVID. But the pandemic wasn't as much of a derailment for Cragun's as it was for many others. It gave them the perfect opportunity to REALLY jump on the golf course renovations, to make what was already good enough for the PGA TOUR that much better. And with Lehman Design they've got guys who know how to (and will) do it all right.
I intended to break this story, as much as Cragun's Resort has meant to my family this past decade. I wanted the golf world beyond our state lines to appreciate the people and the place here as much as I do, and to know what was going on. But the more I thought about it the more I realized there was no need to rush a story with so many great chapters still being written. This story gets better every day.
The resort is investing a full $10 Million dollars in overhauling their Robert Trent Jones Jr. championship courses (formerly Dutch and Bobby's Legacy courses). From what I've gathered there will be some entirely new holes, far less sand, much greater playability and some added length. Oh, and they're adding 9 additional holes to the renovated 36 existing holes. When complete they will have two distinctly different courses, The Lehman 18 and the Dutch 27. All of these are words that the average golfer LOVES to hear these days, and anyone who has experienced the incredible beauty of the Legacy Courses in the past knows that beauty will still be there. Some things never change!
"We expect to have the best golf complex in Minnesota," Eric Peterson said in full smile. They already had Golf Digest-rated 4.5 and 5.0 Star courses. How much better can they get?
It's important for 2021 vacation planners to note the resort will have 27 holes available for golf at all times – "only" renovating the courses one-by-one. Tom Lehman and his Lehman Design Group, Inc. are the "architects on record" for the project, and if you've played Troy Burne (or Somerby) you know they can produce. I met Tom at Cragun's last year, both of us there for our sons and their respective competitive golf events. I asked Tom what he thought of Cragun's (the resort) and the golf courses. "I love it here," he said. "Always love coming here." That's a sentiment I echoed and will gladly share. "What about the golf?"
"Their accolades speak for themselves," Tom said. It felt like he had more to say, but he remained silent, and I didn't prod. Now his work will do the talking, and I can't wait to "hear" what it says.
(All the golf remodels figure to be complete in mid-2023, and more course related details will be in the next issue of Tee Times.)
I want to circle back to what I don't want you to forget (or overlook). Cragun's Resort is so much more than "just a phenomenal golf getaway." Its assortment of lodge and cabins, villas and homes mostly sit on over a mile of sandy Gull Lake shoreline – killer rooms with killer views. I could write a story on the "Top 100 Things to Do at Cragun's" and have activities yet to list. Vacationers will find swimming pools, a rec center, luxurious leisure zones, a literal handful of restaurants, stay and play space and places for events, weddings and reunions and… and… of course incredible golf.
What more could you ask for? Whatever it is, they're probably adding it. They aim to please. So you should aim to visit!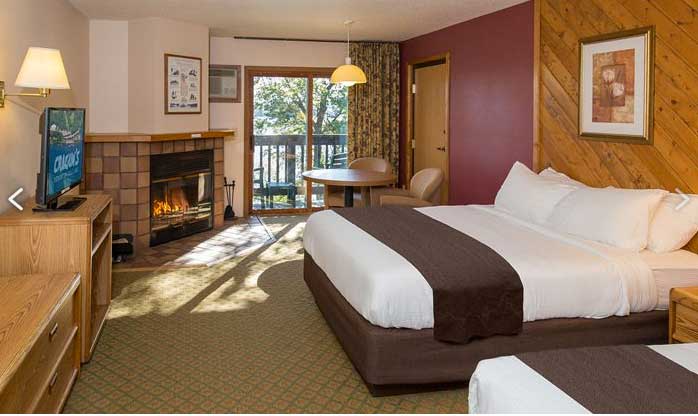 Newly renovated Lakeside Lodge room