Kate Smith – Next Stop… LPGA
By Rhett Arens
Most everything about the pandemic was horrible, nothing any of us want to repeat. However, there were a few upside opportunities in all our lives and certainly the chance to return as a second-year senior at Nebraska was an opportunity Kate Smith didn't want to turn down. With the college golf season shut down in 2020, the NCAA and the University of Nebraska offered the chance for athletes to return as a 5th year senior (not every school offered that choice). Kate wanted it and made the most of it by eventually qualifying for the National Women's Amateur Championship played at Augusta National back in March. She says overall it was a great experience with the course set-up just like The Masters, her brother Karter on the bag and her proud parents in the gallery. It was a shining moment towards the end of her collegiate career where she capped off an already impressive playing year as the 2021 Big Ten Champion. She's now on to Q School, with her sights set on entering the LPGA Tour.       
Those of us in Minnesota who have been tracking Kate's trajectory were not surprised to find ourselves cheering for the Detroit Lakes native at this pivotal moment in her career. Along the way she had seen many high-tension competitive rounds and handled them with grace and composure. This important aspect of her game was nurtured and refined through the good vibrations and strong family support that was the norm at the Smith household as she was growing up. A golf family if ever there was one. Along the way she made Mom (Margery) and Dad (Kris) and brother (Karter) proud when she finished her high school playing days in 2016 as the Minnesota Ms. Golf Award winner. At that point she had won 5 straight individual state titles between 8th grade and her senior year at Detroit Lakes High School. A feat that will likely never happen again. Dad Kris says that ranks as perhaps his proudest moment knowing just how difficult it is to come out on top and win year-on-year 5 times in a row. 
Thinking back on her strengths Kris says her ability to 'keep it real' and put the last hole behind you and the next hole in front of you has always been one of Kates' competitive differentiators. She never backed down or lost focus under pressure. He says he can't explain it but when she needed it… "It seemed the ball always lipped in." He's quick to point out that those putts are not all luck, that Kate put herself in position to sink those putts. Kate is quick to acknowledge the contributions her family has made towards her game. Her older brother Karter was a collegiate golfer and often offered hours of input, support and encouragement. Her Mom was tireless in her preparations and logistics support not to mention that according to Kate she has the 'sweetest swing' in the family. Dad Kris was there as a father and a PGA professional to provide guidance where it was needed and with just the right touch of involvement. With that solid foundation Kate found herself looking at D1 scholarship offers after high school and finally decided on Nebraska which turned out to be a brilliant choice.
The full 360 support that the Nebraska golf program offered under head coach Lisa Johnson was exactly what Kate was seeking. She found everything from nutritional expertise, psychologists who helped her mental approach, input on fine-tuning swing mechanics, emotional comradery and a coaching staff that viewed athletes as whole individuals. She has nothing but positive things to say about the University of Nebraska experience where she felt empowered to excel.  
When asked about her vision for the future she looks towards Amy Olson and Danielle Kang as LPGA role models and examples of how to be an individual and compete at the highest levels. Her focus over the next several months will be on her putting game. She recognizes her strengths have been in the ball striking area and that to compete she needs every aspect of her game firing on all cylinders. While listening to her talk about next steps I have no doubt we will see more center putts and less "lipping" in the future.  
The Smith family have been championing Junior Golf Programs in northern Minnesota for 20+ years. Everyone in the household pitched in where it was needed and when it was needed. Kate participated in that effort shoulder-to-shoulder with her family as they spread awareness and appreciation for the game. That environment nurtured a healthy, competitive athleticism that drives Kate's work ethic and ability to deal with the pressures of elite competition. When she looks back, she feels good she hasn't left any 'what if's' on the table and I wouldn't bet against her doing that in the future either. Next stop… professional golf.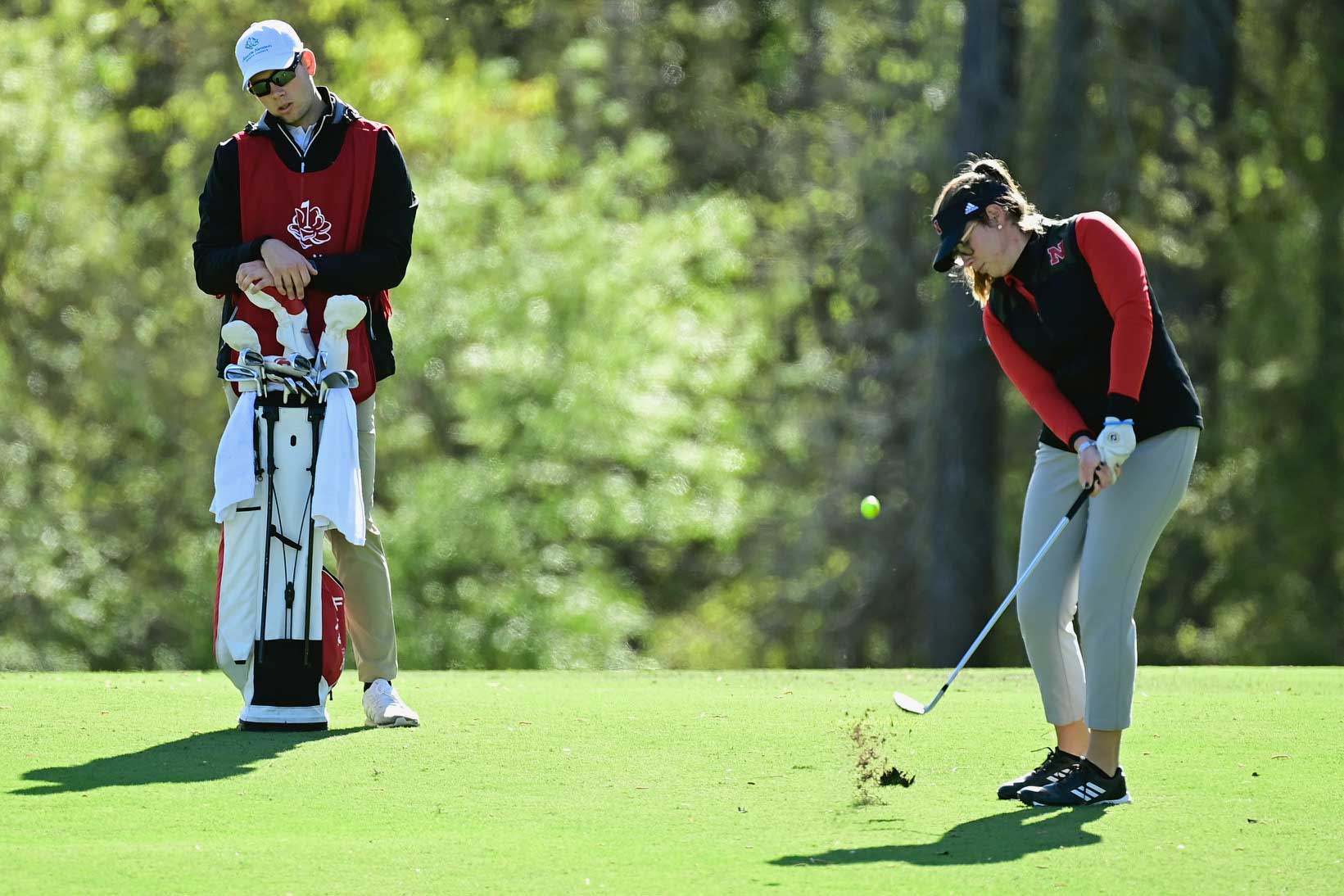 Kate and Karter at National Women's Amateur Championship