Cragun's Resort – More Than A Lot
By E. Nolan
There's a LOT going on in the golf world – might as well start the story off with an understatement. For a sport that once was dependent on a couple legendary stars and/or a "Big Cat" carrying the game, now it seems literally every PGA player has a massive following and every niche market around the country is positively BOOMING. Merchandise sales are up so high stores can't keep stock and production is backed up for months. Resorts are so overbooked places like Bandon Dunes and Pinehurst are booking two full years out, and the best part for those of us in Minnesota is that (even with all of that) a few of our best resorts are being hyper proactive with the development, expansion, and improvement of their facilities… ESPECIALLY at Cragun's Resort on Gull Lake in Brainerd, Minnesota.
"These are exciting times," General Manager Eric Peterson says proudly, anticipating their busiest year ever and the potential to make that same claim annually for the foreseeable future. "We already had two nationally acclaimed Robert Trent Jones courses, but we also knew we had the land and a man willing and able to make them even better." He's referring to Tom Lehman, the principal architect behind what could very well be the biggest golf architecture project in Minnesota history.
In case you don't know, the Legacy Courses at Cragun's have undergone a MASSIVE renovation – not just an update – with many of their holes being flipped on their heads, many new holes added and many of the other holes just brought up to a modern-day championship performance level. Tom Lehman, one of Minnesota's biggest sports stars, has overseen the project, while also being granted the opportunity to make a massive footprint on the Minnesota golf scene with his very own course – The Lehman Course – currently well underway and slated to open this fall. "I've always loved it here," Tom Lehman told me while hanging out in the resort lobby last fall. "Dutch and Irma have always taken such great care of the people and the resort. I always look forward to coming back here." I have a feeling he'll be coming back here (with his kids) for a long, long time now, and that millions of other excited golfers will be taking their own discovery and re-discovery journeys with family, friends and golf groups in the near future.
I've known the Director of Golf of Cragun's Resort for a long time. Jack Wawro is a mild-mannered guy who typically chooses his words carefully, but even he can hardly contain his excitement, and not just about the abundance of "new golf" guests are about to have at their disposal. He's excited about the PGA TOUR Canada getting their chance to bring their Tour event, the CRMC Championship presented by Gertens, and it's high-profile stars to Cragun's (August 22-28, this year). "They're making history," Jack says, doubling up his workload by taking on the Tournament Director role. "This will be the first event they host outside Canada, and we're obviously thrilled they've chosen to come here to us and our new course(s)."
Spectators will get to watch the PGA professionals taking on one of Minnesota's newest golf developments, but they (you) can do a whole lot more than just observe. "We've still got 27 holes open for golf, for everyone," Eric Peterson says. "The whole resort has undergone a multi-year multi-million-dollar renovation, and we are ready for EVERYONE to come check it out."
He's not exaggerating in the least. Literally every facet of the resort has received considerable TLC, from the playgrounds, to the beaches, to the pools to the courts, lodging, restaurants and (of course) the golf. They've brought in new toys, new boats, new technology and some of Minnesota's most connected and efficient golf developers (Duininck Golf) and professionals (Tom Lehman) to produce what they expect to be not just a Top 10 in Minnesota Golf Resort but a Top 10 in the Midwest Golf Resort. "If you don't aim high, you're aiming low," Eric said. "And we're aiming really high." They've already been recognized by Midwest Living as a "Top 10 Midwest Resort" so you could say they've already reached their goal, but no one I know there will settle for that.
They began their $10 million Legacy Course renovation project before the supply chain inflation and I toured the entire property with Eric Peterson, in awe of the massive scope of the work underway. He pointed out all the holes on the former courses that were flipped – with golfers now playing from the original green areas of some holes back towards the teeing areas of those holes. He listed off his new favorites on each nine, and we marveled at the new approaches to play.
The "Dutch 27" will consist of three "new" nines labeled Red, White, and Blue. "You'll get several new combinations of play," Jack Wawro says. "It'll be interesting to hear what the favorite combinations end up being for all the players." The renovations included new cart paths and bunkers, all with fresh white sand added. Those upgrades and revisions are noteworthy and impressive, but I was most in awe of the construction vehicles moving dirt on the new Lehman Course. I'd always known that property was there and basically unused, built up on the hills and ridges around the lakes. It was always just beautiful, natural land. Now, that beautiful natural land is going to be loaded with beautiful golf. "Tom's course is going to be a true professional test," Eric says. "At 7,400+ yards, built by a champion, it will be a true championship course. Tom is getting to do everything on that course his way. He's been the architect or co-architect on several remarkable courses in and around Minnesota (Somerby and Troy Burne among them), and this is his chance to do it all beginning to end."
Tom knows there's a lot riding on this course. Minnesota (and Brainerd for that matter) are loaded with high-caliber golf options, and the goal isn't merely to compete with those but to exceed them. (What competitor is EVER happy to settle for second?) When Eric Peterson told him that some of the best land in the state was adjacent the existing golf courses Tom had to see it. And once he saw it, he started to imagine what he could do with all of it.
Lehman's course runs through what Jack described as a "1,000-acre wooded sanctuary." It charges up, down and around Stephens Lake and the surrounding wetlands – through more of the same stunning land Cragun's has always been associated with. There will be a housing development out there, but it won't be any sort of obstruction to the epic views – built up on a ridge overlooking the course and wetlands. If you've visited Cragun's in the past and are trying to wrap your head around all these incredible changes, I recommend you hop on their website and click on the "New At The Lehman" link under golf and The Lehman Legacy. That visual will best "explain" how all the new holes and routings are set up and leave you chomping at the bit to get there to play them all.
With the massive resort renovations and additions, the new golf courses, the CRMC Championship, the reversible Par 3 and a future loaded with even more enhancements, there's a LOT going on at Cragun's Resort in 2022. Guess I might as well end the story with an understatement, too.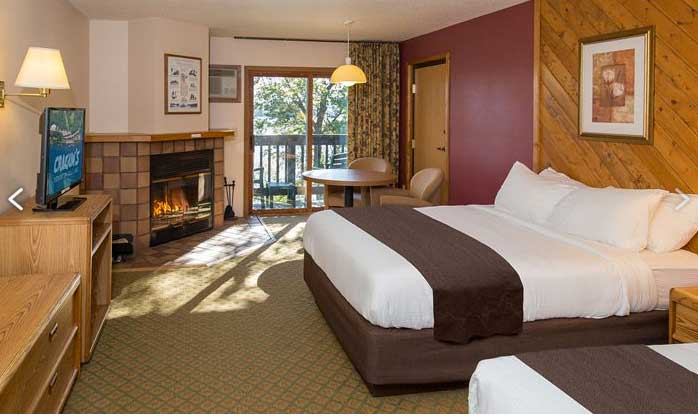 Newly renovated rooms at Lakeside Lodge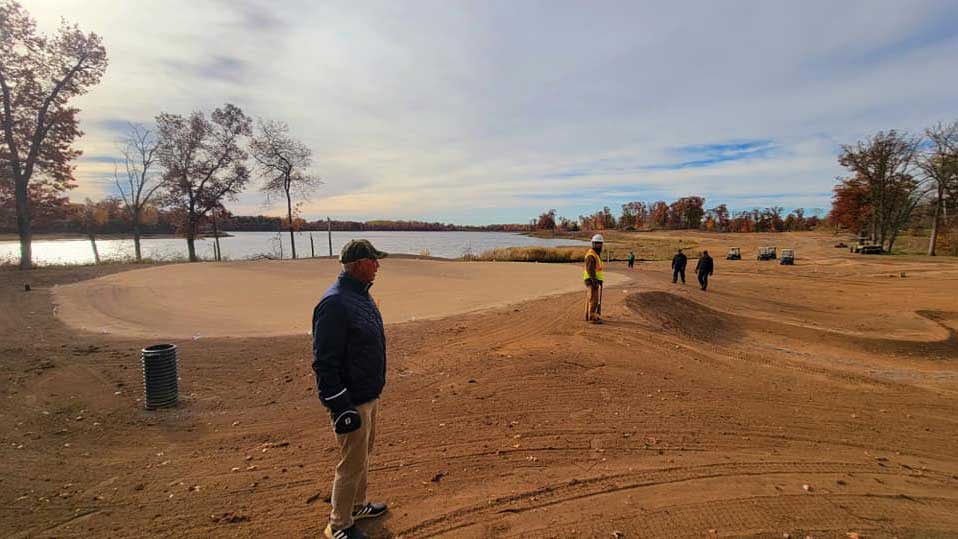 Tom Lehman surveying course renovations. Photo Courtesy Cragun's Resort