On Top At Clifton Highlands Golf Course
By Rhett Arens
There is always a palatable energy at Clifton Highlands. Whether you are out on the course taking on those undulating greens, or sitting around the horseshoe bar with friends enjoying a refreshment, things are always buzzing. I'm fairly certain some of this can be attributed to PGA Golf Professional Ken Bramhall, who seems to be in high gear at all times. This energy works out very well for his customers who always leave feeling fully satisfied. Ken is constantly addressing key aspects of the business from the delicious food, to impeccable cart conditions, to fairway divots, to rough length to green hardness to guest specials to merchandise selection to… you get the idea. He is on top of it.
It's a golf course with a "players" reputation. Keep it on the short stuff and those greens become a lot less intimidating. Sucker into those hero shots and things can come unraveled pretty quickly. The green complexes at Clifton Highland are unique and challenging – unique in a good way. To start with they are fast, they have room for very differing pin placements, most are on the large side with a few smaller ones on the short Par 4's, but their key characteristic is the undulation… putting uphill is at a premium at Clifton Highlands if you can manage it. If you can pocket birdies on one-putts you are ahead of the game.
The front nine kicks in with a few straightforward Par 4's and a birdie opportunity on the Par 5 third. Don't be lulled to sleep on these because the action is just around the corner, literally. A series of short Par 4's can have you questioning your shot-making abilities if you can't hit the greens in two because those greens do not give-up their secrets easily. This makes for a wonderfully challenging stretch. The front 9 closes with a splendid Par 5 that plays great with a long, gentle draw (for righties). If you maximize that drive you can definitely be standing over an eagle putt with a solid second shot.
The back nine starts with a clean looking Par 4 that requires a short water carry into the shallow green. The real fun is at the short but narrow dogleg left Par 4 twelfth where you decide if you can hit that driver where you want it, or if it's best to rely on a 100-110 yard second shot. The green is tough, no sugar coating it. The back nine finishes with the last five holes essentially winding around the giant plateau that gives Clifton Highland its signature name. It is a stunningly beautiful stretch where bucolic countryside blends with the mature woods that covers Clifton's "mountain." The Par 3 sixteenth offers a great look into a large green which allows longer than average hang times on the downhill 160 yard iron shot. Next up is the uphill 303 yard Par 4 seventeenth. This hole requires some calculation on clubbing up so you hit the green below the hole – again a large green, but extremely tilted front to back. Obviously you want to avoid the side hill putts if you can.
It is really nice when a course layout provides a majestic closing hole and that is exactly what Clifton Highlands does. With an elevated tee shot that narrows into some sparse trees on the left and a field of natural grass on the right, it's time to hit your best Dustin Johnson power fade here. The hole continues to veer right and with a well-placed second shot, pars, birdies and even an eagle are not out of the question. It's not long at all, but can bring in tons of trouble along the edges.
After your round, you want to make sure to stop at the clubhouse for one of chef Tim Carlson's signature sandwiches. The BLT is king, but everything out of his kitchen is first class. Tim is a veteran of Clifton Highland's staff and has built a reputation of being a game changer. It's early in the year, but Tim's breakfast sandwich is already picking up rave reviews and has some of the regulars coming in early for a sit down breakfast before heading out to tackle the course. Ken and the staff have leveraged Tim's skills by creating a great weekly special where $37 lands you 18 holes with a cart and a delicious meal with a beverage. There are courses in the area where you can barely get the sandwich and beverage for that. Clifton Highlands also offers several compelling specials again in 2019 with a 60+ senior rate of $32 riding and a twilight rate after 3:00 of $32.
With a challenging, but fair test of golf and an excellent new menu, Clifton Highlands has one of those "golfer" atmospheres that make it fun to brag a little bit or tease your pals. Either way, sitting around the horseshoe with a plate of Tim's tasty appetizers on the way and cold refreshment in hand, you will feel on top and energized at Clifton Highlands.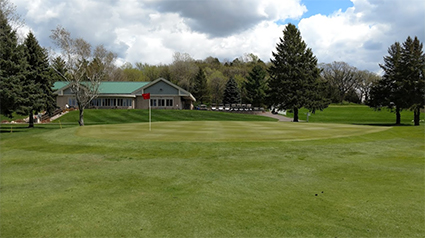 Clifton Highlands #9 and Clubhouse