POWER PLAYERS: A "Golf Profile" Series Player: Brian Knoetze
By E. Nolan
Do you golf? Are you a serious golfer? How serious? Golfers ask "icebreaker" questions like these when they're in confined spaces with people they don't know. They ask "small talk" questions like these to gauge your passion compared to theirs. And some golfers, the cocky ones who are confident that their game or resume dwarfs yours, ask questions like these to put you in your place.
Depending on which situation you find yourself in – small talk, curiosity or bordering on the arrogant – take this as a warning before asking Brian Knoetze those "Do you even golf, bro?" questions. You might not be able to handle his truth.
Brian is a humble guy, not a braggart. He doesn't like to talk about himself, but he'll share his story with you if he gets the sense you need to hear it – that you might realize what YOU can do if YOU are feeling hopeless… if you feel like something you love so much is about to be taken from you.
Brian always wanted to be a professional tennis player – that was his passion and his circle of friends. One guy he grew up with won the Australian Open. Another made it to the finals at Wimbledon. Brian was destined to raise one of those trophies himself, until destiny let him get hit by a drunk driver while riding his motorcycle. His tennis days were over. The one thing he found he could still do, and do somewhat well, was golf. He started playing golf in college, made the University team, then left South Africa for Canada to continue his way up the golf mountain. Things were looking good… real good. Until one day Brian was snowboarding down that mountain and crashed. Doctors told him he had "Scapolunate Advanced Wrist Collapse" and that the only cure was a fusion process that would effectively end golf for him. Things were looking bad… real bad. That was five years ago.
"That's where The Quest officially began," Brian said. "I refused to accept the diagnosis that my only choice was to give up golf. Not yet, I said. I will play until my wrists break or fall off." And he pretty much has.
Not knowing how much golf he physically had left in him, Brian decided he was going to make every swing count as much as possible. "I thought I would try to play as many Golf Digest Top 100 courses as possible, beginning in the U.S." (Although his first ever Top 100 course played was Durban Country Club in South Africa.)
Brian's first big "Quest" trip was in our neck of the woods, incidentally – in Wisconsin and Chicago. He played Rich Harvest, Butler, Erin Hills, Olympia Fields, Blackwolf Run and Whistling Straits on that trip. His wrist didn't feel great – not even remotely good – but it was still attached, so he took on two more big trips that year. (For all the dads out there…) He had a Dory mentality (from "Finding Nemo") – "Just keep swinging… Just keep swinging."
Brian's Quest has morphed quite a bit since that first year. His initial goal of playing as many Golf Digest Top 100 courses as possible was apparently too simple, so he added lists to his list – Top 100's from Golf Magazine and World Golf Magazine. Ambitious or wreckless, Brian concedes that he's a bit of both, but entirely passionate about this pursuit. "I don't want to golf just to golf. I want to play the best golf possible, to have every round be as memorable as it can be, until I play my last!"
To date, Brian has played 93 of Golf Digest's "Top 100 U.S. Courses." He has played 87 of Golf Magazine's "American Top 100" and 69 on World Golf Magazine's GLOBAL Top 100. In all, he has played around 300 rounds since he began his quest (in 35 states and 8 countries). He joined Royal Dornoch (in Scotland) so he could have a UK base and started playing the best courses in the UK as well. "I could spend the rest of my days playing Dornoch," Brian says. "I love it that much."
"Have you played Augusta National?" I asked. "No," he shakes his head. (Hello Karma, are you listening?) "I'll take you with me if I get to go," I told him. He says, "thank you" without laughing. He knows I'm somewhat serious about golf as well.
I asked Brian what The Quest has taught him about golf.
"I love 'classic' designs, like those of CB MacDonald, Seth Raynor and Perry Maxwell. The television audience lacks the ability (by no fault of their own) to appreciate many of those 'old school' courses, seeing only the big dull courses with their big reputations. Give me a course like Yale any day, or the many great courses of the UK… even outside Scotland and Ireland. Rankings in the United States tend to skew towards big boy championship courses… too many people equate tough with good. I would encourage golfers to seek out FUN courses like California Club, Bel Air, Old Town and Pasatiempo."
Brian has had many highs and lows on the quest. Low: While playing San Francisco Golf Club he was invited to play Cypress Point, only to find out that Gary Player's son had already filled that spot with someone else. High: Brian runs into people around the world who he has "Twitter Relationships" with and constantly has to explain to his wife that – "That was someone I met on Twitter." (Social media's impact is insane!)
Huge High: Brian DID eventually get to play Cypress Point, he and his wife together – the course to themselves on a Sunday afternoon. On another trip, he stood in line at the Old Course in St Andrews at 3AM… 24th in line. "I was relieved," he said, "to know that there were at least 23 people in the world as crazy (or crazier) than me!" He waited 12 hours, before securing THE LAST tee time of the day. Playing the Old Course he met a guy connected at Shinnecock Hills who got him out there, and that generous extension of favors has played out over and over on courses around the world. "Golfers – the truly passionate ones who understand the meaning of a quest like this because they have their own dreams and quests – are such great and generous people. If they can help you, they will. THAT is what I've found to be true all over the world. THAT is why I love this game as much as I do… why I'm still swinging these sticks every chance that I get."
It's not all glitz and glamour. Last year Brian had someone invite him to play Garden City. He flew from Vancouver to New York only to have the host not show. (There's a word for guys like that.) Brian had no other way to get on the course so spent the day at Starbucks.
But Brian's not bitter. He's the exact opposite. "Grateful every day," he says. Only 43 people have played the World Top 100 courses. Brian aims to be one of the next to complete it.
"The lists are great," he says, "but they're not comprehensive. Every list is missing some course that should be on it." (He cites Wisconsin courses Mammoth Dunes and Sand Valley as examples in the U.S.) Brian's favorite course he played in Minnesota was Interlachen (he played it last summer). "I regretted missing White Bear Yacht Club, but I'll get there someday." (I know people who will make it happen for you Brian!)
Brian, broken wrists and all, is a 5.7 handicap these days. His lowest recorded round was a 73 at Prairie Dunes and his highest… (He laughs.) "I think it was at Doral." He appreciates The Quest most for what it has given him – "Hundreds of new friends and a stronger than ever appreciation for my wife!" She'll caddie for him here and there, but only accepts payment in the form of handbags. He has no plans to write a book, so I've offered to write it for him. "Maybe after I play Augusta," he says, with a smile. (Deal.)
Brian's is a story worth telling. Derailments in life are just a chance to rerail. Chase your dreams, and don't stop until you catch them.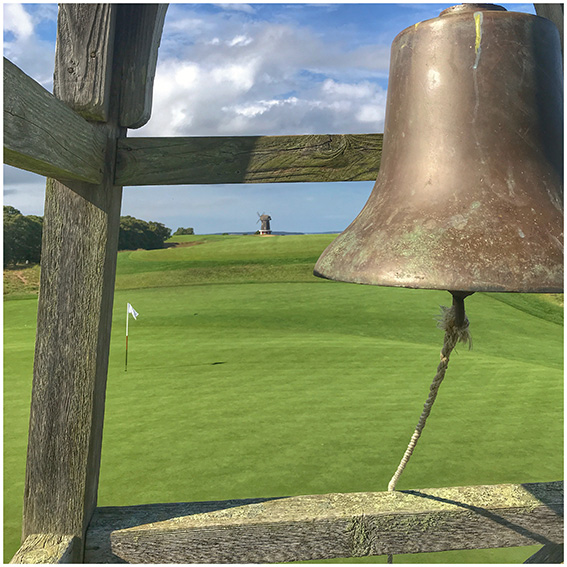 National Golf Links of America (New York) @The MobileGolfer