Old School Golf

By Tom Abts
We all know that the Internet has changed our lives, and mostly for the better. Information and ideas are vital to civilization. Cavemen expressed themselves by drawing on caves. More advanced people wrote on parchment. Monks spent their days translating the world's knowledge by hand. Then, Gutenberg invented the printing press. Books and pamphlets took over Europe and started The Enlightenment.
However, the world of print was nothing compared to the world of personal computers. Not only can you read everything, but you can also be read! Everyone can be a writer. Facebook… Twitter… websites… blogs… comment sections… it's amazing.
Like many people, I'm a frustrated writer. In high school, I planned on being a journalist. (That's a story for another time – it's actually a pretty good story.) I've been fortunate to write for some newspapers and magazines and also have a weekly blog.
So, when I was offered the chance to take over one of the better golf sites… I did it. It was already well established and had some good moderators in place; I just had to make sure it kept running and kept its attitude. It was called Old School Golf, but the name wasn't entirely accurate. It was a golf site that argued about how to teach golf and how to run a golf course. Its members consisted of golf instructors, PGA Pros, TOUR players, course owners and managers, and amateur golf junkies – a pretty good mix of people with a lot of lively interactions.
I'd been a participant for a few years, but not obsessed, just tried to make some points in the discussions – I seldom started one. But, my viewpoint became pretty clear, so when the administrator decided to step down, he thought I could continue what he'd started. And, he knew I wasn't going to monetize it. I just want to provide a forum for healthy discussions about golf.
Healthy discussions about golf. Maybe that's an oxymoron. Golf people get very excited talking about golf.
For example, this last February, Matt Kuchar was in the news. Kuchar won a PGA tournament in Mexico last fall without his regular caddie. Kuchar won $1,296,000 and paid his fill-in caddie $5,000… substantially less than the usually fee of 10%. This news quietly hit the main-stream-media, but exploded on social media.
I brought up the topic on Old School Golf. It went wild. Every possible reaction. Anger towards Kuchar. Anger towards the caddie. Defense of Kuchar. Defense of the caddie. Then it got personal between the OSG members. And most of it wasn't rational. Emotional – yes. Rational – no.

This is how I saw it: Kuchar and the caddie had an agreement. I don't think either one thought Kuchar would win – he hadn't won in four years. So, when Kuchar won over a million dollars he wasn't legally obligated to pay the caddie 10% ($129,600). But, what is the moral obligation? Kuchar had already won over $40,000,000 since he started playing on the PGA TOUR. He was/is a very wealthy guy. How could he feel good about only paying the caddie $5,000? Sure, $5,000 is a lot of money, but that's not the point. At first Kuchar tried to make that argument, but he must be tone-deaf. He said that it was a lot of money to a Mexican caddie. Mind-boggling. The next day he got heavily booed while playing in a TOUR event at Riviera CC. I'm sure panic set in with his agent, sponsors, and the PGA TOUR. The following day, his PR team sent out a letter saying how sorry he was and that he was going to pay the caddie $50,000.
What a mess. But, on Old School Golf, people were still defending Kuchar. They were saying that he had every right to pay the caddie $5,000, and that the caddie had extorted Kuchar for the extra $45,000. That's how you define extortion? Really? This was being greedy and getting caught. If Kuchar really believed that he was right – he should have stuck to his guns. But, he can't have it both ways. Either he was wrong and then righted it, or he was right and caved in. This is not a starving man. He has enough money not to cave in if he really believed he was in the right. I tried to make these points everyday throughout this fiasco. People had their minds made up and that was it. And they wouldn't let it go. They would say that this was their last comment, but it seldom was.
Hmmmm. Am I fooling myself by taking over OSG? Can people have rational discussions? Can they change their minds? I figure it's worth a try.
What do I want to accomplish with all this dialogue? Well, get people to think about the stuff that I've been writing and talking about for many years. In a nutshell, I believe that golf is a great game and has nothing wrong with it. But I think a lot of things are wrong with how it's been handled. I think that most golf instruction is too complicated. I think that the rules are too complicated. I think that the handicap system is too complicated. I think most golf courses are too difficult. I think that most golf course operations are not friendly enough. I think that most golf clothing is ugly and just trying to be different instead of good. I think that professional golf and recreational golf are two different games. I think that the big golf organizations are out-of-touch. I think that the PGA TOUR is especially out of touch and sets a poor example for the amateur player.
I think that golf has lost its way, and we need to talk about it. I'm always hearing about golf courses closing, and people writing and asking what is wrong with golf? The initiatives of the last 20 years have not helped. Why? Because the people behind those initiatives are out of touch. Maybe it takes people on a golf forum to come up with real answers. It's worth a try.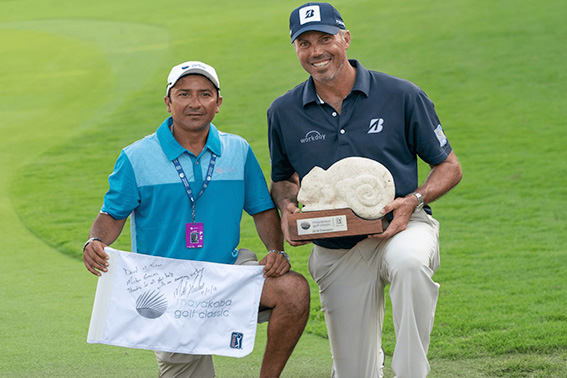 Matt Kuchar and his caddy after winning the Mayakoba Golf Classic