Wedgewood Cove Golf Club – Picturesque Play on Pickerel Lake
By E. Nolan
100 miles. That's the self-imposed limit on the distance I'll drive from my house to play on any given, wide-open, golf day. I have a map on my office wall with a giant circle – 100-mile radius – and within that circle I've marked all my favorite places to play with red pins. I look at the weather (that day) and find out where it's best. Frequently, from May through September, that ideal weather zone is found just south of the Twin Cities along the I-90 corridor. Weather, freeways, and ideal geography lead me quickly and easily to Albert Lea… to Wedgewood Cove… where, if I can snag an early afternoon tee time I can catch a stunning sunset and still make it home before dark. (Man, I love summer!) A great golf escape less than 100 miles away.
This year marks the 10 Year Anniversary of Wedgewood Cove, a place that Head Golf Professional Donnie Teeter says, "has only gotten better every year." That's significant and true to those of us who have visited every year (some of us even several times a year), and that's even more relevant to those who either haven't ever played here before or (inversely) to those who have been considering playing here even more (I call them "lucky locals"). THIS YEAR, in honor of their special anniversary, NEW Season Pass Holders get a 50% discount! "We're close enough to the Twin Cities, La Crosse, Sioux Falls and even Des Moines," Donnie says, "so we get new members every year from… well… all over." He laughs, but he's not joking. That season-pass deal is a steal wherever you're coming from!
In fact, some people decide to stay even longer. As the economy continues to swing upward, so does the community around Wedgewood Cove. More and more Twin Cities residents are moving a little bit south, sweeping up the desirable properties around this course. The golf, of course, is the natural draw for those looking for a little nicer (and quieter) slice of life. Everything else (the restaurant, lake views, leagues and fun) is just icing on the cake.
Let's cover that "cake" a bit more. Wedgewood Cove is a golf club of two distinctly different nines, and whether you play both or are simply seeking a quick nine-hole adventure, you'll find plenty of fun either way. Both nines sprint straight out from the clubhouse, near the driving range and practice facilities, and both nines share similar links-style features – large mounds, plenty of water, some forced carries, and wide, fescue-lined fairways.
Those fairways tend to run pretty firm, pretty fast, and lead to firm and fast greens that are super fun and fair to putt on. Think of your favorite places to play around your own home, and what elements you appreciate most about those golf courses. Most of those elements are found here and at a much lower rate than anything in the Twin Cities – a fact that Donnie Teeter points out a bit more directly. "Think of how much a place like this would cost to play up there!" (Oh, I think about it.)
The best part is it's not just the conditions and golf elements I appreciate. There is plenty of natural beauty to take in here too. The par 3's are spectacular, especially the pair on the back nine at 14 and 17. The 14th hole is a great little drop shot down to the shores of Pickerel Lake. And the 17th hole is a forced carry to a tricky green that shows how lucky (or skilled) you've been all day. The mix of these pretty holes with more challenges and scenery scattered around the property gives the Social Media mongers plenty of picture-worthy posting opportunities, and the dedicated players plenty of opportunities to work on every single aspect of their game. That's the kind of blend I love in my golf game. How about you?
Those who fall in love with the course mesh well with those who fall in love off the course and then decide to get married here. Thanks to Pickerel Lake's gorgeous elements, Wedgewood Cove draws in plenty for weddings and big events.
"Our banquet hall can seat over 400," Donnie says, "and then we can accommodate another 400 on our patio area overlooking Pickerel Lake. Pick your preference, and we'll do what we can to make your day perfect."
245 acres. 7,000 yards of golf, and infinite yards of beauty. Garrell Gill and Jon Schmenk did a great job with this place and it does continue to get better. "Tell everyone the course is waking up nicely," Donnie adds. "We're ready to start a new golf season!" I've told you all now. The ball is in your course.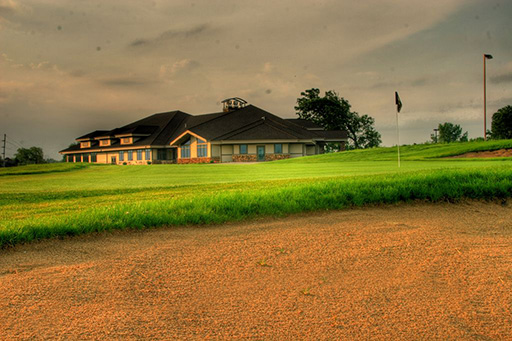 Wedgewood Cove Golf Club #14