Golden Eagle Golf Club – A Not So Hidden Gem
By Rhett Arens
Just a hop, skip and a jump north of Brainerd lies a nugget of golf gold. It's well known in golfing circles as a high-value course with championship features and enough twists and turns that even the most seasoned player will relish the opportunity to take it on. I'm talking of course about Golden Eagle Golf Club located in Fifty Lakes just up the road from Cross Lake and nestled within 210 acres of pristine wilderness.
The SVN Northco Group have smartly brought in a young, enthusiastic, well-educated team of golf professionals to jump-start the 2019 season. Rumor has it they are working around the clock to insure the overall playing experience gracefully exceeds customer expectations. General Manager Ryan Freitas is analyzing all aspects of the operations along with assistant GM Bobby Kempainen and they are leaving nothing to chance. There is plenty of evidence showing that strong commitment as Golden Eagle has aggressively invested by bringing in a new superintendent, Kyle Schmidt who arrives with premier golf destination credentials. They are also introducing a new fleet of carts, retooled the clubhouse food and beverage menu as well as expanding and fine-tuning the pro shop merchandise brands. All of these changes add up to a spectacular round of golf with spectacular hospitality at a spectacular price point.
The operational and retail changes are great, but the magic is still out on the course. Golden Eagle is simply a beautiful track of land that incorporates all the elements that Mother Nature has to offer into a well-planned Championship layout that will challenge low handicappers while offering plenty of fun for all levels of play. With towering pines and hardwood forests coming into play on every hole alongside natural wetlands and majestic elevation changes, the course will keep you on your toes while taking your breath away. The wide, undulating fairways that break right or left are sprinkled with well-placed bunkering and there is a handful of daredevil style carries thrown in for good measure. If you're feeling on your game, you will be rewarded with plenty of par and birdie opportunities, but if your game isn't quite clicking, you may find yourself restocking your ball supply at the turn. Don't worry, the pro shop has your back with plenty of Titleist and Callaway balls on hand.
One of the most prominent changes in 2019 is the reversing of the front and back nine, which now offers a back-to-back par 5 start to the round. (Can you say two under after two?) This will give you a chance to use the full range of clubs right out of the gate and get those back muscles properly stretched out. Who doesn't love that? At 521 and 481 yards respectively keeping the ball in those fairways will yield good par looks. Hole #1 tends to play downhill while hole #2 tends to play uphill just a bit. Both have monster greenside bunkers so the risk-reward on those second shots are a key decision point, do it right and you could have a tremendous start to your round. While navigating the gorgeous signature hole #4 par 3 you are likely to spot some type of wildlife sharing the surrounding scenery. Continue on and you have another type of bird opportunity on the 495-yard par 5 sixth, which continuously bends to the left and downhill.
The back nine opens with a five hole stretch that is quite challenging. As a whole, the back plays differently than the front and ultimately requires more strategic thinking. The narrow fairways on holes 10 and 12 tend to unnerve you as they attempt to pull your shots to the left. Sandwiched in between is the long par 3 eleventh (188 yards from the blues) with little or no bailout zone and then the par 3, 158 yard thirteenth that demands a gutsy carry. Number 13 is simply an atheistically beautiful hole. The par 5 fourteenth looks innocent enough from the tee box until you turn the corner to the left and realize you have a long second shot that needs to carry and be on target. Designed to test your will, it can also be a rewarding hole to play well. There are more carries as the back nine progresses that offer spectacular viewing of the natural wetlands and ravines. Laying up with correct yardages to the edge of those carries will give plenty of playable looks into the greens.
With Ryan's philosophy of customer care, professionalism and honesty… Golden Eagle is poised to soar.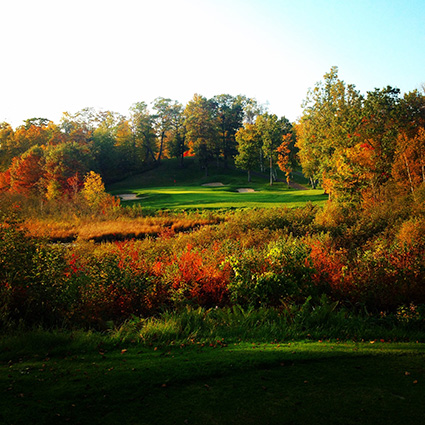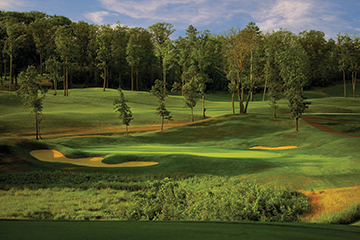 Golden Eagle #7 Photo Courtesy of Peter Wong Photography