The Wilderness at Fortune Bay – A Star Among Stars
By E. Nolan
My son and I spent the first few days of April in Texas with legendary golf architect Jeffrey Brauer – designer of The Wilderness. We watched the Dallas Stars clinch the NHL playoffs and reminisced about the good ole days when those Stars were ours. Yes, we have the Wild now but… The Stars… Up North we LOVE stars! Fortunately, Jeff Brauer has given us some GOLF stars to love – four of them – and they remain in northern Minnesota, open and thriving. They're all bright, brilliant even, but the most bright (in my book anyway) is in the Iron Range on beautiful Lake Vermillion – The Wilderness at Fortune Bay.
The comparison of "brightness" is no slight to the other three courses, but there's something about being in one of the more remote parts of Northern Minnesota, near Ely and the Boundary Waters, out where you can occasionally hear wolves howling, where the moose and bear sometimes wander across fairways… something about being literally IN the wilderness that gives The Wilderness its unique authenticity – a most desirable "escape into nature" quality. The blankets of stars overhead seem to shine brighter, the fish seem to bite more and be bigger, and the golf holes… well, they're strongly built to create the starkest of contrasts with wide, bright green fairways wedged between, around and over massive boulders. The Wilderness at Fortune Bay is out of this world in so many ways and yet very much IN this world in THE most significant way – it is only 200 miles from the Twin Cities.
I've often wondered if we would even know of The Wilderness if Jeff Brauer hadn't built it – if someone else had built it instead. Would it still be standing? What would it look like? Would it still be my favorite course in Minnesota? In other words, is it the land that made the course or the builder? You can ask that question about all of your favorite courses, but at The Wilderness it is a particularly interesting thought to ponder. What exactly is it that makes The Wilderness the course that it is? And could anyone else have made it this amazing?
Jeff Brauer is rather modest. He credits his shapers, his colleagues who taught him how to work with rocks of the scale of those boulders around Tower, and the visionary owners and tribal leaders who brought him in and shared their ideas. Jeff listened carefully to everyone, built the course that everyone wanted, and believes there is plenty of credit to go around for the course's remarkable track record of success ever since. "Hole after hole," he says, "there was already so much greatness, so much character, so much diversity. I won't say that the design process was easy, but the vision part… that sure was. This place always was, and is, absolutely beautiful earth."
He's right. He certainly didn't sacrifice any beauty in his design. He sure didn't mess anything up. If you've seen Jeff Brauer's design skills at his other courses around the world, you know that the success of The Wilderness was no accident. The course voted the Best Casino Course in the Country by GolfWeek wasn't done so by typo. Its elevated status on Golf Digest's rankings is not for a lack of other options – it is well earned… well deserved. And, to take the accolades a bit farther, (having played over a dozen Jeff Brauer courses worldwide) I believe that these are his best green complexes anywhere – his most diverse contour collection.
I don't often write (or read) articles that do hole-by-hole breakdowns, because I find them lazy – an easy way to fill space. I've done it for The Wilderness before though, because not breaking down the eleven signature holes here feels like somewhat of a disservice. People need to understand just how much greatness is up here – how true it is that our state's six best courses (beginning with The Wilderness) can comfortably go head-to-head with the six best courses in at least 40 other states (and routinely win). We're lucky Minnesota. We're lucky to have these Stars!
There's so much greatness among these holes, beginning with the first – a most superb Par 5. The split fairway divided by a shelf of boulders and channel of ledgerock leading to a massive, turbulent green is as good and memorable as openers go anywhere. Hole 3 – it might be the most scenic 3rd hole in Minnesota (my second favorite Par 3 in the entire state). The 5th hole – a slight dogleg right cutting through a chute of trees to a long oval Biarritz green with a pretty deep pocket. Is there another green this fun to attack? The 7th hole – a plummeting 3-par to a tight little green with a panoramic view clear to Iowa. I mean… WOW! I could go on – there's so much more greatness on the back nine – but do you really need me to detail it? Do you need to hear about the island green 12th, the beautiful, short par-4 cutter over the corner of the lake at 13, and the up-and-down bounder at 14? Do you need more reasons to make the relatively short scenic drive to a bucket list golf destination like this one this year? I sure don't.
But here are some more anyway. Great as The Wilderness is as a golf course, it is just as popular a draw for fisherman (based on the 100 or so boats consistently in the parking lot) and for people looking for a little gaming fun. Fortune Bay offers a great hotel setting overlooking Lake Vermillion, with rooms and suites equipped with strong internet and great TVs for the limited time you're actually IN the rooms… many with balconies overlooking that beautiful lake. The Casino floor is packed with electronic games – 850+ games to be more specific – slot machines, and table games like Blackjack. They even have a Poker room (and video poker).
You won't go hungry here either… not by a long shot. The Sunset Steakhouse in the hotel offers daily specials from the farm, the lake and the rest of the globe (great Mongolian stir fry). Steaks, seafood, fine wine, and much more. The Tamarack Buffet is self-explanatory, but offers a great rotating menu and even some express, smaller, "build your own" options. Many visitors won't even leave the Casino floor to eat. They'll grab a burger and onion rings at the Gold Mine Grill, and the rest of us will swing by there for ice cream or dessert throughout the day.
You've got options, in other words, and that's without even covering The Wilderness Grill. Over in the golf clubhouse (a hundred yards from the casino), some of the best food in northern Minnesota is paired with some of the prettiest dining views (especially at sunset). You can sit out on the patio and take in all that beautiful wild – under the sun or under the stars – and you can get a sense (if you really think about it) of how lucky you are to be there… of how grateful we all should be to still have places like The Wilderness at Fortune Bay to hold on to. It gets me there every year… and it keeps me coming back. Every year.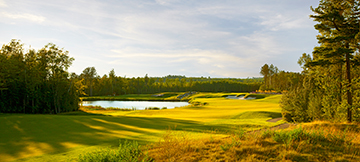 Wilderness at Fortune Bay #18 Photo Courtesy of Peter Wong Photography