PICK SIX – AMERICAN GOLF DESTINATIONS
By E. Nolan
We have plenty of amazing golf in the Midwest – just down the street, across the state line, less than a day's drive away. We are literally surrounded by Top 100 courses in Minnesota, Wisconsin, Iowa, Nebraska and the Dakotas, but sometimes we want to see how the "other half lives" – how good or great the golf is elsewhere in the country. Here are six American states with premium golf concentrations primed for you to explore in 2020, should you be in or near them. Or, if you're merely looking to get away, here are some fabulously fun places to go.
ALABAMA
Alabama is home to arguably the "Greatest Value in Golf" – the Robert Trent Jones Golf Trail – a masterful collection of 26 courses (468 holes) purposefully planted at eleven sites across the state near a half-dozen Marriott partner hotels (RTJGolf.com). Five hundred thousand golfers take on Trail itineraries each year, picking and choosing from the 19 championship options, 7 short courses, and some of America's best BBQ.
Birmingham: Home to The Trail's marquee course and hotel at the Renaissance Ross Bridge, in Birmingham you're also within easy driving range of 54 holes at Oxmoor Valley, the stay and play paradise, Farmlinks at Pursell Farms, the semi-private steal at Ballantrae, and another favorite Trail site at Silver Lakes.
Gulf Shores: Not far from Mobile (55 miles southeast), Gulf Shores could be called Golf Shores for all the great plays there – Jerry Pate's Kiva Dunes and 36 Arnold Palmer holes at Craft Farms – and great golf nearby at Rock Creek and the Lakewood Golf Club, across from the fabulous Grand Hotel Marriott.
Montgomery: Alabama's capital city has 54 holes of Robert Trent Jones Golf at The Capitol – including the most dramatic opening hole in the state, on The Judge – and an easy interstate connection to 36 more Trail holes at Cambrian Ridge.
ARIZONA
The land of the Grand Canyon is also the grand land of golf, and home to one of the most popular PGA TOUR events – the Waste Management Phoenix Open. Amateur golfers and professional snowbirds alike, fleeing the insufferable cold of Midwest winters for pleasant warmth in the desert, find a full menu of championship courses – an opportunist's abundance of super, hot golf.
Phoenix/Scottsdale: Some of America's greatest golf resorts like the Fairmont Scottsdale Princess offer six-course packages built from favorites like Grayhawk, Troon North and TPC Scottsdale, but don't overlook the 36 holes at The Boulders, the 18-hole Short Course at Mountain Shadows or the well-worth-the-drive 27-holes at Wickenburg Ranch.
Tucson: It's not in Tucson exactly but, only 20 miles north in Marana, the Ritz-Carlton Dove Mountain Resort has 27-holes of dramatic Jack Nicklaus golf, awesome swimming pools (lit up at night) and even awesomer food (lit all the time). Note: Only 100 miles south of Phoenix.
Sedona: 100 miles north of Phoenix, Sedona Golf Resort and Seven Canyons provide adventurous, scenic romps through remarkable red-rock and cliff-lined amphitheaters only 100 miles from the South Rim's Grand Canyon Village.
CALIFORNIA
Yes, many of the state's best golf courses are private (Riviera, Cal Club, Cypress Point), or cost you a hefty sum to play (Pebble Beach and Spyglass), but they have to expense the expansive oceanfront properties somehow, so they'll take as many of your hard-earned dollars as they can and let the celebrities (that can afford to pay) play for free.
The Bay Area: From Monterey to the Bay (San Francisco), you'll find every man (and woman) bucket listers like Pebble Beach, but look a little closer and you'll discover more affordable "must plays" like Pacific Grove, Bayonet and Black Horse, plus stay and play combos like Quail Lodge and the Ritz Carlton Half Moon Bay, with their 36 holes on the ocean. Need to experience Pebble Beach Resort but can't afford "the marquee links," check out Spanish Bay and their fabulous 19th Hole Restaurant – Sticks – or take on Tiger's new Short Course opening this fall.
Palm Springs: Head inland from the Pacific and you'll save a substantial sum while still having a warm blast at fabulous resorts like La Quinta Resort (five courses, including the famous PGA West Stadium Course), Big Break's Indian Wells Golf Resort, the Westin Mission Hills Golf Resort and Spa, and Desert Willow Golf Resort with their fantastic Mountain View and Firecliff courses.
SoCal: The San Diego to L.A. area is known more for Disneyland and Sea World than it is for golf, but savvy club swingers take note of these names: Torrey Pines (hosts an annual PGA TOUR event), Barona Creek (one of America's best Casino Courses), Goat Hill Park (near LEGOLand) and Pelican Hill Resort (cool combine with Disney). Without kids in tow, Terranea Resort tops many "favorite" lists with their nine-hole Par 3 and Trump National combo.
FLORIDA
From Disneyland to Disneyworld, and one coast to the other, in Florida you know you'll find the sun, as well as a variety of all-ages fun. Short on time? Find "long on fun" options at Winter Park in Orlando and the Palm Beach Par 3 playground near Miami. Otherwise…
Jacksonville to Orlando: Jacksonville hosts the Players Championship in March at TPC Sawgrass, on Pete Dye's famous Stadium Course, and there are a plethora of other great options nearby like Amelia Island (just north) and Hammock Beach (just south) – both phenomenal family resorts – or, in the land of Universal and Disney (Orlando) target Arnold Palmer's Bay Hill, three great courses at Reunion Resort, two at Orange County National and a trio of Florida's best 60 miles south of Kissimmee at Streamsong Resort.
The Panhandle: Up in the Panhandle, from 30A to Alabama, and Panama City to Pensacola, you'll find resorts like the Watercolor Inn (with Camp Creek) and Sandestin (four courses) that offer the purest of white sandy beaches with just as purely pleasurable golf experiences adjacent other great golf options like Baytowne and Kelly Plantation.
Tampa to Fort Myers: Between the Panhandle and Orlando, Tampa hosts The TOUR annually at Innisbrook for the Valspar Championship and if you venture south from there, you'll find popular beach getaways in Fort Myers and Sanibel Island with The Dunes Golf & Tennis Club not far from the legendary (difficult) Jack Nicklaus Signature course at Old Corkscrew Golf Club in Estero.
NEVADA
What happens in Vegas shouldn't stay in Vegas, not when you're talking about golf – as most of the best golf in Nevada is beyond the The Strip. In fact, other than Topgolf, your best moments (and values) in Nevada golf are likely to be found a bit out of town.
Las Vegas: High Rollers know about Shadow Creek. No one else really needs to. The rest of us can find more affordable games at places like Cascata (still pricey), Royal Links, Angel Park and Pete Dye's 54-holes at Paiute.
Laughlin: Laughlin golf is nothing to laugh at, not with stellar play options at Laughlin Ranch and Mojave, plus easy-loop trips to Boulder Creek and Primm Valley (36 holes).
Mesquite/St. George: This "duo destination" is easily one of America's "Best and Most Underrated Golf Destinations." On the way to Mesquite (from Vegas) play the Jack Nicklaus favorite, Coyote Springs. In Mesquite you can essentially golf on the moon at Wolf Creek or be similarly impressed at Falcon Ridge and Conestoga. As for St. George, well, it may be in Utah, but it's only 40 miles away, and you'd gladly drive twice that (in retrospect) to play Sand Hollow (with other great options in town).
SOUTH CAROLINA
South Carolina is far enough south to be warm all the time and far enough north to stay cool, with a people I praise as "northern nice with southern charm."
Charleston: In Charleston you're close to Pete Dye's famed Ocean Course at Kiawah Island Resort, where Rory ran away with the PGA Championship in 2012. Stay and play Turtle Point there, too, or head 15 miles north of Charleston to another Atlantic-shore resort at Wild Dunes.
Hilton Head: The only thing better than golf on Hilton Head might be Chef Orchid's One Hot Mama's (Home of the Season 7 Food Network Star Prize Dessert – Chocolate Chip Pecan Pie with Bacon Graham Cracker Crust). The island is famous for their desserts and their resorts, in particular Sea Pines – home to Harbour Town Golf Links (play where the pros play) and the NGCOA "National Golf Course of the Year" Davis Love III's Atlantic Dunes.
Myrtle Beach: Many consider Myrtle Beach the "Golf Capital of the World" for their quantity of playing options. The quality is more impressive to me. The Mike Strantz masterpiece, Caledonia Golf and Fish Club, is outstanding. The Dunes Golf & Beach Club… "can't miss." Tidewater in Little River… fantastic. True Blue Plantation and Grand Dunes Resort… play them both. This is a list that could go on forever. But this is a list that won't.
Six stupendously great golf states. Pick one. Plan a trip. Go play. (Repeat as often as possible.)

Ocean Course at Kiawah Island Resort in South Carolina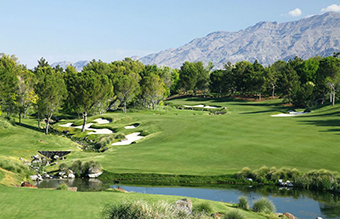 Shadow Creek in Las Vegas, Nevada