PGA Women's Player of the Year – Lori Money (Deer Run Golf Club)
By Rhett Arens
You can always tell when you're in the presence of great character. There is often a palatable lift in the air, a boost of enthusiasm and a bit of magic in the room. During those moments have a look around, everyone is probably smiling. Some people know how to bring this extra positivity into the world and Lori Money is definitely one of those people. A beacon of good thoughts, hard work and personal encouragement. It's only fitting that all that outbound love was returned back to her as she takes home the 2019 Women's PGA Player of Year Award and proudly places it on the Deer Run mantel. Holy cow, has she ever earned it.
There is no pretension around Lori. She has worked too long in the industry to be fooled by smoke and mirrors. She began her golf journey at four years of age and knew almost immediately it was her calling. With access to her parent's country club, she continued to fine-tune and finesse her game into a formidable set of golf skills. The self-competitive nature of the game fed her work-rate and she pushed harder and harder to become an elite player. She practiced and practiced and then practiced some more. This led to a decorated high school career where she placed 2nd and 3rd in the Minnesota State High School Tournament in consecutive years and cemented her priorities for a career in the golf industry. After graduating she became a golf professional and proceeded to take on a number of roles in an effort to understand every aspect of the business. It should be noted that much of this learning and development was done in San Diego on the world-class fairways of Torrey Pines. Great choice!
Lori eventually made her way back to her home state in Minnesota and embarked on a 15 year career at the esteemed Rush Creek Golf Club in Maple Grove. With one eye on the future and the other on the LPGA scoreboard where players like Nancy Lopez, Annika Sorenstam and Christie Kerr provided weekly inspiration, Lori was able to keep up a competitive playing schedule, in addition to her daily work duties. No small feat. Today she admits the playing side of her day-to-day calendar may have been neglected a little bit, but she vows to correct that. She is setting her sites on a run at the USGA U.S. Women's Senior Open. She knows this will require hours of short game practice to turn those four footers into automatics and the 10 footers into 80%ers. There is also the need for lights-out chipping around the greens where the bar needs to be set high so those 1-putt finishes become the norm. I would not bet against Lori as her determination and track record speak for themselves. Those closest to her like Deer Run, General Manager Tom Abts, have no doubt in Lori's ability to compete at the highest levels.
Outside of the playing realm Lori has been a tireless ambassador, giving back to the game that has given her so much. She is prone to say, "The dream has become the reality for me, and I want that for everyone." To this end she has taken the lead on a number of initiatives at Deer Run. Lori and Tom have worked shoulder-to-shoulder on key programs like Veterans Day Tournaments, the Special Olympics, the License Plate Program, the Youth on the Course Program and enriching golf instruction into the local school districts. All of this contributes towards moving the needle for a healthier state-of-golf in Minnesota.
Deer Run's philosophy is echoed in the positive, action-orientated work that Lori embodies. 'Caring' with a capital 'C' is a word that keeps returning to our conversation and it's no surprise that the DRGC clubhouse feels like home right down to the decorated walls and crackling fireplace. It's a culture that Tom and his staff have nurtured over the years and one that Lori embraced whole heartedly five years ago when she came on board. Even in the off-season with two feet of snow on the fairways, work for the coming season is a daily effort. Lori's agenda revolves between event planning and sales, to operational finances and merchandising. Many hats to wear, but she wouldn't have it any other way. Apparently there isn't a thing called downtime in her vocabulary.
The fun meter is set on high at Deer Run. Tops among all the evidence to this point is the insanely popular – Ladies League. Every Tuesday from early April to late August the course is off-limits to the men. Think about that! The entire tee sheet is dedicated to the 300+ women who play every Tuesday throughout the summer with an unrestricted day of golfing joy. I venture to guess there isn't another course in the country that can claim this type of program or this type of participation from the women's league side of the business. If you connect the dots, they lead back to Lori's commitment and enthusiasm. The Deer Run fun factor, coupled with a competitive vibe and an assortment of player-friendly amenities has clearly hit the sweet spot and resulted in the coolest league in the entire state. Yep, I said it, the entire state.
Lori's fabulous golf game put's her near the top of the Minnesota Women's PGA Tournament play every year. This is Lori's second time taking home the coveted Player of the Year Award – which she tends to downplay in conversation. Clearly, she is proud of the accomplishments and results of her off-course work. Cheers to Lori and the impact she's had on the future of golf and the lives of the people she has impacted. For those of us who golf… we salute you.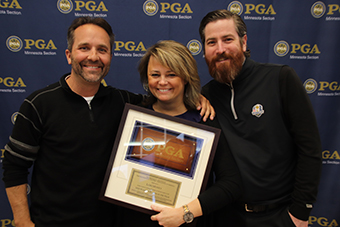 Lori receiving the 2019 Women's Player of the Year Award with her coach Eric Chiles and Aaron Roth