Decade Of Dominance – Joining Arnie's Army
By Rhett Arens
As we turn the page on another decade, it seems like the right time to look back at the players who dominated the game over the past 60-odd years. Tee Times will be featuring a series on the individual champions who rose above their peers and carried the flag for the game we love. Those great players not only held on to the top of the leaderboard, they also elevated the game to new levels of visibility, thus inspiring several generations of Saturday morning warriors and a bottomless supply of athletic, long-hitting PGA professionals. They showed us it takes more than a seamless swing and a steady putting stroke to dominate the game. Much of their success came from their unique ability to control the mental gymnastics while juggling the demands of a life lived in the spotlight. Each brought their own personality and a new legion of fans to the game. We will feature these titans of the game by decade in 10-year installments. In this issue we kick things off in the swinging 60's with a charismatic, confident young man who eventually went on to be known as 'The King.' Sorry it's not Elvis…we're talking about Arnold Palmer.    
Born September 10, 1929, a month before the stock market crash pushed the economy into the Great Depression, Arnold would eventually rise above it all. It's not surprising that young Arnold already had a club in his hand at age 4 where he spent many summer days helping his father (who was groundskeeper and head pro) at Latrobe Country Club in southern Pennsylvania. Fun fact – Latrobe once laid claim to the birthplace of American Pro football, but had to relinquish that claim to Allegheny after some crafty research proved otherwise. However, Arnold would go on to make Latrobe proud as one of the most decorated golfers in the history of the game. A quick recap of his playing career that spanned four decades includes 62 PGA TOUR titles, 7 Major Championship wins, 10 Senior Tour wins, 2 Australian Tour wins and 2 European Tour wins. In 1974 he was inducted into the World Golf Hall of Fame along with the original class of 13 inductees. A fitting capstone came in 1998 when he was bestowed with the PGA Lifetime Achievement Award. His most prolific stretch of dominance came in the late 50's and continued through the mid-60's. His last PGA TOUR win came in 1973 at the Bob Hope Classic beating Jack Nicklaus by 2 strokes. Nicklaus and Palmer shared many close matches in the 1960's with Palmer logging 43 wins and Nicklaus 30.  
During a stunning 7-year period Arnold won his 7 majors and finished runner-up in 3 more. The Masters was where his mastery of a broad skill set shown brightest; and where his command of course management separated him from the pack. His run of the 1958, '60, '62 and '64 titles is unheralded. Think about that in today's terms and try to imagine anyone winning the Masters every other year for the better part of a decade… not likely to happen. It's not hard to see where recruitment into Arnie's Army was an easy sell.  
In his formative years with a golf scholarship in hand, Arnold attended Wake Forest College. His collegiate career was temporarily put on hold for three years after he enlisted in the U.S. Coast Guard. Having served his country, he returned to campus with a greater sense of focus and a burning competitive fire in his belly. In 1954, he won the U.S. Amateur. Bolstered by that success he turned pro that year. His first Professional win came the next year at the Canadian Open where the winner's purse was $2,400, or roughly the cost of a round for a foursome at Pebble Beach today. Winning suited the young Mr. Palmer like an expensive suit and he wore it well. His charisma and good looks were made for the burgeoning TV golf market. The combination of his 'everyman' backstory and results orientated golf soon had the agents circling in his wake. As fate would have it, he eventually paired up with a dynamic, new breed of sports agent in Mike McCormack. McCormack went to work churning the public relations machine and soon Arnold had his hard earned visibility with an enormous talent to back that up. The rapid ascension of 1960's sports broadcasting played right into Arnolds marketable character – his good looks; his working class background and his tendency to choose risk over reward had fans riveted to their new TV sets. His hot temperament and comfort level with showing emotions down the stretch only added to his prime time appeal. Arnie's Army quickly fell into formation.   
Arnolds appeal wasn't only limited to this side of the pond. His strong fundamental play and quick command of the wind-swept, links-style courses almost ended in victory at his first Open Championship in 1960. With that performance he instantly won the respect of the elite European players and knowledgeable fan base. He followed up that breakout performance with back-to-back Open Championships titles in 1961 and '62. Many felt this was the tipping point where he officially kicked the door open for U.S. players across the pond. It's easy to forget that the presence of U.S. players at European events in the late 50's and early 60's was not the norm. It didn't hurt that Arnold's 'wear-his-heart-on-his-sleeve' personality and adaptive skills at playing in the North Sea environment was truly embraced by die-hard European fans. They understood they were witnessing the rise of a dominant player.
In the three year span between 1960 and 1963 Arnie won 29 PGA TOUR events. This would turn out to be his most prolific period. He would steadily add to his PGA TOUR win-count over the course of the 1960's while participating in four winning Ryder Cup Teams. His primary rivals during his exceptional run in the 1960's were Nicklaus and South African Gary Player (aka The Black Knight). Their weekly head-to-head leaderboard runs played out on national television with Arnold landing on top more times than not. It's analogous to the Tiger vs. Phil years where the difference between dominance and elite play comes down to the execution of a high-pressure putt, or holing a green-side bunker, or sticking a pin from 190 yards – all driven by a relentless, self-imposed, will to win.    
Arnold's golden years would eventually give way to the Golden Bear (another dominant player with great people skills to be covered in a later issue). Arnold's Senior Tour years were reminiscent of the Rolling Stones refusal to retire. He might have been ready to give up his place in competitive tournament play, but he saw an opportunity to leverage his elevated stature and kept on chugging to broaden his and wife Winifred's growing commitment to philanthropic endeavors. In addition to the charity work, he brought his hard won visibility into the golf course design business. Today we can all enjoy more than 300 Signature Arnold Palmer courses generously located across 37 states and 25 countries.
That is a decade of dominance that transformed into lifetime of influence and inspiration.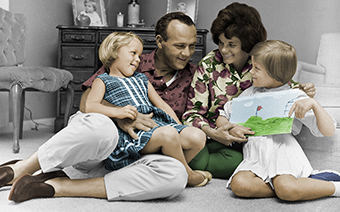 Arnold and Winnie Palmer with their daughters Amy and Peggy