Tournament Club Of Iowa – King Country
By E. Nolan
There are five Iowa public courses every Midwest golfer should play, and the Tournament Club is absolutely one of those five. Ratings themselves are subjective, doesn't matter which publication we're referring to, but at one time or another every single relevant golf magazine in the world has proclaimed Arnold Palmer's suburban swingbox one of Iowa's very best.
Polk City is proud to have "The King's" only Signature design in the state, and while the Des Moines metro has a few other places with pull, I find myself drawn back to TCI most frequently – every year but one, of the past eight. I love the back door porch of the boutique hotel next door (Boulders Inn & Suites) – a perch from which you can take in the beautiful and challenging closing stretch of the course, as it wraps its manicured green fingers around the vibrant blues of the lake. Sticking to the sensational views, I love the dining room in the clubhouse with all of its insane panoramas – the quality of food and service befitting such a superb clifftop setting.
I've always contended it feels more like a private course than a public one, but the reality of accessibility is one of TCI's greatest treats (and feats). The Tournament Club of Iowa is a proper and popular host for dozens of Private & Corporate Outings each year. With a full practice facility that includes a short game area with a bunker and 12,000 square feet of practice greens, their Award-Winning PGA Professionals have all the instructive means to help you maintain and make gains in your game.
"Award-Winning" is a common denominator among TCI's many departments, from the Director of Golf and his pro shop (staff) to the Executive Chef at The Copper Oak Restaurant in the clubhouse and the Event and Wedding coordinators. Each department is charged with the goal of providing elite level service to every guest and on each of my last five visits I've left nothing less than completely impressed. "It takes a lot of work to be the best at something," Director of Golf, Eddie Dennis says, then adds. "And we want to be the best at as many things as possible!"
For some it might only take Arnold Palmer's name to draw them in. (Worked on me my first time.) For others, it's a "bucket list" mentality, of playing the best in each state. And then there are those that care about the "little things" – service, shot values and conditioning. Okay, so those probably aren't "little things" to anyone. (At least they shouldn't be.) They sure aren't treated as little things here. The elevation changes, abundance of water and trees and diversity of hole layouts at Tournament Club of Iowa would give an amateur superintendent nightmares. Fortunately, their superb-intendent knows what he's doing and the playing experience for golfers borders on the surreal. Yes, it is a very difficult course to maintain (and play), but the experience for every guest and member is infinitely rewarding.
Few courses put an emphasis on "proper tee box selection" like the Tournament Club of Iowa. Don't be fooled by the yardage, or bite off more than you can chew and this might end up your favorite Iowan round. (Seriously) It's those who don't keep their ego (or perspective) in check that struggle here. There's a right way and a wrong way to play every hole – a way to post low numbers (I've shot 79 here as a 12-handicap) and a way to post high numbers (I've shot 95 here as a 10-handicap). I honestly count no less than 10 "signature worthy" holes here, equally split – five on the front and five on the back. The front has a beautiful beast at #4 (a downhill bomb towards the river) followed by another downhill gem – the postcard worthy Par 3 – at #5. Then there's the stretch from 7 to 9 along the water that's every bit as incredible hole-for-hole as those other two. The back may ramp up the challenge factor, but it never slacks in stunning. (There's a reason the PGA TOUR brought the Champions here!) That closing trio of holes will make it's mark on you in one way or another, and when you get back up to the clubhouse you'll be nodding and shaking your head. Shaking your head, a bit sad that it's over. Nodding, because you loved it… and you know you have to play it again.
Which takes me back to the Boulders Inn & Suites, the on-site Stay & Play partner of The Tournament Club. The 44-room hotel has big rooms with big TV's, microwaves and refrigerators (in each) with breakfast (FYI) – an easy walk from the clubhouse for wedding parties and golfers alike – an ideal bookend (or bookmark) to some of Iowa's best golf!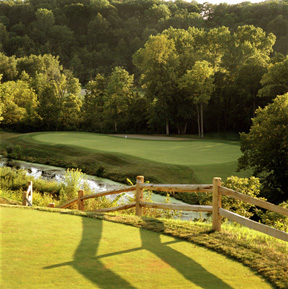 Tournament Club of Iowa #7 Photo Courtesy Peter Wong Photography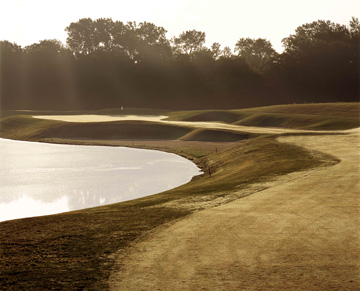 Tournament Club of Iowa #17