The Preserve at Honey Creek Resort – Southern Dells
By E. Nolan
Wisconsin Dells is the Water Park Capital of the World. With all of its water parks, golf courses and outdoor recreation opportunities "The Dells" is simultaneously the Activity Capital of Wisconsin. The Preserve at Honey Creek Resort is the Water Park Capital of Iowa. With the water park, "Best in State" nominee golf course and outdoor rec options galore, I see no reason we can't simultaneously proclaim this little paradise the legitimate "Activity Capital of Iowa."
Who's to argue? If you haven't been to Honey Creek Resort yet, you can't. If you HAVE been to HCR… you won't argue. This is the Iowan equivalent of Wisconsin Dells minus all the chaos and tourist traps. Honey Creek Resort is the best of water park vacations – it is the "Iowa Dells."
A dell is a small valley loaded with trees. There are PLENTY of tree-filled valleys at Honey Creek Resort, on and off the golf course. Drive around this massive state park near Moravia, in southern Iowa, or get out of the car and walk the spiderweb of trails, and you'll be instantly and awesomely immersed in the resplendent natural arena. The best part is, the beautiful dells of Honey Creek Resort State Park begin and end on Lake Rathbun – 11,000 acres and 150 miles of shoreline – Iowa's 2nd biggest lake.
The recreation potential is ridiculous at HCR, particularly in summer when beach volleyball and the water trampoline are bouncing… when fishing boats, kayaks and paddle boards are cutting through the glassy water… when bikers, geocachers, birdwatchers and book readers are out basking in the "far from city" glory, and when jet skis, pontoons and other water craft are being rented and relaxed in. Buccaneer Bay Indoor Water Park is great year round, but can't compete with the outdoor waterpark of Lake Rathbun in the summer. Two water parks at one hotel in Iowa… I told you – the "Iowa Dells."
As a golf lover, I'd contend that of all the greatness at Honey Creek Resort, nothing is greater than the pure golf experience on The Preserve – THE crown jewel of state park golf. Think about that for a second. Golf in a state park means no houses along the fairways. It means few cars driving by. It means a wide variety of wildlife, deafening silence and that "course to yourself" feeling all over the place. PGA Director of Golf, Darin Fisher, has been there since the course opened in 2009. He's talented and in demand as a coach, instructor and golf pro. Why not leave for greener pastures?
"Because there aren't any!" He replied with absolute sincerity. "These are THE greenest pastures." The comeback fits, but only if you understand that the fairways and greens of The Preserve are anything but pastures! Architect Kevin Norby has done impressive work all over, but this is hands-down his BEST worldwide design.
The course is built so everyone can play it. Five sets of tees accommodate lengths and strengths up to 7,000 yards overall, with a diverse arrangement of approaches you can take. Secondly, in recognition for the incredible sustainability of the entire property (Audubon Certified), it's a place everyone would want to play, with ravine carries, water views, sweeping panoramas from several tees, and a creative assortment of hole designs that don't pale in comparison to ANY Iowa course. Third, the eco-diversity Kevin incorporated is mindboggling. You play across open prairies, down through the dells, up to the peaks and around tree-lined corners. If you think of Iowa as lots of cornfields, then you wouldn't think of this place as Iowa at all.
And yet, it's VERY Iowan. It's fields and streams, great people and great food. It's urban modern with rural escape – a 105 room lodge with 28 luxury cottages surrounded by nothing but water, green and stars. Pet-friendly with an RV Park as well, it is a camper's heaven with the broadest sky ceiling. A place guests are kept content (with great around-the-clock service) and well fed at the Rathbun Lakeshore Grille with a bar and assortment of dining menus.
This is where you want to bring your golf group. It's where state golf championships should be held. They not only have the capability to host the best events, they have the property the best event hosts should be booking. And YOU should be playing here. Honey Creek Resort offers a "Spring Golf Special" through April 30th, with room, unlimited golf and lunch at the turn for each person (and three other year-long packages worth checking out).
If you're looking to get away to somewhere you've never been, looking for someplace great to stay and play, head a little south to where they often have 10 to 11 month golf seasons. Head to the Southern Dells.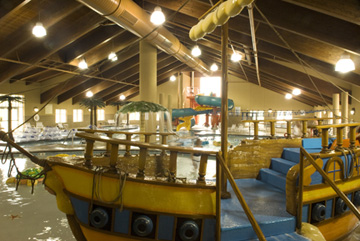 Honey Creek Resort Buccaneer Bay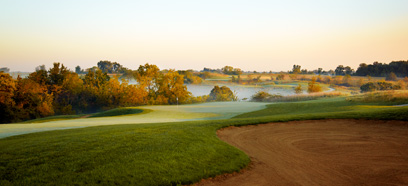 The Preserve at Rathbun Lake #4, Photo Courtesy Peter Wong Photography