Otter Creek Golf Course – Why I Otter
By E. Nolan
Why do you Otter? Why specifically do you love Otter Creek? Is it the pizza? (Probably.) Is it the links-style golf? (Of course.) Is it the phenomenal and abundant golf outings they host because of their incredible event rates and superbly conditioned course? (I mean… yeah.) Or maybe it's because Otter Creek was named the 2016 Iowa Golf Association "18 Hole Course of the Year." (Definitely!) If you're a resident of Ames, Ankeny or Des Moines you probably Otter for a LOT of different reasons. But, for out-of-towners, the question has to be asked… "Why should THEY Otter?"
Otter Creek has incredible pizza. (You thought that was a joke, didn't you. Nope!) The Tin Cup Bar and Grille is locally renowned for their stellar homemade pizza, but also for their specialty sandwiches (Italian Club…WOW!), their well-stocked bar, flat screen TV's, fabulous golf course views, excellent service and (perhaps best of all) their "To Go" menu. This is far from your average golf course restaurant. This is a place the public comes NOT to golf, too. (Totally worth the stop if you're passing by on I-35!)
Otter Creek has a double-end driving range, GPS on all the golf carts, two practice putting greens and a chipping area with a bunker for short game work. In other words, they have the amenities to help you with your game. Providing further help, they have staff instructors and the Tom Tays Performance Studio where Tom's "Keep it Simple" philosophy makes the complicated game a lot easier for everyone he works with (Check out his Buddy Lessons). And then there's the Junior Golf program with camps throughout June and July, and a course built perfectly for youth golf!
Every course promotes their event and tournament capabilities, but few in Iowa can compete with Otter's catering quality and accommodation options (Pinnacle Club Banquet Facility), or with a course that so many different group play formats find so enjoyable. Links golf is already fun, but playing it with a group makes it even more so. The Pinnacle Club can host up to 250 guests, so golf groups, banquets AND weddings make regular use of it and rave about the experience.
The more praise I heap on the many facets of the operation here at Otter Creek, the less likely you are to believe that this is a municipal course. I say that because many municipal courses across the country have a reputation of being "a notch below" the best courses. Not so with this City of Ankeny, Paul Miller designed, gem. If anything, (especially given the superb value of their rates) Otter Creek is "a notch above." (So easy to walk 18 at only $38 in PEAK season!) Their conditioning is typically superior to all surrounding competitors. Their accessibility is so easy, with a relatively new exit off I-35 turning almost directly into their parking lot. They have that food menu that I've already gone on and on about. And then… well… then they have just so much fun here! Everyone does. This is a golf haven for the entire family… for every level of learner and pro!
Other than the fescue and scattered ponds, there are few hazards on the course. Lots of hills and mounds collect and redirect errant shots, but it's otherwise a pretty straightforward playing experience. The front nine has several signature holes – specifically the Par 3, 4th hole over the pond and the Par 4, 5th hole that cuts between two more ponds. The downhill front-closing 9th is awesome when the wind's at your back – a great birdie opportunity and, what can I say, I'm always happy to make The Tin Cup part of my "turn."
The strongest design power was saved for the back (as it should be) and Paul Miller sure had some fun. If the course had ONE "Signature" hole that everyone talks about, it would be the Par 3, 15th with the massive water carry (next to the clubhouse), but there's an epic Par 5 (11th) before that, and a memorable drop shot towards I-35 at 13, with one of the more beautiful and challenging courses anywhere at 14. (And another chance to pick up something at The Tin Cup!) There are houses scattered around throughout the round, but seldom do they feel even remotely intrusive. Your focus will be far more centered on all the ponds. Know where they are and how to stay out of them and you'll be just fine.
Hopefully you got a sampling of "Why I Otter" and "Why YOU Outta" come down and experience Otter Creek Golf Course for yourself. Whenever you're cruising down I-35 towards Des Moines you can't miss it (on your right) and it's literally just two short turns from the interstate to 3.5 hours of pure Links fun.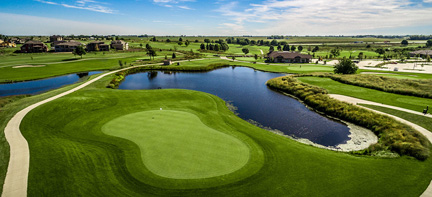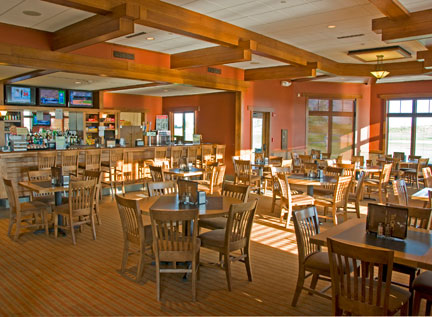 Tin Cup Bar & Grille Photo Courtesy of Brent Isenburger Photography