Bos Landen – Double Dutch
By E. Nolan
I don't jump rope, but I'll take two Pannekoeken any chance I get. The Dutch sure do pancakes right. They do a lot of things right – from meats to markets, from tulip festivals to pubs – especially in Pella, Iowa. Pella plates "the good stuff" up everywhere, from the Puff Pillows and Dutch Letters at Jaarsma Bakery on Franklin Street (One of Trip Advisor's ONLY perfect rated bakeries.) to the chocolate chip truffle cookies at Vander Ploeg (pronounced like it's spelled) and the rural ovens and smokers out at Bubba-Q's – at the golf course… Bos Landen.
Five trips to Pella have given me five sets of impressions, including five double-bogeys on Bos Landen's #2 and two losses to Central College in football as a former Wartburg Knight. But I'd rather dwell on the aforementioned "good stuff" of which I've already mentioned there's PLENTY around here – like the marquis Royal Amsterdam Hotel and all its getaway packages. I'll get to the golf, don't you worry, but first let's explore this beautiful "little city."
"America's Dutch Treasure" is only 40 miles southeast of Des Moines – the name Pella meaning "City of Refuge." As spring sets in across the Midwest the activity around "Dutch Town" duplicates then doubles (and often doubles again). You get the Tulip Time Festival (May 3-5 in 2018) where up to 200,000 gather to welcome ten times that many blooming tulips (rough estimate). Acquainting yourself with this quaint city means getting to know the name "Vermeer" as the in the Vermeer Mill in the Historical Village – the largest working grain windmill in the United States. It means getting out on Iowa's biggest lake – Lake Red Rock – jamming out at the Opera House, climbing 170 steps to the top of Cordova Observation Tower and watching bald eagles from Horn's Ferry Bridge. You familiarize yourself with the business names that thrive here (as much as the bakeries), like Pella Corporation, Vermeer Corporation and Frisian Farms (they make some really Gouda cheese). There are wineries and museums, racetracks, canals and a dam (cool dam). I can spend a lot of time wandering in and out of Pella, from the city streets to the fairways of it's nationally acclaimed gem – Bos Landen Golf Club.
When club-building giant Warrior Custom Golf bought Bos Landen a few years back everyone wanted to know why. How exactly did this specific course in small town central America gain the attention of an industrial stalwart? Warrior's response was simple – VALUE. "We consistently seek to deliver the greatest value at the lowest costs." That's not just Warrior, but IOWA in a nutshell to everyone who has explored it. Bos Landen and Warrior Custom Golf made for a pretty perfect match.
Maybe you've never heard of Bos Landen. Maybe you've never heard of Iowa. Bos Landen, like Iowa, is a pretty special place. Designed by architect Dick Phelps (Bos Landen, not Iowa), the course was rated #1 in the State by Golf Digest from 1997 to 2001. It's since been acclaimed by other publications as a "Top 75 Most Affordable Round" and back to the "Top 5 Public Courses in Iowa" by Golfweek in 2017. That's an impressive track record… some pretty consistent excellence over the past 20 years.
General Manager Jay Davis is quick to praise the most recent improvements. "Our superintendent Travis Brown has taken a beautiful property and made it even more magnificent, and our new restaurant (Opened October 2017) really draws the crowds. People can come out to play golf, eat and drink… even cook their own steaks (at Bubba-Q's Smokehouse and Steakhouse)." Cook their own steaks at a restaurant??? "Yes."
The course itself stretches across five sets of tees, from 5,100 to 7,000 yards. "What's the best hole out here, Jay?" (NOTE: Every General Manager LOVES to be asked that question. Not!) Jay smiles, validating my parenthetical point. "Well, the Par 5, 14th is definitely the most popular, but I love the 4th hole… from every set of tees." I agree wholeheartedly with Jay there. In fact, once I get past that 2nd hole, that next stretch is so enchanting, with a great drop-shot Par 3, and that 4th hole along the water (risk/reward from the front tees). I spread my love to the back as well – to 10, 13 and 16… there are so many great holes here!
Whether you're coming down for the Tulip Festival, for a vacation on Lake Red Rock or a golf getaway to Bos Landen, the Holiday Inn Express has free breakfast and a variety of Stay & Play Packages for you (on the Bos Landen property). That awesome accessibility makes this a great host for events and tournaments of all sizes. I asked Jay, in parting, to give me four words to sum up The Bos – "High End. Low Price," he said. VALUE.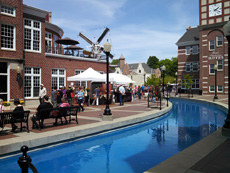 Vermeer Mill and Canal in Pella, Iowa