Destination Extraordinaire – The Resort at Pelican Hill
By Rhett Arens
From the moment you pass through the vaulted lobby for that first look at the Pacific, The Resort at Pelican Hill is calling for your attention. What is found spread out below you is the stunning, infinity designed Coliseum pool in all its Italian Renaissance splendor. Golfers take note that is the 18th hole sprawling below the pool's edge to the west. Later in the day it will challenge your nerves and test your swing commitment. This year finds Pelican Hill celebrating 10 years of sending visiting golfers home speechless with a big smile on their face.
Located along a classic stretch of southern California coastline 20 minutes from the John Wayne Airport, this Newport Beach property seems to go on and on as you traverse from spa, to the golfing complex, to lunch, to the pool, to the beach, back to your villa and then out for dinner at one of the six dining choices on site. With all that movement, the resort's prompt shuttle service is a must and at the very end of the day it will even drop you off at your villa's doorstep. That my friends, is a perfect day on earth.
To the best of my knowledge there isn't a resort experience in the same league with Pelican Hill anywhere in the Midwest. Let me tell you why. First and foremost, it's open to the public with a parking lot full of Lamborghini's, Ferraris and Teslas. Amazingly there are two Tom Fazio designed golf courses that run along this stunning stretch of real estate with striking views in every direction. That in itself is enough, but there is more… there are award winning chefs serving everything from full-on culinary heaven to grab-and-go style convenience, there is a pristine stretch of beach with scattered tide pools and a storied history called Crystal Cove, there is the luxurious spa with a dedicated staff who are trained to soothe and reinvigorate at the same time (not sure how that's even possible, but they do). Last but not least, there are smiles and knowing winks from the staff at all points around the resort; enough that even the jaded can feel the difference.
The Italian inspired accommodations come in two varieties, the Villas and the Bungalows and they are spectacular. All have private walk out patios and many have ocean views or stunning golf course views. They come in several floorplan arrangements that range in size from comfortably bringing the entire family under one roof to villas with 2, 3 and 4 bedroom layouts with their own staff, full kitchens and plenty of luxurious living space. Some single bedroom suites are set up for romance with in-room fireplaces and deep-soaking tubs. All of the units are decorated in soft, muted colors and contemporary furnishings. Of course there are a myriad of extras like multiple plasma TV's, Bose sound systems, espresso machines, wet bars, double sinks and the cushiest bath robes I have ever seen. It's no surprise that the housing staff's philosophy is, "If it can be done, it will be done." Clearly the bar is set high and that commitment is unwavering.
The intimacy of the overall resort layout reminds me of a small, upscale community. Perfect for casual strolls around the impeccable grounds or a hearty jog before dinner. Pelican Hill is smartly designed to provide that calming sense of retreat without the cold isolation felt at some larger resorts. In other words, a perfect blend of upscale relaxation with plenty of action at your fingertips.
The Resort at Pelican Hill has invested heavily in The Spa as well as its exemplary staff of professionals. Reinvigorating your body and soul is their mission. They understand the point is to self-indulge. With 22 treatment rooms and a broad menu of services from which to choose, resetting that stress meter is not a problem. The variety of offerings range from aromatherapy, to facial treatments, to skin glow enhancements, to massages of every type including romantic bath collections for couples. The staff can also combine treatments to create a customized experience. For the 10th year in a row Forbes Travel Guide has awarded The Spa with a Five-Star rating. Additional accolades come from Conde Nast Traveler magazine where it was selected the reader's choice #1 Spa in California. In California! The land of spas!
Not sure if it would be better to spa before or after a round of golf? I'm betting after, that way you will have time to soak in what just happened to you. There are two stunning courses at Pelican Hill. The Ocean South Course is highlighted by silky greens, long second shots both uphill and down, rock formations, and chasms of lush ravines that divide fairways into carries and targets. However, the most troublesome hazard on both courses may be the amazing views, which tend to pull your attention in every direction at once. Try not to wander too much because scoring well on these courses is a real feather in your cap. The Ocean North Course is characterized by dazzling Pacific views from almost every tee box. That gives you an idea on how those coastline heaves and dunes are worked into the Fazio design. With canyon-like drop-offs and a generous assortment of well-placed white-sand bunkers, scoring in the 70's will take everything you've got, especially from the 7,000 yard tips. With 36 holes of this caliber playing out of the same clubhouse, it's no surprise that Golf Digest has included Pelican Hill in its list of 'Americas 100 Greatest Golf Courses.' There's a better chance you will pull a muscle reaching for your camera than swinging your driver.
If your game needs a lift the Pelican Hill Golf Club offers world-class instruction at its golf academy under the experienced direction of Glenn Deck, a Golf Magazine 'Top 100 Teacher.' Glenn and his team of PGA Professionals are available to provide instruction for all levels of play with a philosophy that aligns to your individual swing tendencies and athletic abilities. There is a wide spectrum of programs and lesson structures, either individualized or in groups. The practice facility provides a perfect layout for a quick pre-round bucket or an extensive swing tuning session. Naturally lessons, rounds and accommodations can be packaged into a single price point for that ideal buddy trip or a couple's golf retreat. There are three tier-levels of membership also available for the SoCal locals ranging from The Preferred to The Platinum. Try not to strain your neck too much as you will likely be sharing the range with a celebrity or two, after all this is Southern California.
For foodies and those who simply enjoy the pleasures of fine dining, Pelican Hill takes its culinary achievements very seriously. Specializing in northern Italian cuisine, Andrea tops the restaurant options with a variety of scratch pasta entrées including its signature tableside risotto. During our 5-course dinner, each serving was meticulously paired with splendid wines from across an extensive list. Our sommelier did an excellent job of explaining the pairings and grape origins, this really enhanced our dining experience. Rounding out the top-end restaurant choices is the Pelican Grill which specializes in a seafood centric menu with a nice blend of Italian and traditional American. No surprise given the views of the Pacific out the wall of western facing windows. Whether dining outside by candlelight on the balcony or inside under the classical architecture, you will be bathed in great service and those stunning Pacific sunsets.
The Resort at Pelican Hill offers one more surprise with a short shuttle ride, bike ride or hike down to the Pacific… Crystal Cove Beach. Three miles of sand and surf designated as an historical landmark for its place in classic SoCal beach lore as a chill-out spot for the busy LA movers and shakers. There are walking paths through the bluffs with great views out across the Pacific as well as bike trails that wind through the native grasses and dunes. The vibe and scale are perfect for a meander or a picnic. If packing your own basket isn't your thing, there is The Beachcomber Café a converted vintage beach house with a large deck and the Bootlegger Bar, both are tempting stops along the way for a cold refreshment. Situated up on the bluffs with a steady breeze and plenty of sunshine is Ruby's Shake Shack with its simple menu and all the atmosphere you will need.
I would imagine by now I've convinced you there isn't anything quite like Pelican Hills in Minnesota or Wisconsin… and that is exactly the point! A destination golf trip is supposed to provide those awe-inspiring moments and ultimately a round of golf that thrills and rewards at the same time. In short, a bundle of memories that last a lifetime. With a bit of a splurge and a comfortable flight into Orange County, those memories are yours to keep. The Resort at Pelican Hill will handle the rest.
ALL PHOTOS COURTESY OF PELICAN HILL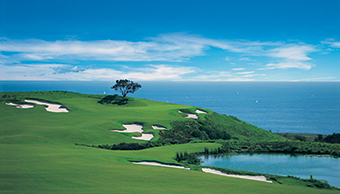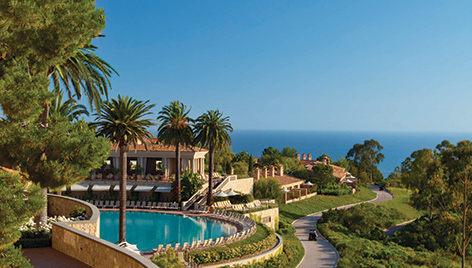 Pelican Hill Promenade, Pool and Pacific View