Tournament Club Of Iowa – The King Reigns On
By E. Nolan
I miss Arnold Palmer, and how could I not. Meeting him, listening to him, watching him… each opportunity left me wanting more opportunities. I have similar feelings when I play golf courses I love. I can't wait to get to them, can't wait to play them and I marvel hole-after-hole at their most memorable features… and then, when I'm "forced" to leave them, I can't wait to get back to them again. One of my favorite places on earth is The Bay Hill Club in Florida, Palmer's "home course," but I don't just love it for the golf. There's something about that entire property that just lets you "feel" Palmer everywhere. Deacon's Lodge does that for me in Minnesota (Palmer's tribute to his father) and Iowans are blessed to have an invaluable slice of Palmer's "King-dom" at the Tournament Club of Iowa. I miss the Tournament Club of Iowa… and I can't wait to play it again.
You'd have trouble convincing me that "The King's" only Signature design in Iowa isn't also Iowa's top public facility, and that opinion is also based on a lot more than just the golf. I can admit to some Palmer bias (lol), but the service here from Director of Golf Eddie Dennis' staff is always great, the conditioning for all the low-lying areas tends to be exceptional, the practice facility is topnotch (with range, short game area and 12,000 square feet of practice greens), the food in the clubhouse is chef-prepared, and the bonus lodging at the adjacent QUBE Hotel is the perfect comprehensive complement (great Stay & Play packages). I love staying at The QUBE and not just for the golf. The suites are large, the amenities are plenty, the beds are comfortable and you're so close to Saylorville Lake, Big Creek Lake and plenty of great parks and recreation… it all adds up to give the visitor what always feel like… well… "more."
I've forever contended that TCI feels more like a private course – cutting through the high-end residential community to that majestic clubhouse perched up on the bluff – but the club is 100% accessible for everyone, and everyone seems to capitalize on that, as popular as the place is for hosting private and corporate outings every year. I can understand why people love to play scramble formats of golf here – there are so many fun shots you can unabashedly attempt in team dynamics here that you would hesitate to take when playing for individual score. And those shots absolutely should be taken!
Best Iowan course or not, it is certainly the state's greatest "golf adventure." In a state often miscategorized as flat, Arnold Palmer collected virtually every existent elevation change here and capitalized on all of them. You get plateaued tee shots at 1, 3, 4, 5 and 8 on the front and so many more that "feel" plateaued on the back. I marvel every time at how the course was built on such turbulent topography, and how Mr. Palmer managed to work so much quality angular diversity into one round.
The course has its quirks – holes that eat me alive when I allow my ego to overrule my brain, like the short, pinched Par 4, 11th with its unique twist along the creek and over the marsh to a tricky green, and the dogleg left 12th hole that in 11 tries I never have figured out – but quirks provide entertainment when viewed in the right light and I always tell myself that Palmer did this for a reason… just enjoy it.
Besides, the exceptional holes here far outnumber the quirky ones. The Par 3's alone make the round well worth playing. All three on the front offer dramatic, elevated short shots to receptive but well-guarded greens and none of them is even my favorite front-nine hole. That distinction goes to #7, a beautiful dogleg Par 4 that cuts across the river then runs alongside it to the green. I high-five the bridge every time I play this hole and will continue to do so until they put a statue of Palmer out here that I can high-five instead.
The back nine is tougher than the front, in my opinion, but ends with a trio of beauties, with a Par 3 at 16 guarded by a pond and twin sidewinders at 17 and 18 that snake above and around a lake. You climb the hill to the clubhouse after the round and would be wise to stay for a bite and/or drink overlooking those closing holes – the perfect way to toast a memorable, challenging and rewarding round… the perfect place to toast "The King."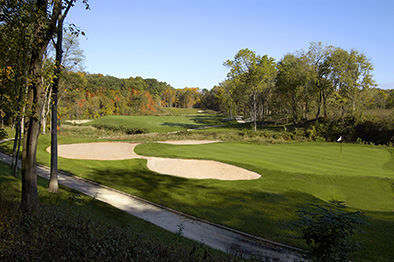 Tournament Club of Iowa #7

Tournament Club of Iowa #17