Island Resort & Casino-The Present and Future of Golf
By E. Nolan
Sage Run Golf Course
The Midwest is investing HEAVILY in new golf. Take into consideration the massive developments occurring at Sand Valley's (three new courses) in Wisconsin, and (three new courses) at Big Cedar Lodge in Missouri. Then there's Michigan, the hottest of summer golf markets with three new courses of its own (The Loop at Forest Dunes, the new course at Gull Lake View Resort, and Arcadia Bluffs 2.0) all paving the way for the Upper Peninsula's own new release – the Paul Albanese course at Island Resort & Casino… Sage Run.
Sage Run should be of particular interest to Minnesota and Wisconsin golfers, not just because it will be brand new (opening in June 2018), but because it's so close to us AND there's another of Michigan's best courses hosted at that SAME resort – Sweetgrass Golf Club.
350 miles EAST of us, door-to-door from the Minneapolis/St. Paul airport, and only 200 miles north of Milwaukee, Island Resort and Casino presents itself as a fabulous weekend getaway, or short golf and gaming escape, for two massive metro areas. So close to the Lake Michigan shore town of Escanaba, there's plenty to do there other than golf, but for this year at least GOLF is the headline act – The Main Attraction.
Paul Albanese is already a legend in these parts, thanks to his HUGE success with Sweetgrass Golf Club. Virtually every ranking expert puts Sweetgrass in their "Michigan Top 10" tells you it's a legitimate star. And, as far as the Hannahville Indian Community and Potawatomi Tribe were concerned, it more than authenticated his qualifications for building the second course – Sage Run.
I toured the Sage Run course in late 2017 (as it was almost complete), and was positively blown away by the topography. "This is so completely different from Sweetgrass," I commented. "Exactly as it was meant to be," Mr. Albanese nods. "It's only a few miles away geographically, but the only similarity to Sweetgrass (we hope) is the way it fits so perfectly with the land (and the excellent conditioning)."
Sage Run is defined by a massive "elongated hill" or ridgeline known as a "drumlin" formed by glacial ice centuries ago. The holes bounce off that dramatic drumlin in every direction, providing quite the scenic variety throughout the round. There are forest holes and wide-open holes, a variety of hazards and shot difficulties, and a pretty incredible range of tee box possibilities. You can play a lot of different rounds of golf on just this one course. That allure will have the golfers pouring in from all over, much as they did when Sweetgrass opened several years back. When you understand that Sage Run was the centerpiece of a $10 Million resort "enhancement" you hopefully realize that the owners/operators are not shy about spending money, and about giving the public a product they're proud of. For further proof you just need to look at Sweetgrass Golf Club.
Sweetgrass Golf Club
Sweetgrass is very much a tale of two nines. It's honestly a round that gets more and more interesting as you go on. Kicking off from the clubhouse, at the far back corner of the hotel and casino, Sweetgrass stretches wide to accommodate nervous shots and cold swings, then tightens up and ramps up the green speeds and general difficulties. The straight-shot holes get harder and harder, then Albanese brings in the hazards. The hazard holes get more and more intriguing then Mr. Albanese switches up greens, from Redan to Biarritz to Double and even Island (as in the famous #15). It's the everything-but-the-kitchen-sink of golf courses in a sense, a great test for every club in your bag. And, if you're a lover of architecture (golf and non-golf) you'll appreciate how Mr. Albanese worked in a collection of historic bridges throughout the routing. (It's no wonder photographers line up to shoot this course!)
I've played Sweetgrass Golf Club four times and liked it more each time. I particularly like the 8th hole on the front. A great risk-reward hole with an awesome raised green and some pretty stellar protective bunkers. It was a genius move to make the 9th and 18th holes share a massive green, and to have both of them running uphill towards a beautiful finish on the water (with waterfalls). I easily became a fan of Mr. Albanese's brilliant design style, and would have endorsed the drive for anyone to simply play Sweetgrass Golf Club. Now, with the 2018 addition of Sage Run, a Stay & Play package at Island Resort and Casino with BOTH courses becomes a no-brainer. (That you can add rounds at the incredible Mike Devries Greywalls course at Marquette Golf Club and Timberstone to any package is an even greater bonus. Four VERY diverse courses running out of one casino hotel? Come on now!) The Perfect 4-Some, how can you resist that?
Island Resort & Casino
The point should already be clear that golfers should be planning their Summer 2018 trips up here. You know where you'll be playing.
Here's where you'll be staying:
The Resort offers an assortment of over 300 king and queen guest rooms and 14 luxury suites. Your home away from home has large screen TV's with cable, sitting areas, and whirlpool tubs and kitchenettes in the suites. There's even a 42-site RV park if you'd like to bring your actual (mobile) home with you!
Non-golfers have plenty of other gaming options at the casino with over 1,200 slot machines of the newest technology. There's Electronic, High-Stakes and Cosmo Bingo, with tourneys and pull-tabs. There's a new smoke-free Poker Room with tableside service, cash games, weekly and special tournaments and then all the blackjack, craps, 3-card poker and Texas Hold 'em tables. NOTE: Groups are welcomed to use the massive 13,000 square feet of space in the Convention Center, with a seating capacity for 750, an outdoor courtyard, event coordinating/decorating teams and full-service catering.
Non-gamers have easy access to the Drift Spa, with its tranquility rooms, skilled masseuses and therapists, indoor pool and fitness center, co-ed sauna, steam rooms and salon for hair, nail and other treatments all dedicated to mind, body and spirit renewal.
Beyond the golf, gaming and spa there's even more entertainment. The Island Showroom is a 1,315-seat theater-style stage that hosts many celebrity acts like (comedians) Kathleen Madigan (March 9 &10) and Terry Fator (May 18-19), REO Speedwagon, Brett Young and more (check their website calendar). As an added bonus, on the FREE side, there's Club Four One with Live entertainment Thursday through Sunday nights. Plenty to love.
And everyone loves to eat. Island Resort has (count them) EIGHT dining options for guests. 5 Bridges Steak & Seafood House is the Signature fine-dining restaurant. 5 Bridges Pub serves the Upper Peninsula's largest selection of Draft & Bottled Beers and a sandwich called the Banh Mi that I simply cannot resist. Firekeepers Restaurant is casual dining with a Midwest theme. Coral Reef Grille is a quick-order stop. T. McC's Sports Bar has every big game on their bigger screens. Mexican Express has a simple menu with fresh ingredients and a mean Soaring Eagle Burrito. Coffee & Custard Shop gives you donuts, snacks, ice cream and baked goods and then there's the convenience store that houses Signature Subs & Pizza (self-explanatory).
As you can tell, there's something for everyone here. But, thanks to the opening of Sage Run in June 2018 and the excellent existing track at Sweetgrass, NO ONE beats the good fortune of the golfer at Island Resort & Casino.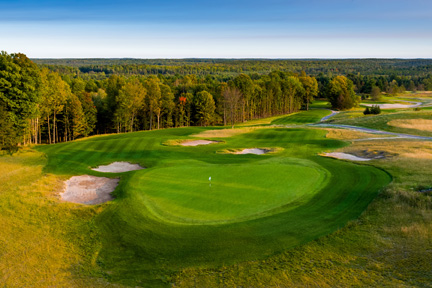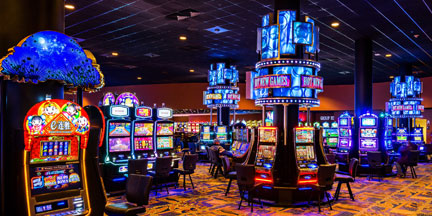 Island Resort & Casino Gaming