Eddie Langert and Evel Knievel Jump-Started TaylorMade
By R.J. Smiley
This story represents a dictionary definition of "FATE".
With a youthful twinkle in his aging eyes, Eddie Langert stated: "The showmanship of Evel Knievel launched TaylorMade club sales!  Since those days at the Red Roof Inn, TaylorMade has been among the top selling golf clubs in the world.  That event ended wooden-head golf clubs forever."
Langert's quote does not mention how his marketing genius rocketed TaylorMade clubs over the golf industry's Grand Canyon (Titleist, Wilson & PING) to become the world leader in club sales.  Just four years after the motorcycle madman's dog and pony show, TaylorMade was sold to the Solomon Group, the French ski company, for millions
Gary Adams, a young golf club salesman, mortgaged his home to start a golf club company to make just one golf club – a stainless steel driver he called – Pittsburgh Persimmon.  Alan Cook, an early customer and club pro in the San Diego area, came up with name to spur sales in his shop.
Eddie Langert, a career golf professional who was well known for his love of club technology and sales ability joined Adams as Vice President and Director of Marketing.
Evel Knievel, the Butte, Montana high school drop-out was an outstanding athlete who excelled at every sport, including golf. Evel was a creative street-smart entrepreneur.  But "Evel" was a better "showman," he wore Elvis Presley looking leathers and rode rocket-like motorcycles.  His death-defying motorcycle jumps staged at exotic locations attracted a worldwide audience.  His well hyped and long anticipated jumps were rarely successful jumps, but the resulting crashes were spectacular.  He became a cult hero.
In 1979 Adams and Langert used their last dollars to attend the PGA Merchandise Show in Orlando, FL to sell their Pittsburgh Persimmon drivers.  Langert, the merchandising genius, had contracted a Fond du Lac, WI box company to create an attractive stand-alone display containing 28 TaylorMade drivers.  Each box contained 4 rows of 7 clubs each: ladies, mature gentlemen, regular hitters and animals.  Each shaft catered to the swing speed of different players.
The boxes were attractive, and the clubs were unique, but the word quickly spread that the clubs made a strange clanking sound as the club struck a golf ball.  The show results – miserable failure.  Broke and depressed, Adams and Langert headed home seeking a notable investor who could salvage the floundering company. 
As the sun rose after another sleepless night, Adams received a call from Evel Knievel.  "I want you two to come to Florida to play golf and discuss my involvement with TaylorMade." 
They arrived in Kissimmee, Florida with only $100 between them. 
On the first tee Knievel wanted to play $25 Nassau with unlimited presses.  As the round progressed, Knievel was hot and the presses kept coming.  Adams and Langert were worried how they would pay their losses.  On the 14th tee Knievel hit his drive out of bounds.  With the temper of a daredevil, the enraged Evel Knievel wildly threw his driver.  The whirler-bird driver barely missed Langert's head.
Langert recalled, "I grabbed Knievel by the shirt and pulled him nose to nose and screamed, 'If you ever do that again I will take a divot out of your head with my 7-iron.'" 
The match continued, but the incident had broken evil's concentration. When Evel's final putt lipped out, Adams and Langert had won $450.  "I want a rematch tomorrow; I will even pay for your rooms," Evel demanded.  The next morning before the first shot was struck Evel said, "I love the idea of metal head golf clubs.  If you guys beat me today, I will help promote these club for you."
Team TaylorMade won $1,750 from the showman.  Evel went to his million-dollar RV, his traveling home, and retrieved the cash.  As he handed the money to the duo he said, "There is a golf show going on at the Red Roof Inn just down the street.  All 200 rooms are filled with golf pros.  Let's take that money you won from me and buy chicken wings and beer.  We will invite all the golf pros for wings, beer, and a demo.  I will come by with my motorcycle wearing my leathers to promote the TaylorMade clubs."
Langert said, "We rented room #378 and turned the boom box up loud each evening.  Evel posed for pictures and autographed over 300 photos as we sold clubs to the club pros.  The 28-club boxes were $1,640 and we took orders for over $150,000.  Those three days at the Red Roof Inn launched TaylorMade."
How did Langert hook up with Adams?
Fresh out of college Langert was among the top players on the PGA TOUR, then he settled into the life of a club professional at a series of the finer private clubs in the Twin Cities.  Langert was a born salesman; he kept his lesson schedule filled.  He helped thousands of golfers to play the game better with his ability to make golfers believe that if they did it his way they would improve.
Langert loved golf club technology.  His genius as a club professional was selling that technology to golfers!  (Those were the days before golf super stores with computerized club fitting.  Most golf clubs were sold in the pro shop.)  Langert used a crude loft and lie machine, and his sales talent, to create the "perfect set of clubs" for each golfer.
As the years went by, Eddie grew tired of the same old, same old of being a club pro.  In 1966 he resigned from Town & Country club in St. Paul and took a job selling life insurance in the Twin Cities for National Life Insurance of Vermont.  "We had our office in the IDS Tower; the company paid my membership at Edina Country Club.  It was a nice gig and I was among the leading salesman, but I soon learned that that was not the life I wanted." 
Eddie had made the decision to relocate and find another pro job at a quality private club.  Sitting in the grill at Edina Country Club Eddie was discussing his next move with friend, WCCO sports personality, Ray Scott.  When Eddie mentioned that he had applied for the job at Oneida Country Club in Green Bay, Scott responded, "I am a good friend of Vince Lombardi.  He is on the board at Oneida.  Let me call him, with my recommendation I am sure he will get you an interview."
A few weeks later, Eddie arrived at Oneida for a round and an interview with the board.  "I shot 69 the first time I saw the golf course.  That impressed them." 
After the interview Lombardi asked Eddie to wait outside for a few minutes. 
When the famed Packer Coach walked up to Eddie, he reached out his hand and said, "Congratulations, you are the new head professional at Oneida Country Club.  Now, I have a question for you: Are you a Viking fan or a Packer fan?"
Still holding Lombardi's hand, Eddie replied, "As of 30 seconds ago, I am a Packer fan."
Lombardi smiled and said, "Good because my secretary has 4 season tickets for you – on the 50-yard line.  While you are head professional at Oneida you have one job.  You have to help me break 80 from the blue tees.  We are remodeling the locker rooms at Lambeau Field.  I will have a golf training center built where you will have a locker.  We can spend time teaching me to play golf."
"It was men's day and the grill was full when Lombardi walked in," Eddie said as his face lit-up.  "Lombardi's voice boomed above the chatter. "We have the greatest golf professional in the world.  With his help I just shot 76 from the blue tees.  For the rest of the evening all drinks are on me!"
At Oneida, Eddie sold many sets of PGAVictor clubs.  Gary Adams was the Regional Sales Manager for PGA Victor Golf Clubs.  The friendship developed as Adams understood Langert's sales skills and inventive marketing mind.  During his freshman year of college (in those days freshmen could not receive scholarships) Eddie took a job with a door-to-door pot and pan salesman.  "I was the leading salesman.  I went door to door and sold them to the college girls."
When Adams founded TaylorMade he convinced Langert to join his company as Vice President and Director of Marketing. 
Langert's knack for catchy names made TaylorMade clubs easy to remember.  Older golfers remember Tour Burner, Tour Spoon and Tour Preferred balls.  Over the past 30 years the golf ball has changed dramatically but the TaylorMade TP5 (Tour Preferred) golf ball still bears the initials of Langert's original ball.
At age 86, Eddie Langert has a razor-sharp mind for details from golf days past.  He particularly enjoys telling of the early days of TaylorMade.  "I took 13 Tour Spoon 3-woods to a tournament in California.  My old friend, Miller Barber, Mr. X as he was known, was hitting shag balls to his caddie.  I walked over and watched until Barber was hitting his 3-woods.  I handed him the Tour Spoon, our new 13° 3-wood.  On the first swing Barber hit his ball 20 yards over the caddie's head."
"What is that thing?" Barber said.
I sold all 13 Tour Spoons (we made the pros pay $32.40 each for the clubs) that day.  The stories continue……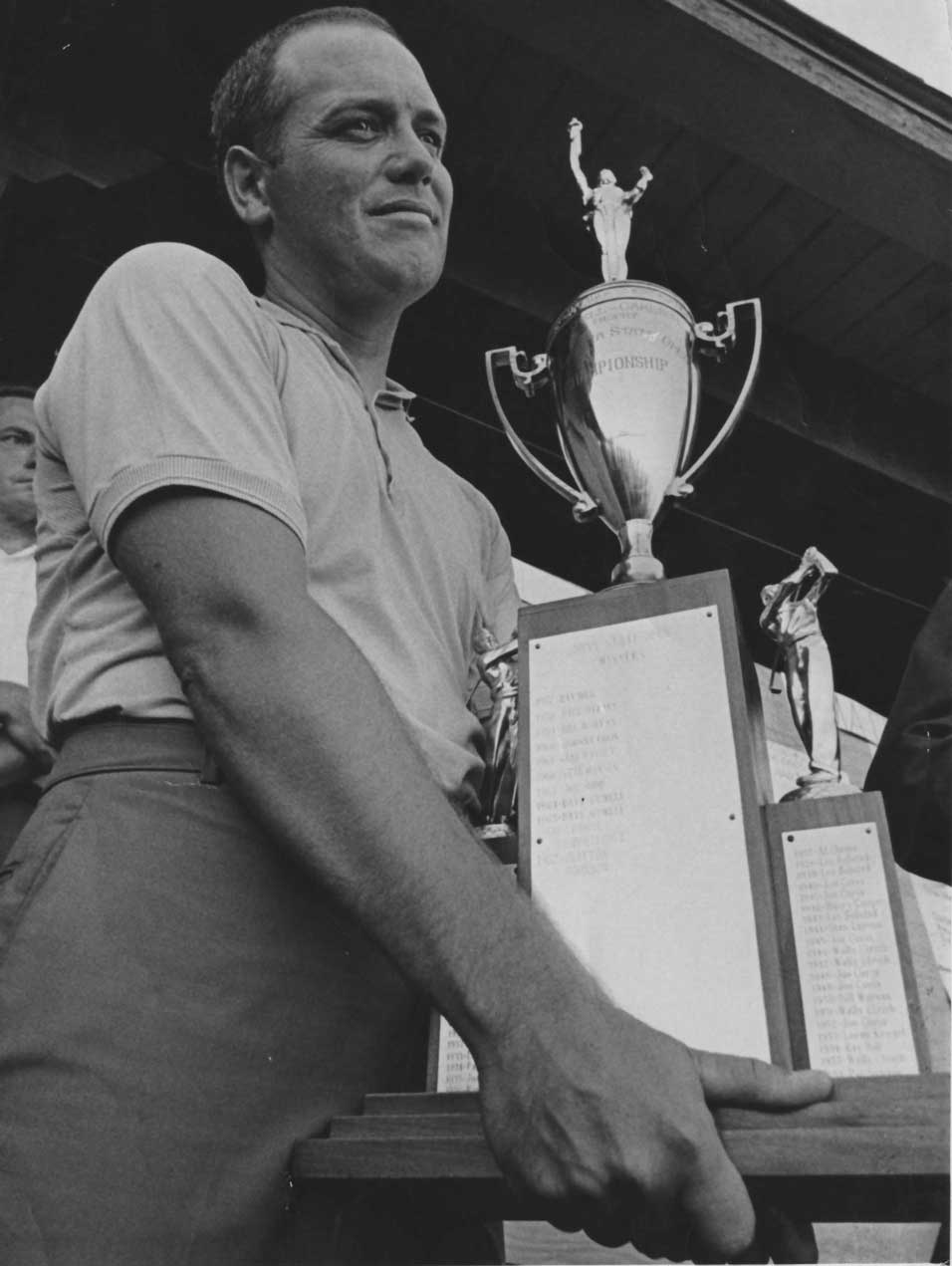 Eddie holding the Champions Trophy after his victory in the 1968 MN State Open at Hazeltine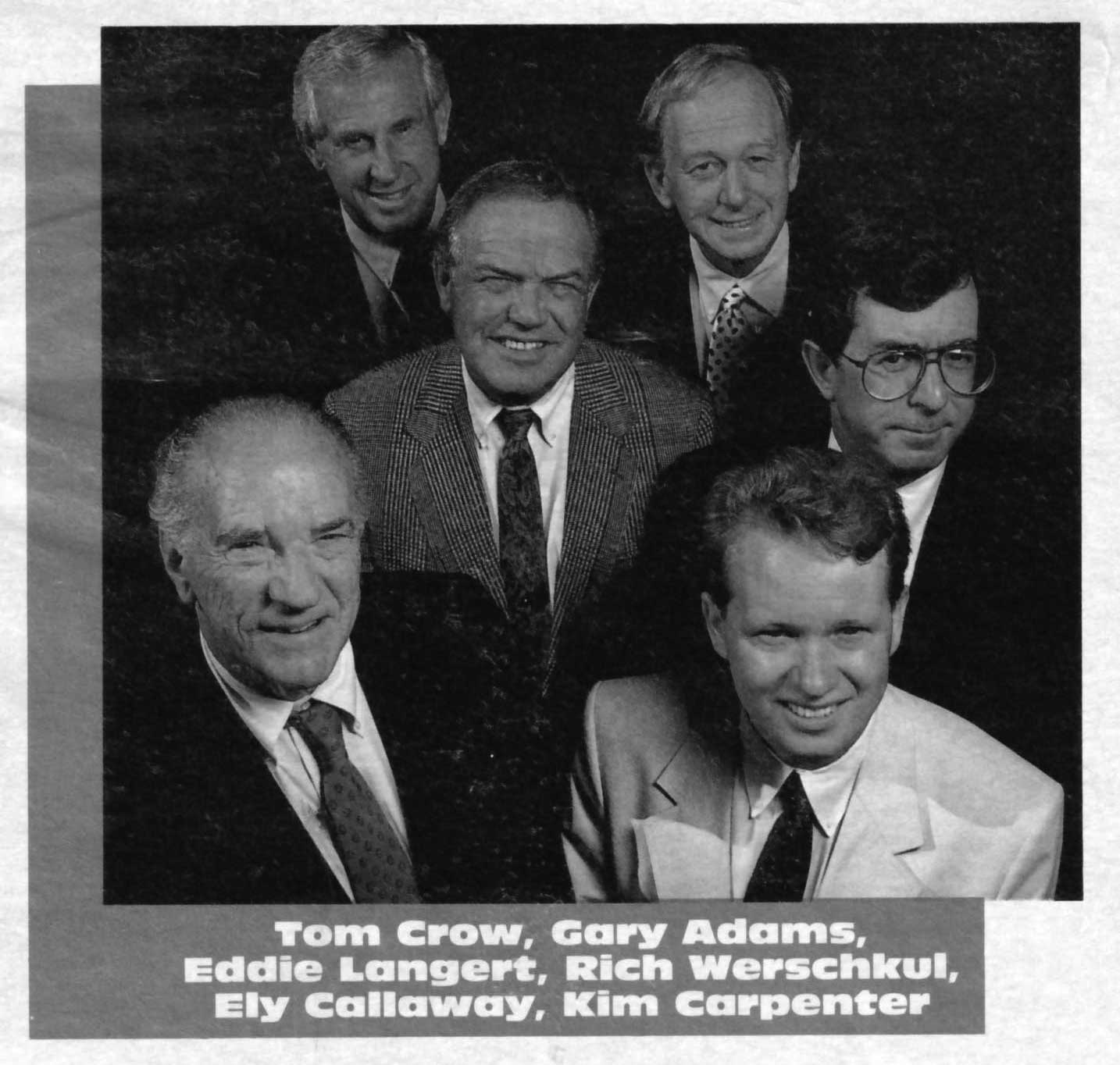 These were the leaders of the top golf equipment manufacturers of the day that were all located in the San Diego area – A.K.A. "The Golf Coast"