Your Golf Habit Can Support Military Families
By Bruce Stasch
When teeing off at our favorite golf course, if we don't have a son or daughter in the military, we probably don't think much about our nation's veterans and their families that are quietly maintaining a heavy burden while their loved ones are fighting for our freedom. Today more than 140,000 American troops are currently stationed in Iraq and Afghanistan and since these conflicts began, over 35,000 have come home with injuries sustained while "in theater".
Through golf, Tee it up for the Troops is one Minnesota-based organization that has stepped up to give a voice to the many people that have been searching for a way to reach out to these families but didn't know where or how to help. In 2008, more than 50 golf courses across the country are planning to host a National Day of Golf tournament and these events are expected to raise over $1 million for military families. This year's event will be held on September 5th.
"Every week I'm reminded of the sacrifice that families are forced to make when our military is fighting these wars overseas and how we don't do enough to help the soldiers make the transition into civilian life," says retired Lieutenant Colonel Harry Wisdom, Jr. "It's even more difficult if they are coming home disabled after having lost an arm or leg."
Started in 2005 by J. B. "James" Ball, the father of an Iraq vet, and soon joined by retired Lieutenant Colonel Harry Wisdom, Jr., a much decorated veteran who fought in Vietnam, Tee it up for the Troops was formed to recognize the contribution of those veterans that have served this nation, and honors them annually through the generosity of golfers.
Beginning in May, Minnesota will boast ten events to be held at twenty courses across the State like Giants Ridge in Biwabik, The Jewel in Lake City, Oak Marsh in Oakdale and where it all started, Mendakota Country Club in Mendota Heights. To date, fifteen state governors have also recognized the Friday before September 11th as a National Day of Golf.
Tee It Up For the Troops had earmarked the proceeds from National Day of Golf events to go to The Fisher House, a Maryland based organization that builds lodging near VA hospitals for the families of injured veterans and the Intrepid Fallen Heroes Fund, a New York based charity that has provided over $60 million in support to families who have lost loved ones in the line of duty.
"Neither of us takes a salary from Tee It Up For the Troops and we are very clear on what this money should be used for. I'm 67 years old and this is a way that I can give back to my fellow veterans and their families," says Colonel Wisdom, Jr.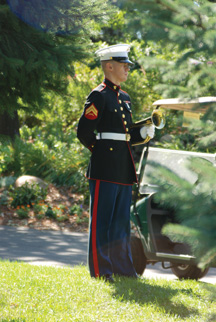 A Soldier Stands At Attention