Totally Driven – The Ultimate Golf Improvement Center
By R.J. Smiley
"DOES PLAYING BETTER GOLF MYSTIFY YOU?"
Totally Driven is the "Genie In Your Golf Bag" who can take the mystery out of playing better golf!
Every golfer wants to play better golf! This fact is proven again and again year after year, as the golf club manufacturers spend millions of advertising dollars (successfully) convincing the golfing public that a new $500 driver with adjustable loft will take 5 strokes off their game. Minnesota native Jim Sorenson, owner of Momentus Golf, has made a fortune with game improvement gadgets (most will improve a specific swing flaw). But the fact remains – most golfers who want to play better golf walk around in a fog with no real plan. They are bombarded from every angle by marketing professionals who's job it is to sell golf stuff.
The Genies, golf industry professionals, at Totally Driven have combined all the ingredients necessary for any golfer to play better golf!
Does playing better golf take time? Yes! Does playing better golf take work? Yes? But, working with the Genies at Totally Driven every golfer can improve their game.
How Do The Genies At Totally Driven Improve Your Game?
Proper Equipment – Every golfer wants more distance and accuracy with their driver. Every golfer wants wedges that "spin-it" like the pros. Every golfer wants a putter that puts a consistent pure roll on the ball. The club fitting Genies at Totally Driven use the latest diagnostic equipment to fit each golfer with the perfect driver, fairway woods, irons, wedges and putter that match their unique swing characteristics, thereby improving shot quality and confidence.
Proper Fitness – The fitness Genies at Totally Driven are your golf performance experts. The Genies, are certified TPI (Titleist Performance Institute) level 3, ACE (American Council of Exercise), and biomechanical trainers, understand the importance of the body's role in creating an efficient golf swing. The body is the golfer's engine. How the golfer moves determines how they swing. The Genies put each golfer through a series of physical screenings testing stability, mobility, flexibility, golf posture, balance, strength and power. Next the golfer's swing is analyzed using K-Vest 3D technology. Armed with the golfer's swing efficiency and kinematic sequence, the Genie will prescribe a customized exercise program designed to improve limitations and body efficiency. Each golfer then receives a personalized exercise program via email including video demonstrating how to perform each exercise.
Proper Coaching – Once the Genies have tested every aspect of the golfer's game, they will work the scientific data that has been collected on each golfer. The Genies train with a purpose defined by each golfer's goals and areas of opportunities for improvement and progress is periodically checked for each golfer.
Junior Development Golf Classes
The Genies at Totally Driven are dedicated to growing the game through the promotion of junior golf. The Genies who created the Junior Golf Performance Class don't want to create good golfers; they want to create great golfers! Their approach is based around drills and activities that are fun for kids, but also teach them sports-specific skills built around FUNdamental athletic skills with Long Term Athletic Development (LTAD) in mind. The Genies know that junior golfers (as well as young athletes interested in other sports) should be well balanced, agile and coordinated.
Visit Totally Driven
For a golfer (or a parent) to fully understand all that Totally Driven, The Ultimate Golf Improvement Center, has to offer; you must visit their facility located just off I-494, in Edina. From the second you walk through the door of this beautiful, new 11,000 square foot facility you will comprehend the commitment to excellence that the owners of Totally Driven have made. The ultimate golf improvement center contains hitting bays with launch monitors, a 40-foot chipping area, a large putting green, and a fitness area. In addition to their current services, plans include offering yoga and pilates classes specifically for golfers. The fact that the Genies at Totally Driven have been chosen by GolfDigest as a Top 100 Club Fitters in America has attracted customers from throughout the Upper Midwest and Canada. The friendly atmosphere and staff of owner/professionals make the place a joy to behold. If there really were a Golf Genie, who could really make you a better golfer, you would find the Genie at Totally Driven!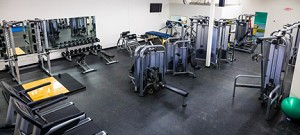 Totally Driven Fitness Area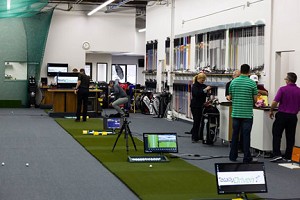 Totally Driven Driving Range