Thumper Pond Resort, a resort hotel, restaurant, indoor water park and golf course near Otter Tail Lake is a perfect place for a mini-vacation! For golfers and non-golfers.
By R.J. Smiley
Most golfers like to take golf trips with their buddies or family members. As much as golfers love to return to familiar venues, where they experience few surprises, they seem to continually be in a quest for something new; new golf challenges, new restaurant menu, new drives through unexplored country with a surprise around every corner, even a tube ride on the lazy river.
With an extensive list of amenities, in addition to a golf course, Thumper Pond is the choice of a growing number of traveling golfers who want all the amenities in a relaxed and off-the-beaten-track location. Thumper Pond has all the components necessary for a great golf vacation; it also has bonus features; an indoor water park and great fishing. But more than anything the quality of each individual component is outstanding!
In real estate curb appeal, meaning the first impressions, Thumper Pond creates a lasting image. First time visitors experience Thumper Pond's "curb appeal" as they wind through the pine tree laden lane that leads to the massive resort complex. The curb appeal continues as they pull into the parking lot and let their eyes sweep from the pro shop past Willy T's Tavern & Grill to the hotel and on to the indoor water park. People who have visited Thumper Pond remark, "One of the best things about a mini-golf vacation at Thumper Pond is that once you park your car, you won't use it again until you leave." Everything at Thumper Pond – all of the amenities – are wrapped around a central (and not too large) parking lot. If you don't play golf, you might never leave the building.
It takes several components to make an enjoyable mini-vacation. Let's take a look at the amenities that Thumper Pond provides for your mini-vacation.
Golf – Mini-vacations at Thumper Pond can be designed to provide as much golf as you want to play. From one round for the entire stay to play until your hands bleed option, Thumper Pond can satisfy your golfing itch.
The majority of the holes on this mature golf course, opened in 2001 and designed by Eric Niskanen, are carved from a nursery of 90,000 Red Pine trees. The pine trees add another sense, smell, to the golf experience at Thumper Pond. The well-maintained course blends in a few open, links style, holes and some typical Minnesota hardwood holes with elevation change.
The course, that stretches to over 6,600 yards, has enough length to challenge even the big hitters but it is tight enough to make them think – is driver the right option? With a course rating of 72.4 and a slope of 134 this track provides a unique variety of bunkers and hazards. The beautifully striped bluegrass fairways provide near-perfect lies for approach shots to greens that are receptive and medium quick.
The signature hole at Thumper Pond, the par-5 eighteenth, leaves every golfer with a souvenir – a beautiful mental picture of this dramatic final hole. The anxiety produced from the, over-the-water, approach shots to the 18th green creates a frame for that souvenir picture. Every round at Thumper Pond will produce better results as you learn the nuances of this interesting layout.
If you want to work on your game, Thumper Pond has a 350-yard practice area with chipping green. Dave Sadlowsky, head professional with a private course background, is an excellent teacher who has the ability to make golf improvement easy. Group golf clinics are offered periodically and prospective guests should check on dates prior to making a reservation. Since he arrived at Thumper Pond, Dave has expanded the merchandise selection available in the remodeled pro shop and now offers complete club fitting and repair.
Food at Willy T's Tavern & Grill – Take a word of advise from this writer. "Come to Thumper Pond hungry!" When you first enter Willy T's you will notice that the attention to detail in planning this restaurant and watering hole was exceptional. As you are awaiting your meal, the old black and white photos that represent a history lesson from Otter Tail County's interesting recreational past, will keep you entertained. The menu contains an interesting collection of all-freshly-prepared family favorites and the informed wait staff is happy to answer all your menu questions. Some of my favorites are the hand breaded onion rings and the homemade tater tots. To enhance your dinning experience, be sure to sit on the deck overlooking the picturesque, water guarded 18th hole. Whether you are a first time player at Thumper Pond or a seasoned veteran, the beauty of the 18th will get your attention. Thumper Pond hosts up to 50 weddings each year, many overlooking the green just below the deck from Willy T's.
Accommodations – Thumper Pond's hotel is an all suite facility that offers 78 beautifully appointed suites that come in a variety of appointments: King Suites, Double Queen Suites, Twin King Suites, King Whirlpool Suites and King Whirlpool Suites with Fireplace. Every suite comes with up to 4 passes for the indoor water park. The entire complex has an almost endless variety of relaxing areas to visit with friends and family or just get away and read a book.
Indoor Water Park – The amenity that is not available in most golf mini-vacations is the indoor water park. But water park passes are included with every over night stay at Thumper Pond. The non-golfers in your group will appreciate the opportunity to spend a lazy day as the golfers enjoy the pine smell of the course. Though not huge, the water-park contained several slides, a hot tub (for lazy adults) and a lazy river. If you have never experienced a lazy river you do not understand how relaxing a river ride can be. Especially after you have spent a long day on the golf course. On this writers stay at Thumper Pond, I overheard a mom comment, "This place is the perfect size. The kids think they have complete freedom but I can still keep an eye on them." Remember there are no double bogies on the lazy river!
Fishing – This Minnesota favorite past time was the reason that people first started coming to Otter Tail Lake and it is the reason they still come. The friendly reservationists at Thumper Pond can arrange a fishing trip with experienced guides, even fly fishing on the Otter Tail River!
With summer quickly slipping away, don't wait too long to schedule your mini-vacation to Thumper Pond. There is a Stay-N-Play package that will fit your every need to a TEE!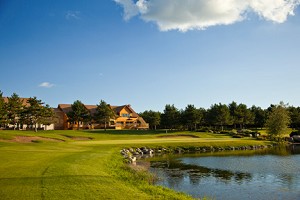 Thumper Pond #18 Photo Courtesy Of Peter Wong Photography