The Bluffs At Coffee Mill – Taking Your Game To A Higher Level
By E. Nolan
New owners of any enterprise typically have plenty of new ideas. A grand scheme. Ways to make everything better. But everyone knows that (no matter how small, or how necessary) CHANGE is most often resisted, and taking over a golf course isn't like taking over a home. Even when it's "yours" you don't get to make all the decisions yourself; not when you have (and greatly value) hundreds of other opinions. No move is a private move in public golf course ownership. Everyone is watching. "Invested interest" makes every patron a potential critic, every regular a potential former one. There's a great deal of risk, but… when done right… there's also a ton of potential reward.
Thank God that Gregg and June Alper understood that coming in. And the value they placed on all those external opinions has been obvious. But then, they would tell you, they kind of had it easy. They already loved Coffee Mill, and it didn't take them long at all to feel at home among the Wabashanians. The cliff-top property (1,000 feet above Wabasha) has astonishing views. The bluffs being the most dominant feature, it was a popular rename. The layout is varied and extremely interesting. There are few houses, few distractions. They will tell you, without question, that when they bought the property their list of "loves" tripled their few "dislikes." The move was a no brainer. Putting their money where their mouth was, they increased playability by removing a great deal of brush, committed to new maintenance and mowing schedules, opened up a few more phenomenal priceless (bluff-top panoramic) views, began work on a couple of design tweaks, and revamped the clubhouse décor, menu, and atmosphere. They gave a vigorous jolt of new life to something that probably didn't NEED it. (Imagine giving Mountain Dew to a baby.) But boy is it better today! And that, my friends, is how you take over a golf course. Buy a great one, and make it greaterer. (It's a word, look it up.)
Few would argue, the Bluffs at Coffee Mill, formerly Coffee Mill, was already one of Wabasha's greatest features. The beautiful Mississippi River-side town harbors many great restaurants, shops, and other worthy detours. But the Bluffs have been, and are (now more than ever) a main attraction. Head Pro, Jake Dewitz, is one of those clubhouse pros that tries to get to know every guest personally, and in doing so he not only knows all the regulars, but can tell you how many new faces he's seen this past year. "It's obvious that word is getting out. In particular, to the Twin Cities. They've (the Alpers) made a big difference here already, and we still have several things we're working on to take the Bluffs even further."
I've been to The Bluffs at Coffee Mill annually and can attest that it is indeed improving. I already loved the views, the people, the service and everything, but as a golf writer it's the golf I'm always most focused on, and when that aspect keeps getting better, that gets my attention the most. "Think of the things that used to bother you in a round out here." Jake says. (Knowing how critical I was five years ago.) "How many of those things are still here?" He's right. Not many. That tree I always used to hit is gone. (So is the 3-iron I used to hit it with.) There's more wildlife than ever. There are more stunning views than ever. Better playing conditions. Better hole routings. Still that awesome back nine… My editor definitely doesn't have to ask me twice if I'll go.
Visitors to The Bluffs can now enjoy affordable, upscale dining from award winning chef, Jeremy McDeid, formerly at The Jewel. Jeremy's dishes feature fresh vegetables, fish and local hand ground beef. You might want to schedule your tee time a little later in the morning or early afternoon so you can try their incredible Sunday brunch with made to order omelette bar and eggs benedict.
I visit my favorite Southeastern course, the Jewel (20 minutes north) regularly, and as often as possible will schedule a 2-for-1 with that and The Bluffs. That would be my suggestion to everyone in the Twin Cities as well… make it a 36 hole day-trip, and play one of the state's best courses and one of the state's best values. It's so close to Rochester (and not much further to the Twin Cities)… a dynamic drive (especially in the Fall) and a scenic "u-turn point."
Naturally, everyone thinks their course is great. But we all know that many aren't. A former critic, turned fan, I'm the golfer the Alper's are targeting. Maybe you are too. If you haven't been to Coffee Mill/The Bluffs in a while, I don't want you to take my word for any of this. I want you to go play it. And, if there's anything there you don't like, let me, or the Alpers, know. Seriously. They genuinely care about your opinion and want to have the best possible course for every golfer to visit. If you have been to The Bluffs recently, you don't need more convincing. You know it's worth the drive, but don't forget to tell a friend. Make it your good deed for the day!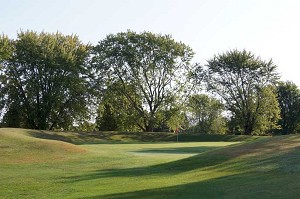 The Bluffs at Coffee Mill #3 Salad Bowl Green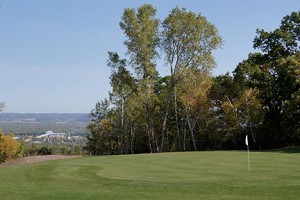 The Bluffs at Coffee Mill #17