Ramsey County Golf Courses – A Course For Everyone
By Steve Wetzler
The five golf courses in the Ramsey County Parks and Recreation system offer many different ways to enjoy the game of golf, and each course has it's own personality.

Goodrich Golf Course is a gently rolling recreational course located in Maplewood that provides a great value to golfers of all skill levels. This 18-hole, par 70 course has water on five holes to test new and experienced golfers in a beautiful environment. It is a great course for golfers of all different levels as it's not too long, easily walkable, and priced fairly.

The biggest improvement to the course has been making it more playable for golfers of all levels. In recent years they added new greens behind existing greens to lengthen it by about 400 yards. Just as important was the creation of new forward tees. They also have a senior tee, so there should be a tee box to fit everyone.

After undergoing a $12.5 million renovation in 2013, Keller Golf Course reopened last summer to rave reviews. Richard Mandell, from the home of American golf, Pinehurst, NC, was given the marching orders to build a course for the people, but build a golf course that retains the look and feel of Keller. Richard Mandell did exactly that.

The extensive project included new greens, tees, bunkers, drainage, cart paths, and pro shop and clubhouse, complete with updated banquet facilities. The classic-style, championship-quality course offers golfers a tradition and rich history that's hard to find anywhere else in the state.

The word replica can be used to describe the new Keller. Golfers will notice other little nuances that include the entirely new green on the par-5 third. They no longer have to worry about being above the cup on that green that made Niagara Falls look flat. The famous fourth hole is still the signature hole at Keller. The meat of the front nine, 5, 6, 7 and 8, have all been improved, but not made any easier. And the view of the new green on #6 is stunning. It has been enlarged to give golfers a better chance to putt for birdie, but there will be no easy two-putts on the green that is protected on the left by beautiful new bunkers, and the ever-present water still guards the right side.

The lengthened and beautifully remodeled tenth is truly a work of golf art. Every golfer who has played Keller remembers "Amen Corner" – 12, 13, 14 and 15. These holes appear unchanged. But in truth Mandell improved the playability of each. Two of the three par-5s on the back nine are truly photo ops, and will require a good deal of strategy.

Looking for a great atmosphere? Manitou Ridge Golf Course is a challenging 18-hole course in White Bear Lake that's known for its focus on fun and atmosphere. Ranging in length from 5,491 to 6,401 yards, the par 71 layout features one of the highest points in Ramsey County, providing panoramic views of the Twin Cities.

Manitou Ridge is home to thriving Men's and Ladies Clubs. In addition, the course has a long tradition as being a favorite venue for golf tournaments and charity events. Manitou Ridge is very playable. It's a nice challenge for the good player, yet just plain fun for the casual golfer who doesn't play a lot.

The Ponds at Battle Creek Golf Course is a regulation length, par 35 9-hole facility with a huge practice range. Don't be fooled into thinking this is your standard 9-hole course. The Ponds at Battle Creek provides a serious challenge. Multiple tee placements make the course accessible to golfers of all skill levels, and the unique landscape offers sixteen ponds, flatlands and dramatic hillside vistas.

"We are a regulation length 9-hole course," says head professional Brad Behnke. "It's a par 35 with 5 sets of tees. It's a place where the whole family can have fun." One reason for the misconception is that most of the holes that are visible from the road are par 3s. In reality, however, the course measures in at 3,200 yards. While there are four par 3s, there are also three par 5s to go with the two par 4s. The wide variety of tees makes the course playable for golfers of every ability. Says Behnke, "There are a few forced carries from the back tees, but the other tees eliminate those carries. It is a challenge for the low handicappers."

Island Lake Golf and Training Center is a family-oriented recreation center focused on golf and golf-related activities. The 9-hole parkland course features water on five holes and is the perfect setting for beginners to learn the game. The center's driving range and mini golf course provide a fun-filled venue for the entire family.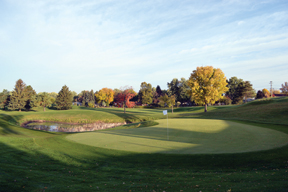 Manitou Ridge Golf Course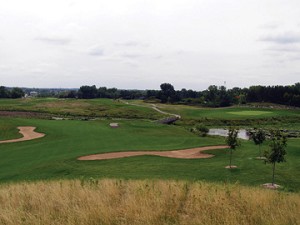 The Ponds At Battle Creek