Giants Ridge – Two Legit
By E. Nolan
Giants Ridge is well known to avid skiers, boarders and snowmobilers across the region for its phenomenal slopes, conditions, and trails. That's great. I love the notion of cutting through thick drifts of snow on a lightning fast sheet of shaped fiberglass as much as anyone, but count myself with the thousands around here that are absolutely thrilled when Giants Ridge shuts down for the winter… cause that means the best is right around the corner. You see when the mountain slopes close the green slopes open, and one of the few destinations in the country that can claim two Top 100 public tracks opens. Stir-crazy golfers pack away their snow gear; pack up their clubs and jet up here in droves.
"Up Here"…Giants Ridge is located in scenic Biwabik… (Pretty sure that's Norwegian for "way up there somewhere") in actuality only 3 hours from the Twin Cities, in Northern Minnesota. The distance doesn't keep anyone away. In fact, even with 36 holes they fill their tee sheets most weekends from May to September, which makes it the perfect destination for a long weekend. Best Monday golf anywhere, in our opinion. Imagine an open tee sheet with 36 holes of Jeff Brauer ingenuity carved through the valleys and canyons of the prettiest part of the state… or quit imagining and come experience it.
"People are always blown away when they get here," says area resident, and Head PGA Professional John Kendall. "Each course leaves the golfer with an entirely different impression. You expect the level of beauty, but probably not the amount of it. You know there will be lakes and trees, valleys and some peaks, but to see it all weaved so perfectly together… there's just no way to prepare for that. We have golfers who come up multiple times a year and are just as impressed all over again on their second and third visits."
In truth, he's understating the differences between the courses and the overall impression they have on people. I still remember my first time there… and my second and third. I remember taking a photo on almost every single tee box, and many times from the green back towards the tee. I didn't see how else I'd be able to explain the insanely gorgeous natural routings and creativity in the design. I still don't. The pictures don't even do it justice. But I have them plastered across my office walls and they bring a smile to my face every day. I can only imagine how John must feel getting to work there. How many of us, cubicle or office bound, consider it a blessing to settle into our surroundings every day. (Stop lying.) It's always cool to talk to John, ever humbled by his opportunity, and to hear his stories from visitors and their maiden experiences. I lived in Minnesota five years before I visited Giants Ridge the first time. I've been back every year since. There's no such thing as overstating the impact each course has on a golfer.
The Quarry annually wrestles with their neighbor to the North (the Wilderness at Fortune Bay) for Minnesota's #1 position on all of the national golf publication lists. It's really too bad they can't tie. Neither deserves to be #2, and both (independently) are far superior playing experiences to all but a few courses in the state. Throw the Legend in the mix and you have three of Minnesota's top courses within 20 minutes of each other.
Mr. Kendall smiles when asked to compare his two courses, "I know the Quarry is typically the more revered, and higher ranked, with its very unique, rugged terrain but you'd be surprised at how many people actually love the Legend and its perennial beauty more." (Count me among the many jumping up and down with my hand held up high above my head.) The Quarry is much tougher, tighter and punitive. Sculpted from woods, mines, wetlands and sand quarries, the many elements are visible simultaneously on a majority of holes. The course has many elevated tees, carries, scattered hazards and risk/reward shot opportunities. Throw in the unforgettable sweeping views, unique shot angles and parkland peace and quiet and it's pretty apparent why this course is so revered. Cases in point: The par 5 2nd hole and par 3 7th and 11th holes are best described as "sensory overloads." Noted Golf Digest course critic, Ron Whitten remarked (of the Quarry) "It's a combination of Pebble Beach, Pine Valley (7th Hole), Merion and Tobacco Road, with a bit of architectural Tabasco sauce sprinkled in for the occasional jolt." (What… those places don't already have enough Tabasco?) As much acclaim as the Quarry earns, you'd figure moving on to the Legend you'd be set up for a letdown… amazingly enough, you won't get one. Not even close.
Some maintain that the Legend has fewer great holes than the Quarry. Maybe. What's a certainty is that there is not a single hole on the Quarry that is as memorable or astonishing as the amphitheater 17th at the Legend… in particular on a calm evening or a clear summer day. (My personal selection for best golf hole in the entire state of Minnesota.) With that said, there are many other golfers who believe the 11th at the Legend is just as special. Regardless of where you stand on the debate of best holes, there's no debating GolfDigest once considered this the best course in the entire state as well (and not too long ago) 4.5 Stars five years in a row. Hopefully you're either beginning to get the big picture, or you've been there already and don't need any convincing. You could fill a page with accolades and testimonials for each, and somehow there'd still be doubters. We're so used to Photoshopped images and shameless self-promotion by courses that never really live up to the hype that we dismiss several legitimate ones that actually do. Rest assured, whatever degree of confidence or faith you put in my opinions and reviews on courses, double it with these two. (Makes me think of the MC Hammer song… "2 Legit")
Giants Ridge does coordinate Stay & Play packages through several nearby hotels, guest houses, condos, etc. in the area, but you can also stay on-site, or adjacent the course at the Lodge or Villas at Giants Ridge. The Villas place you perfectly between the two courses, and the Lodge is on-site at the Legend. Both provide a different luxurious experience, with many different options, views, and spaces, dependent on your need. They routinely host large golf groups and have ample facilities to meet those many needs, as well as wonderful dining options to feed them all. The local lunch and dinner hotspot happens to be in the clubhouse at the Quarry. The Wacootah Grille, adjacent to the pro shop, provides panoramic (indoor or outdoor) views of Lake Mine and the 18th green. Their walleye is appropriately GIANT, and so tasty… one of the biggest bonuses of arriving, playing, and dining on a Friday throughout golf season. (Friday Night Walleye Fish Fry!!!)
Whatever it takes to get you to Biwabik this year (shouldn't take much), I encourage you to go for it. It's a 6-hour drive for me but I'll likely make it twice, as usual, and every minute of the ride I'll look forward to what I KNOW awaits me there. No pretense. Better than advertised. 2 x 100 = 200% pure love!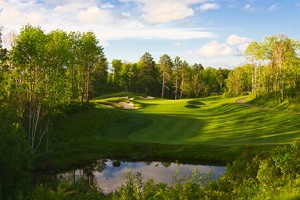 The Quarry at Giants Ridge #15 Photo Courtesy of Peter Wong Photography
The Legend at Giants Ridge #11 Photo Courtesy of Peter Wong Photography