Madden's On Gull Lake – Better Than The Best
By E. Nolan
To a generation of video gamers, the name "Madden" is synonymous with greatness. People hear the name "Madden" and they think of football. Similarly, to several generations of Minnesotan's, Midwesterner's and beyond, the "Madden's" name is also synonymous with greatness, albeit in an entirely different realm. You see, in these parts, when we hear the name Madden(s)… we think of golf. Great golf.
But Madden's on Gull Lake, in truth, is about far more than golf. It is a destination of destinations in what is, without question, the "Golf Capital of Minnesota." It is a resort, first and foremost… a family friendly beacon, surrounded by beaches and lakes, radiating fun and celebrating freedom from stress and obligations. Yes it is dominated by the golf, but with their distinctive product it would be hard not to be. I mean, for 10 consecutive years The Classic at Madden's has been ranked in the Top 100 public golf courses in the entire country, by GolfDigest, (This year coming in at #67) significantly recognized as one of the few national courses distinguished enough to earn "5 Stars." (5 Years in a Row!) It is also worth noting that the same 5-star course is regularly considered one of the Top 20-25 values in the United States as well. Best meets Value… and the pleasure is all ours!
So how do you make "best" better? How about by being the first public course in the state to offer Caddie Services? How about by becoming more environmentally friendly than you already are. The Classic is about as good as it gets in that category too… GolfDigest's ONLY Green Star Course in 2010 has created a free-to-join association called "Milers Club." Both initiatives demonstrate the proactive mentality that is not only encouraged, but nearly mandated at Madden's.
The Milers Club rewards you $1 for each mile you walk at any of their four courses, with "Bonus Days" where you can earn $5 a mile… the fast track to better rewards than most airline mile programs offer. (Use on golf rounds, resort keepsakes and/or at any of the six resort restaurants.) How it works: The Classic is designated a 6-mile walk, which would net you $30 in your Milers Club account on Bonus Days. Caveat: Madden's does not pay more for additional miles of walking due to erratic play. (Or some of us would reach/exceed $100 in just a few wild rounds.) The Milers Club encourages everyone to spend a little more time enjoying the beautiful setting, getting a little more exercise, and hopefully remembering the round a little more than you would while speeding through on a cart.
Madden's memorable golf experience should be further enhanced by their new caddie program. Caddies are fixtures at Pinehurst, Whistling Straits and Bandon Dunes (to name a few) and rounds on their courses are among the most memorable in the world. (No accident.) "Think of it as an enhancement," Glenn Hagberg (PGA Pro at The Classic and all-around awesome guy) said with the radiant smile he's well known for. "Caddies aren't for everyone, but we wanted to at least make them available to everyone. At many of these other resorts you have to pay a high fee (for caddie services). We didn't want that to be the case here. This is an entirely different way to experience one of the top 70 courses in the country. You don't need a yardage guide, a rangefinder, a GPS unit or anything. Your caddie will take care of you every way they can… cleaning clubs, reading greens, etc."
What about putting for you? No? Nuts! He makes several good points. First of all, none of those GPS devices or rangefinders cleans your clubs or read greens. For first time visitors, this makes perfect sense. This place has an aura about it that is much less intimidating the second time, or in the company of experience. These caddies will direct you, assist you, and hopefully prevent your typical playing partners from dispensing so much of their "anything but helpful" advice. For golfers who have already played The Classic, why not give this a shot? You don't even have to walk if you don't want to. Forecaddies that ride with you are also available. And all of you out there, who are unsure about playing behind a group with a caddie, think about it this way. From personal experience, there won't be as many ball marks on the greens, as many unfilled divots on the fairways, and/or as many lost balls and wandering golfers looking for said lost balls. The pace of play will improve and be far more consistent. All the things that drive us nuts about playing behind others will be lessened… and those of us wise enough to take caddies on our own rounds will benefit from someone who shares a passion for the game as we do, and has our round's best interest first on their mind. I may not feel it was "necessary" (and I don't think anyone was saying that) but I think this is a great way for the Classic to (to quote my good friend Ron Burgundy) "Stay Classy."
Beyond Scott Hoffmann's masterpiece (The Classic) Madden's has three other golf courses. Pine Beach East (established in 1926 it was Minnesota's first 18-hole resort course, and includes a 618 yard par 6 at #6), Pine Beach West (built in the 1960's with a mesmerizing par 3 beauty at 16) and the Social 9 Course (perfect for a quick round and the only golf course right on Gull Lake).
With six diverse dining options, including the spectacular fine dining at The Classic Grill, and options available for all three meals of the day, hunger will be a virtual non-issue. And with on-site tennis, lawn bowling, an activity center, recreation facilities and Kid's Camps (and every imaginable watersport activity) there is something to keep everyone as busy as you'd like to be at this paradise on the lake. Their lodge rooms are large and lavish, the service exceptional. You can ask for more but you'd never need it. Many places raise the bar. Madden's stands on it. So… "Better than Best?" Why not?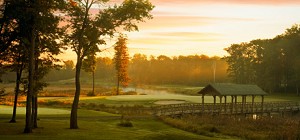 The Classic #16 Photo Courtesy of Peter Wong Photography

The Classic #1 Photo Courtesy of Peter Wong Photography