Linda Carrol – Leading By Example
Private clubs have long been the playground of the testosterone gender. Men have traditionally had the privilege to govern, dine and tee it up when, where and how they wanted. Women were the lucky spouses of the Members. They often "enjoyed" restricted rights to the club, its facilities and meaningful leadership positions. Discussion of a glass ceiling was insignificant. Yet, one local woman, Linda Carroll, had already broken through. Big time!
For nearly thirty years, Linda Carroll has held pioneering positions in management at two of our areas premier clubs. Currently at White Bear Yacht Club, she has served as their General Manager since 1988. She was the first, and for years the only, woman to hold the title of GM at a private Minnesota club. Born in Iowa, and a Minnesotan since college, Linda is a true Midwesterner. Her Minnesota path started at the School of Associated Arts where she pursued her passion for art by putting herself through school working at a local restaurant. As they say, the rest is history. Art was put on hold, Linda's love for the hospitality industry was born and a ground breaking career began.
Mrs. Carroll started out in 1981 as the Assistant Club Manger at the Somerset Country Club in St. Paul. Two years later she was promoted to General Manager and served the club in that capacity until 1988 when she was hired as the GM at the White Bear Yacht Club. Twenty years later she is still on the job……and going strong. Linda is also very active in a number of national organizations that serve club owners, golfers and women in management. She served as the president of the national Club Managers Association of America (CMAA) in 2007 after many years of service, including the Board of Directors, and is still very active in that organization along with numerous others.
I recently had the chance to talk with Mrs. Carroll about her career in golf, what she has learned, what has changed and where she is headed next. Her answers were thoughtful, insightful and surprising. For example, I asked her what life lessons she has learned from her career so far. "Golf, and this business, has probably had me develop more patience" was her reply. Linda went on to mention how she has also had to become a better listener in order to be effective.
Many of us assume that people in Mrs. Carroll's position must be avid accomplished golfers that came to their position via their interest as a player. I asked Linda if she was a golfer and her resounding reply was "I am a terrible golfer". She said that she only gets out to play three to four times per year but that there are other special moments on the course for her. She told me how she enjoys just being out on the course in the morning, sitting under a tree, enjoying her coffee. She also spoke about riding around the course with the Superintendent, just the two of them, as being a special time for her. I could sense in her speech a reverence for the beauty and nature of the course and the outdoors in general. This is a lesson many of us can take to heart.
Mrs. Carroll is not the only one in her family to be involved with golf. Her husband, George Carroll, is General Manager of Interlachen Country Club, home of last year's Women's Open. To say that they are both busy during the summer is a vast understatement. With so much experience in and around golf, I asked Linda what changes she has noticed over the years. Her immediate reply was "Time is our biggest competition". She related that when she first started as a manger the typical member was a retired male who preferred afternoon tee times. Now, early morning tee times have the highest demand. Members, male and female, want or need to get off the course and back to work or back to their families. Linda says the average member is younger and busier than ever and "we are seeing more family play than we used to".
With nearly three decades of upper management experience I was wondering what was next for Mrs. Carroll. She said her plans are to remain in her current position at the yacht club as well as continue her association obligations and the many other endeavors she is involved with. She said that the job is all consuming during the summer months so I asked her what her interests were outside of golf and in the offseason. "My husband and I love to travel…and I love to trapshoot" Linda offered. She says she can easily spend an hour shooting.
As far as retirement plans (they don't sound near), Mrs. Carroll said she would enjoy going back to oil painting. Back to the arts that brought her here in the first place. This would be an amazing way to complete the circle. Here is a career quietly spent above the glass ceiling. Here is a person who clearly appreciates the views and opportunities while understanding the obligations and the meaning of giving back. Linda Carroll…….truly a leader by example.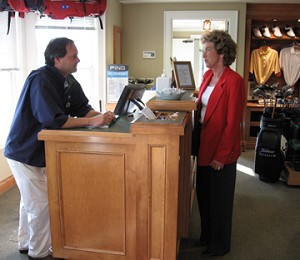 Linda Carrol In The Proshop At White Bear Yacht Club