Legends Club – Locked And Loaded
By E. Nolan
Edina's Tradition Golf manages a strong portfolio of signature golf properties that is only getting stronger. From its flagship course Legends Club in Prior Lake, to one of Iowa's best The Tournament Club, to one of the Twin Cities' best value (and wildest) rounds at Willinger's, to their newest addition on the Metro side of St. Cloud… Territory Golf Club. Under the leadership of Dan Dols, whose many roles revolve around some form of Executive Golf Director, the courses continue to upgrade, conditions continue to improve and their rankings (regionally and nationally) continue to rise. "Each of these courses could stand strong on their own," Dan says. "But putting the four of them together, and pooling their many resources, makes all of them that much stronger."
As a whole, or hole-by-hole, the strongest of cases can be made that Legends has the strongest back nine in the Twin Cities. And there are many great backsides in the Metro.
Legends is a convenient local getaway, just two miles east of I35, balanced delicately on the wooded marshlands of the Prior Lake and Lakeville borders. The amount of natural beauty here is so staggering you don't really notice the mansions, and how often can you honestly claim that? I've been accused of loving it as much as I do because its designer Garrett Gill was my highly esteemed mentor and Golf Course Architecture teacher at UW-Eau Claire. Oh well. He told me a couple years ago that the property at Legends was the best he ever had to work with, and while he has had many great properties and designs, let me tell you he worked this one to perfection.
It does, however, take far more than a great template and designer to make a golf course successful. And Legends is blessed with a deep, talented and uber professional staff, from Dan Dols to Head Golf Professionals Jeff Kennedy and Chad Fuchs, the extremely personable assistants, servers, attendants and the hard-working grounds crew. Audubon International certified, that recognition tells you even their Superintendent, Scott Thayer, is… well… super. "The staff deserves a ton of credit, to be sure," Jeff Kennedy says. "But our guests, in particular our regulars, take great pride in maintaining our course. You'll notice few ball marks, well tended fairways and clean tee boxes. That's a credit to all of them… to all your readers." (High five! Okay, you can put your hand down.) There's something to be said for that. Too often we shirk our individual responsibilities as custodians of these great courses we get to play and then complain when others demonstrate a similar negligence. It's nice to see that at Legends, everyone seems to understand that the best way to keep this course pristine is to help preserve it themselves. If that would just catch on everywhere else.
While we dream of that, it's back to reality. Many sycophantic golf writers ambitiously overuse adjectives. I've played 200+ golf courses and easily half of them did not live up to the hype. Legends always meets my expectations, even exceeds them, and it will yours. I won't tell you it's easy, or that you won't dislocate several balls. The front nine is as much a terrorist as the back is a pacifist. But their carts are clean and fast. The cart girls are sweet, sincere and smiling. And there are a dozen tee shots you'll remember, for better and occasionally for worse. It's a "Kodak Moment" course (if Kodak even makes cameras anymore) and worthy of every accolade.
The front nine begins, adjacent the clubhouse and twin ponds, with an easy (but very intimidating) downhill tee shot, epic in its panoramic views… and typically with an audience of the next two tee times to cheer you on… or look the other way while you re-tee. The drama continues with your approach shot on #2, to a pond guarded green, a fantastic gully carrying tee shot on the short par 3 – 5th and the front nine signature 7th that you'll probably pull left. There are few houses on the front, few distractions, and that's for the best. You need to focus on every shot.
The back nine, as I've already lauded, is stupendously cool. The only hole you might not remember off the top of your head is #16, and that's probably because you were too busy talking/thinking about the six before it. The course's best hole, #13, is easily considered one of the 5 prettiest holes in the state. It is widely recognized for its stunning beauty. But just because she's the prettiest doesn't make her the brightest. 10, 12, 15 and 18 all are worthy competitors. You can see why Legends Club is the only course in the Midwest that has earned the National Course of the Year Award by the National Golf Course Owners Association. Like I've said, Legends is loaded.
If the golfers in every state were polled and charged with ranking their own state's courses for Golf Digest, GolfWeek, Golf World (or any other publication); I have no doubt the accuracy of each list would increase… and I have even less doubt that Legends Club would make the Top 10 in Minnesota.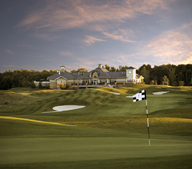 Legends Club Clubhouse Photo Courtesy of Peter Wong Photography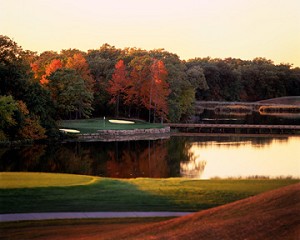 Legends Club #3 Photo Courtesy of Peter Wong Photography