Legacy Golf Course In Faribault – The Story Behind The Name
By Tim Cotroneo
Have you ever glanced at the name on the side of a boat and wondered how it came to be? The same thought holds true with golf courses. Legacy Golf Course in Faribault has a name and a history that directly ties to the lush land the course sits on. Upon digging into Legacy's 1998 opening and what's transpired since, you come to realize how well this name fits.
The dictionary defines the word "legacy" in a multitude of ways. It could be a gift of property, especially personal property, an ambassador or person sent on a mission, an ancestor, or the tendencies of a real person. Play 18 holes at this 6,500-yard Garret Gill design and suddenly all these definitions rise up to greet you.
If you plan on taking a road trip that combines Fall colors and golf, September is a great month to make the drive south to Faribault. Discover which Legacy definition speaks to you while experiencing a golf course with as good as it gets playing conditions.
A Gift of Property
If you choose to drive through the city of Dundas on your way to the Legacy, you'll approach the 'Welcome to Faribault' sign before cruising down a slight hill. Once inside Faribault's city limits, you'll notice stately brick buildings on either side of the road. These buildings are your first glance at one of Faribault's major benefactors, a college prep school named Shattuck-St. Mary's. Shattuck is what one golfer fondly described as the Legacy's "big brother."
Shattuck-St. Mary's school history and philanthropic reputation dates back to 1858. Graduates include notables such as Marlon Brando, Brent Musberger, Sidney Crosby, and Zach Parise. These prominent alumni, as well as dozens of anonymous donors, have given generously to the school and its ongoing expansion.
The original Legacy golf course was supposed to be exclusive to Shattuck-St. Mary's golfers. Speak to anyone who has lived in the area for any length of time and they'll tell you that the Shattuck course has always opened its arms to the public. It's also the site where many locals gained their chops as a golfer.
Especially Personal Property
Ask about the early days at the original Shattuck course and you'll hear stories of playing golf on farmland turned 18 pristine holes. For Faribault natives, these early golf traditions ended up growing the game from the inside out. Many of the players you encounter on the tee box, the practice green, or in the clubhouse, have moved on to the neighboring communities of Northfield, Rosemount, Lonsdale, Kenyon, Rochester, and Owatonna. These golfers can't quite cut the cord from a very personal property where their love for golf first grew.
No one projects the personality of the Legacy Golf Course more than Golf Shop Assistant Shane Sutter. The 45-year-old Sutter has been playing Legacy since he was a child. Today, he's employed at his favorite place in the whole world. Spend any length of time with Sutter and it's hard not to get caught up in his enthusiasm for his workplace. Sutter takes pride in his course's immaculate condition, as well as making sure that each newcomer feels welcome.
Sutter is a classic example of why golf is so popular. Not only do you get to enjoy the outdoors in a beautiful environment, but there's a 50-50 chance that by playing someplace new, there's a 50-50 chance you'll meet a course ambassador who will absolutely make your day.
An Ancestor
Golf's history is integral to making the sport so compelling to so many. There are dozens of golf courses worldwide where generations have teed it up before you. This is especially true at the Legacy after making the turn to the back nine.
If you look to the right of the 14th hole tee box, you'll find an area of land with roots stretching to the glory days of the original Shattuck Golf Club. Continue on to the 15th and 16th holes and you'll see the Shattuck-St. Mary's clock tower hovering high above the tree line. The clock tower dates back to 1887. If you pause for a moment and think about it, you're viewing a timepiece that caught the eye of a young Marlon Brando when he walked Shattuck-St. Mary's campus in the early 40s.
Tendencies of a Real Person
Playing 18 holes at the Legacy instills a feeling of a simpler time. A gentle quietness is noticeable as soon as you drive down that hill. The feeling continues as you absorb the architecture of the Shattuck-St. Mary's buildings flanking either side of the roadway. Upon entering the Legacy clubhouse area, you're met by a spirit of friendliness that is hard to take for granted. It's easy to enjoy the camaraderie of real people like Sutter, GM Jeff Hygrell, or the Legacy's tireless Superintendent Phil Jones. You discover that your own tendencies toward first hole jitters are replaced by the relaxed nature of the people you've just met.
This Fall, there are two great reasons to play 18 holes at the Legacy in Faribault. One is to merely take in the vibrant colors framing this course flanked by the Cannon and Straight Rivers. The second great reason is to discover which Legacy description fits you. The Legacy, by any definition, will make a course ambassador out of you.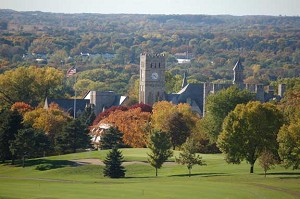 Legacy Golf Shattuck St. Marys