Joel Hunt Takes His War To The Golf Course
By Judd Spicer
Just one year ago, Denver, Colorado resident Joel Hunt questioned his desire to live. A Purple Heart recipient and veteran of multiple military rotations in the Middle East, an Improvised Explosive Device found Hunt returning to the States in a wheelchair in 2006, paralyzed from the knee down on his left side and having suffered a brain injury. Six years later, the ongoing effects of Post-Traumatic Stress Disorder (PTSD), coupled with dire family news, found Hunt uncertain of his ambition to see the next day.
Describing PTSD, Hunt says, "It's like eating nine candy bars and drinking nine Mountain Dews. You have all this energy and you can't do anything to get it out. So you get depressed without an outlet." And though the wheelchair has been long gone and Hunt is an American skiing hopeful for the 2014 Paralympic Games in Sochi, Russia, the wounded warrior struggled to find a release in the seasons sans snow. On that May day, lying in bed with his service dog Barrett by his side, Joel Hunt did summon the will to live another day. One month later, his first set of golf clubs arrived.
At a 2011 skiing event in Colorado, Hunt had met J.B. Ball, founder of Burnsville, Minnesota-based "Tee it Up for the Troops," (TIUFTT) the grassroots organization responsible for raising over $3 million for service veterans and their families through nationwide golf events and equipment donations since their inception in 2005. Raised in a blue collar, Indiana home as a boy, Hunt had long felt golf was a sport of the elite. Little did he know that someday, such nobility would be employed to describe his golf journey.
From 2004-08, Colorado-native Dave Troyer was the General Manger at The Jewel Golf Club in Lake City, Minnesota. It was there that Troyer – now Director of Golf at the celebrated CommonGround Golf Course in Aurora, Colorado – became familiar with TIUFTT, having hosted charitable tournaments at The Jewel and sending golf equipment to U.S. troops in Iraq. "The thing that strikes me the most about 'Tee it Up For the Troops' is that they're so passionate," says Troyer. "The organizers and leaders have a true, caring heart about what they do that shines through. You don't see that out of a lot of organizations, they're in it for the right reasons. I can't think of a more worthy cause."
After moving back westward, Troyer continued his affiliation with TIUFTT. Three months ago, Ball informed him of Hunt's story; it took Troyer about three minutes to grasp Hunt's mettle. "We met in June and I got him fitted and set up with a set of PING clubs," Troyer recalls of the set donated by TIUFTT. "When Joel came in, we decided that we were just gonna give him free reign of the entire facility." Along with giving a driven Hunt run of the grounds, Troyer has also been giving free lessons to his motivated student.
"Joel is out-going, very positive and goal-oriented," Troyer says. "He wants to succeed and doesn't want to think about anything he's been through with the handicap. He just wants to be the best at whatever he's trying. As soon as we got the club in his hands and he got a few balls airborne – he's been hooked. Literally every day he's in town, he's out practicing or playing. Him and his dog Barrett."
Along with rapid improvement for a nascent player (Hunt is driving the ball over 300 yards and recently flirted with breaking 90), Troyer has concurrently observed how golf has helped Hunt deal with his condition. "Joel's told me on numerous occasions how much golf has helped his PTSD, how much it has calmed him down. You can just see how happy he is at the golf course," says Troyer. "I think so many people who have been through what Joel's been through would just crawl into a hole and not do anything with it. But he seems to not let it hinder him to live the rest of his life. He goes at everything full-bore. It's phenomenal."
"I've been hitting golf balls every single day and you have no idea how much golf has helped by PTSD," Hunt says. But despite his advancements on the course, Hunt's pursuit isn't to stand alone with medalist honors. Rather, to compliment his active presence in the veteran community, he hopes both his skiing and golf endeavors bring awareness to the struggles of fellow servicemen. "I don't want any of the spotlight," says Hunt. "I want to inspire other soldiers that they can do this."
Per his growing game, Hunt is ever the soldier. "He relates it to shooting a gun," Troyer shares. "Where he needs to relax, take a deep breath and pull the trigger." Adds Hunt, "I treat the golf ball just like shooting a weapon; because I can't shoot a weapon due to my PTSD and my hand shakes. You just focus on the ball and you pull the trigger."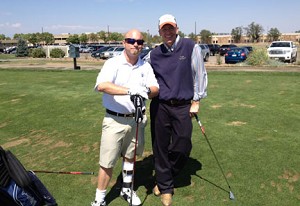 Joel Hunt and Dave Troyer