Influential People In Minnesota Golf – George Reynolds
By Matt Just
One page about "Coach" is not enough. But here goes…
George Reynolds said it perfectly in our interview; "This game of golf took me on a survival ride that I am very thankful for. If I could do it over again I would be an educator AND golf professional. It has been a great ride."
At the age of 80, George Reynolds continues to influence people on a daily basis. I am not sure if George knows he's still coaching, but he has a new student named Matt. For a brief moment my career seemed stale but after meeting George last fall, I have a fresh new perspective and inspiration.
Rewind to 1950. In that era, the name above all other names at the University of Minnesota Golf was Les Bolsted. That same year the Anoka Tornados won the HS State Golf Team Championship and a young George Reynolds received a letter in the mail from Mr. Bolsted that simply stated, "BECOME A MEMBER OF OUR GOLF TEAM at the UNIVERSITY." Simple and straight to the point, just like the coaching style of the man that sent the letter. Bolsted always told his players to keep golf simple and that was what George took away as the philosophy to his playing, coaching and teaching career.
After freshman golf, George decided he would walk on to an open spot on the varsity basketball team. Reynolds was a long shot to make the team but generally when an opportunity was presented George always went for it. Shockingly, George made the roster as a guard for the Big 10 Gophers Men's Basketball team and survived all 4 years! The highlight of his basketball career came his senior year on the road against the defending Big Ten champs from Indiana. George's assignment was to shut down Hoosier leading scorer Bobby Leonard. The star from Indiana was held to single digits and George will testify that this game was one of his greatest untold stories.
Following college, doors continued to open for George as a member of the United States Air Force World Golf Team. As a commissioned officer with the ROTC, George had an opportunity to play golf with Gene Sarazen. I don't think Sarazen had a double eagle that day, but I'm sure George has a few stories about the "Squire".
George returned home in 1958 and took a job at Greenhaven Golf Course as a golf professional in training. In 1962 George was granted membership into the PGA of America while teaching lessons and running the junior golf programs for the course he caddied at as a little kid. George still plays golf with his group of friends from Greenhaven even though he ended up moving to the central part of the Twin Cities for the second chapter of his career.
George is known simply as "Coach" around the Hopkins School District where he spent the next 20 years teaching and coaching. George has great stories about his players and teams in this tenure but the highlight came in 1980 when he met a sophomore named Jody Rosenthal. George jokingly calls this meeting a "survival of ego." George thought he was a good player but he regularly got beat by Jody in 9 hole matches at Oakridge. Its tough to lose to a 16 year old girl but I guess we will give George a pass because Jody went on to become a three time MSHSL State individual champ and still ranks as one of the best to ever come from Minnesota.
Even though George is known for coaching he admits he could "play a little bit" and 1987 marks Georges favorite playing memory while at the US Senior Open at Oak Hill in Rochester NY. Thirty-six holes were in the books and George was paired in round three with Doug Saunders. George scraped it around and even made a paycheck with the big boys on Tour.
From 1990 – 2000 George was recruited to come out of retirement from Hopkins to coach the Eden Prairie High School golf team. An amazing player came down the pike at Eden Prairie named Scott Gustafson. Being in the right place to coach another state champion like Scott humbled George. "Scott had a balanced golf swing with a great path," George said. "I just didn't want to screw it up". The Eden Prairie golf program is now thriving under Ty Armstrong whom is another of George's friends.
George never ceases to amaze. At the end of our 2-hour interview he showed me page 17 of the famous Harvey Penick's "Little Green Golf Book" and if you look on page 17 of that book you will find a story about our Minnesota Pro George Reynolds.
If you see George around, ask him how much pressure it was to teach Harvey Penick's son-in-law how to play golf or just go read that chapter for yourself.
It has been an honor to get to know George over the last couple of months and I hope this story will influence a young person to study the rich history of Minnesota Golf.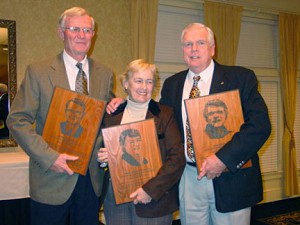 George Reynolds, Cora Jane Blanchard and Bob Reith Jr. inducted into MN Section PGA Hall of Fame in 2003