Indian Hills 
Golf Club – A Golfer's Golf Club
By Bob Conroy
Indian Hills hosted my high school's team matches back in the mid seventies and has consistently been a gracious host of events in which I've participated as well as statewide competitions I've followed over the years. So the drive out Highway 36 past 694 to the finely groomed 170-acre track located between North St. Paul and Stillwater stirs memories and coddles anticipation. I had accepted an invitation to play in a regular group game with some members – several whom grew up playing the course when it was founded in the early 70's. I'd also be meeting "new" members who've helped maintain the 'golfy' culture the several decades hence. It didn't take long for me to relax into the Indian Hills experience I've come to expect.
Over the years, I've met a surprising variety of people while warming up on the range, rolling a few on the practice green and enjoying the savory food the kitchen puts out. Despite the various ages, sex, backgrounds and handicaps of the people I've encountered – both players and staff – people at Indian Hills share an authentic passion for golf and for a first quality golf experience. I talked with Amy Ament, a young entrepreneur, former college player and reigning women's club champion who has come home to Indian Hills. As it turns out, Amy's dad was the original course superintendent. Long-term loyalty is a trend at this golf club. Members, grounds crew and staff enjoy long-term relationships and share easily with new members an authentic passion for golf and for Indian Hills (currently about 300 members). Case in point, the current Course Superintendent, Charlie Schultz has been there thirty years.
When navigating State Highway 36, look for the landmark water tower that's painted to resemble a golf ball on a tee. Hot air balloons placidly bob in the breezes flowing over the distant St. Croix Valley, too. The colorful and meticulous landscaping of bright floral accents and friendly bag staff who greeted me affirmed I was at a top golf club. The welcome mat was out!
Senior Golf Professional Dick Nelson and his son, Head Golf Professional, Tom Nelson combine for over fifty years of service to the club as they guard the laid back culture for their members. So it's easy to find one of the knowledgeable Nelson's near. They pride themselves on facilitating good games between members thereby perpetuating the quality experience on which their reputation has been built. When you visit this golfer's golf club, don't look for the pool or the tennis courts. You won't find either. What you will find in addition to the Championship course, is an organized, well stocked pro shop, a very capable kitchen, comfortable dining area, a bar stocked with members' personal choices, up-to-date locker rooms and a terrific patio area.
Having checked in with professional Nelson, warmed up and rolled some putts, I was prepared to play. The overall design of the course is a good one. It's always set up for a proper test. The pride taken in the conditions of the course and grounds is evident and this year conditions are exceptional. The layout, set-up and condition make a more elegant statement than does my game.
I found my Mizuno 2-iron to be the right choice off the first tee the day I played. I was able to position my tee shot so that my approach to the elevated green complex was from the flat area below. I was 93 yards out and left of a pond that only the real "bombers" would challenge. I was able to reach the green in regulation but left myself about a twenty-five foot putt. The greens rolled at a consistent pace and smooth all day. Course conditions were top notch. The subtle undulations and natural slopes (preserved and groomed by original course architect and designers Don Herfort and Jerry Mogren) were the only things with which I had to contend – that and my ability to correctly read them and then start the ball on the right line with the right weight. What more could I ask for?
As it turned out for me, that day was not my finest. However, the course, my host and the people at Indian Hills could not have been more enjoyable. It's tough to go wrong at Indian Hills Golf Club if, like me, you love golf and relish the camaraderie of other golfers.
Current Owner of Indian Hills, Mike Regan mentioned two things that bode well for the club he's been part of since the seventies when players were asked to pluck rocks as they played. "I like to see that some improvement is made every year," Regan stated while remaining tenacious about course maintenance and the planting of trees and other annual improvements. His final thought summed things up well, "Our best asset is our passionate, welcoming membership." It's evident Regan is not only club owner but one of the members. Their desire to share this passion is evident in their current promotion to offer new members unlimited golf for the balance of this year for $300 if they sign up for a 2014 club membership.
The hallmark characteristic of Indian Hills Golf Club has always been and continues to be its razor sharp focus on enjoying a great game of golf. Everyone is friendly and professional from the first experience leading up to the first strike on the first tee to savoring the whole experience during the post game accounting. The restaurant and bar folks consoled me well, my opponents celebrated and it was another great day!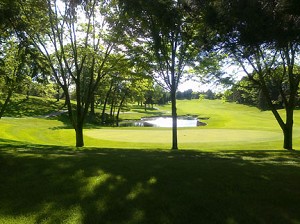 Indian Hills Golf Club #10