Important People You've Never Heard Of…Les Leyton
Les Layton is a homegrown storyteller. From his on-course anecdotes to his golf novel "Country Club Secrets," he will keep you captivated. A life in golf and business has set Les up with many friends throughout the country. He stays on the pulse of issues and makes time to connect with people and still has time to run his own marketing firm, Whitney Worldwide Inc.
Les has had a rich golf history in Minnesota. He was Dellwood Hill's club champion and one of the first members to break 70 in a championship, medal round at the course. He also served on the Minnesota Golf Association's executive committee from 1983-1993 and started the Minnesota Golfer magazine (as volunteer editor and writer) that still goes out to all members. His golf game is not the same after a serious car accident, but Layton still enjoys playing as long as there is a wager or two on the line and pace of play is fast enough.
"People could play much faster and be satisfied with 9-hole games vs. 18-hole rounds that take so much time," says Les, when asked how the game could be improved.
As a former Miami Herald, Wall Street Journal and Pioneer Press investigative reporter, Les knew how to write factual stories. Writing a novel was not the same, as Les found out.
"Being an avid reader and a four-time Pulitzer nominee I always wanted to write a novel" says Layton. Encouraged by John (Sanford) Camp, Les decided to give it a try.
"I didn't outline it as I should have. However, the first publisher who expressed interest put me in touch with the fellow who re-wrote John Grisham's first couple of novels. He helped me a lot. Despite all the writing I had done, what I didn't know about writing a novel could have filled up the Metrodome," Layton recalls.
"People at country clubs sharing rumors that aren't even close to the truth, prompted the novel's title" said Layton. "I created the story because of my strong father-son relationship with Andrew, the many wonderful times I saw dads sharing with their kids and my admiration for long-time, great amateur players such as Bobby Jones and many Minnesota stars who are fabulous people such as Rod Magnuson."
The book took longer to write than Les expected. "As an investigative reporter known for re-writing and more rewriting, I spent too many years polishing and changing the novel. I do the same even with the direct mail copy I do now. I once lost a key vice president because of my changes, changes and more changes. I type so fast that I get hung up in trying to keep making a piece better."
It wasn't always that way, Layton added. "When Ronald Reagan was shot in 1981, I interviewed Walter Mondale and wrote the front-page story for Knight Ridder Newspapers in 18 minutes. I had only 23 minutes before deadline. When I worked full time for a chain of newspapers during my last three years at the University of Minnesota, I often interviewed people and wrote the story at the same time."
The novel's outcome is an exceptional story centered on Marty Alexander, a top amateur golfer from Minnesota, whose life is a mess. Alexander decides to rebuild his golf game and his life after losing his wife, father, son and millions of dollars on stock investments. He decides to try to qualify for the U.S. Open again, as he woos a beautiful woman and digs into some mysteries surrounding his father's death. What ensues is a marvelous tale that revolves around golf, but has drama, family and romance mixed in such a way one has a hard time putting the book down.
What makes the book even of more interest is the Minnesota flavor to the novel. Somehow having the story move in and out of places such as Dellwood Hills and North Oaks Country Clubs and the St. Paul Grill makes it feel more real and pulls you into the story even deeper.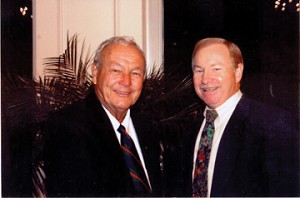 Les Leyton With Arnold Palmer