Important People In Golf You've Never Heard Of…David Edel
A true entrepreneur, risk taker, craftsman and down right fun loving guy, David Edel is the kind of person we all root for. Edel is a former mini-tour player who couldn't quite make it to the big time because "I couldn't putt" as he bluntly puts it. Since then he has devoted what some might consider a troubling amount of time to studying the science of putting- particularly every possible component of the putter (shaft, head, grip, hosel, face) and putter variables (angle, loft, head style, lie angle, length, weight, scoring lines). The result is a highly personalized method of fitting golfers with handcrafted putters. By fitting putters in a way he says has never been done before in the industry, the 42-year-old is bridging the gap between what the PGA Tour stars get and what the rest of us buy.
Edel now has 14 accounts across the world who are trained on how to fit putters using his sophisticated system containing over 100 million combinations that can be put together right on the spot. Each fitting lasts 30 minutes to an hour, and David describes the process this way: "A laser points to a ball six feet away. We place a thin mirror on the player's putter face. The player aims, we remove the ball, and the laser rebounds off the putter face and shows up on a backdrop, revealing not only the lateral aim but also the vertical aim of loft." After determining the aim, the fitter then employs dynamic motion tests to calibrate the value of head weight, shaft flex, length, and counterweight. David Edel is picky about who carries his putter fitting system. He has accounts at Pebble Beach, Barton Creek and with only the top club-fitters in the country. "I trust that every account can duplicate the fitting process because I've trained them all myself. A lot of work was put into the process and I need to have quality people doing fittings, because that is where the rubber meets the road. Either a player can aim their putter or they can't, same with controlling distance. When we're done with the fitting it's very rare that the golfer doesn't see immediate improvement."
In theory, Edel's method sounds great, but what happens in real life? "I was telling people that golfers were getting better with my putters," says Edel, who holds a number of patents, "and they would say to me, 'How can you prove it?' Well, there was this group of MIT alums who developed a wireless system to track the putter head. Using it, we extracted a lot of data and validated what I knew to be true. After fitting with my putters they showed a 38 percent improvement in nineteen of the twenty-two metrics we studied. Acceleration rate was 63 percent more consistent, face rotation improved by 25 percent, path improved by 20 percent…." In other words, the numbers don't lie.
So why haven't you heard of David Edel? "I'm not big into self promotion," says the California native. "You can't beat the big golf companies who pay a pro $2,000 a week to use their equipment. I don't pay anyone. You're the real deal if you're the real deal. I've had some success stories on the PGA Tour, most recently James Driscoll, who has been putting lights out and placing high in the money for the last three weeks since starting to use one of my putters. Tour players use one of my putters because it works, not because they have to have my brand in their bag per an agreement."
Through a number of twists and turns David Edel is also impacting golf in another way. In 2007 he located and purchased a "lost' set of Alister MacKenzie plans for a unique 18 hole Argentina course which was never built. Mackenzie is widely recognized as the greatest course architect in golf history, having designed such famous courses as Cypress Point, the Old Course at Lahinch and Pasatiempo to name a few. El Boquerón is the name of the course and Edel is having it built in the Austin, Texas area as you read this. Only someone who understands the history of golf, the culture of Argentina (David taught golf and met his wife Barbara there in 1994) and cared about doing things the right way could have negotiated an agreement to build the course in the United States. Fifteen years of cultivating friendships and immersing himself in the culture of Argentina has brought him the chance of a lifetime, and he is determined to reward those who would entrust him with an artifact of such significance.
The idea of a "new" MacKenzie course-one based on a routing that, with its nine double greens, two more than the Old Course, which has seven, is more than a little exciting. El Boquerón will be different than most modern courses: With its crossing shots, tees in front of bunkers and gigantic greens, the course was not designed to handle the masses. It was intended to be built as an estate course. The El Boquerón will also house an Alistar MacKenzie museum. "The whole property will have a 1930's flavor to it", says David. Edel will make sure that everything is done in a first class manner; he doesn't do things any other way.
David recently moved from Reedsport Oregon to an on-site home on the El Boquerón. His hand crafted putters will now be made in Texas out of a state of the art airplane hangar that will now house Edel Golf. "The property is perfect for the golf course, and I'm looking forward to growing my putter business and being involved with the El Boquerón", says Edel.
If you ever have the pleasure of meeting David Edel you will find him to be quite a character. Known to pull pranks on his friends (of which he has many), he will have you splitting a gut laughing at his stories and intrigued by his ideas. Edel holds multiple patents and recently designed the Variloft Putter which enables the player to change the weight and loft of the putter to match the green speed on any given day. It can take David and his machinist Cliff Dorsey up to 11 hours to make a single putter. "One at a time, one of a kind" as David says. Making things is a passion for Edel. He also makes watches, belt buckles and fly reels that are a thing of beauty. He has other golf related ideas in mind that could break more ground in the future.
"My goal in life is to be known as someone who gave back to the game of golf. I've been blessed to have met and worked with some great people in golf, and have learned a lot about the game. I want to pass that on to others as best I can", says Edel.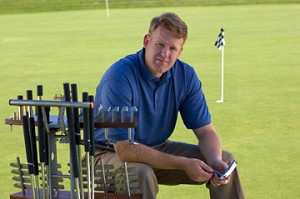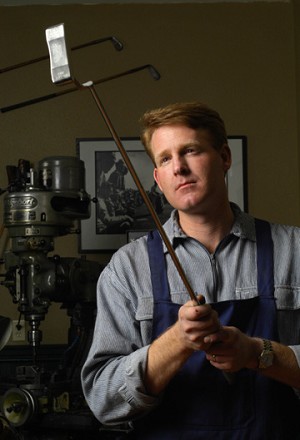 David Edel Works On A Putter