Ian Leonard Bad Pants Open – Bad Pants for a Great Cause
By Tim Cotroneo
It could be said that a meteorologist has a 50-50 chance of predicting a daily forecast correctly. When it comes to making his little corner of the world a better place, FOX 9 Meteorologist Ian Leonard, has a formula that never fails.
When Leonard isn't explaining how Doppler radar interprets atmospheric motion, the Edmonton, Alberta native is giving his all for a cause that is dear to his heart. "For the past 14 years, I've done what I can for Special Olympics. The athletes and volunteers involved in the Special Olympics community really feel like an extended family to me," Leonard said.
Since arriving in the Twin Cities to work at FOX 9, Leonard has gained teeth-chattering acclaim for making more Polar Plunges than nearly anyone in the Midwest. These cold weather dives, with Leonard donning outrageous costumes, have raised thousands of Special Olympic dollars. In an effort to give his mild forecast season equal time, Leonard challenges the Minnesota and Wisconsin golf communities to hitch up their 'bad' pants to his favorite cause.
The Inaugural Bad Pants Open
Leonard confessed that prior to the birth of his two children; he was frequently seen on the links. He compares his golf apparel to another Ian, the spikey-haired Poulter. "I don't play that often now. So even though I may dress like Poulter, I hit the ball more like Dangerfield," Leonard said.
When Leonard and the Special Olympics community brainstormed on new avenues for fundraising, a golf tournament seemed like a natural solution. This idea felt especially right considering the cause had already been embraced by the Minnesota Section of the PGA. When Leonard tossed out the idea of "Bad Pants" becoming the brand for a new golf event, everyone agreed if the meteorologist promised to wear the cause publicly.
"Anyone who witnessed the pants I wore during my State Fair weather forecasts knows I must love the Special Olympics. I have to thank my employer, FOX 9, for not only allowing me to publicly endorse Special Olympics, but also for looking the other way if my pants hurt ratings," Leonard said with a laugh.
Return on Your Bad Pants Investment
Noting that there are lots of tournaments for golfers to choose from, the "Bad Pants for a Good Cause" event promises something very special for participants in the fivesome scramble.
On Thursday, September 15, at Medina Golf & Country Club, each Bad Pants player will go on a $200 golf shopping spree. Golfers will choose from Taylor Made, Ashworth, and Adidas products. There will also be prizes awarded based on apparel and team spirit. This is in addition to the 18 holes of golf, carts, and a luncheon. Bad Pants has good taste when it comes to making their event "classy fun" for all.
Perfect Match
Leonard believes one of the best parts of becoming involved is the people you meet and the lives that are touched. Leonard is especially enthused by how the Bad Pants event piggybacks on the goodwill generated by the Polar Plunge. "We're really lucky here in Minnesota. This state has more golfers per capita than anywhere else. I can't say enough about how we've been received by the Minnesota Section of the PGA and the tireless work by people like Jay Meyerhoff of Rush Creek. Golf and Special Olympics seems like a perfect match," Leonard said.
Leonard's heartfelt goal is to help new volunteers "get it." To Leonard, "getting it" is the light bulb that pops on when putting a human face to an event. "There is such a great feeling that comes with working a Special Olympics event. I hope that by participating an hour or a day, people will not only reap the benefits that come from making a difference in someone's life, but also looking beyond disabilities and becoming more accepting. For me, that's when our world becomes a better place," Leonard said.
Leonard's tournament extended forecast is for bad pants and sunny dispositions. For more information on the Bad Pants Open contact Pat Reis at 612-636-3905 or email badpantsopen@gmail.com.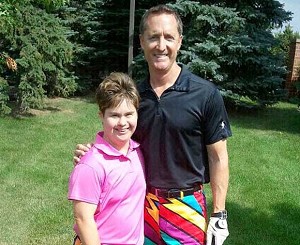 Ian Leonard and Special Olympic Athlete Katie Timmer