Golfweek's Dan Mirocha: On The Phone & In The Field
On the Phone
In a world of "Do-ers" and "Don't-ers," Golfweek Associate Editor/Writer and Minnesota native Dan Mirocha is a Grinder. After having paid his way through college and graduating from the University of Minnesota with a degree in both Broadcast and Print Journalism, after serving exciting and impressive internships at both the WCCO and KARE networks- the tenacious Mirocha found himself searching in vain for writing opportunity, while simultaneously working full-time as financial recruiter, stringing freelance high school sport stories and waiting tables at the now defunct KFAN Restaurant.
But as a learned lover of golf since his boyhood days working countless jobs at Gross National Golf Course in Minneapolis, and a lifelong natural hound of word and verse – Mirocha never quit searching and applying for jobs that didn't require the inquiry, "Was that Coke or Diet Coke, maam?"
It wasn't until nearly three years later that the call came from Golfweek, and Mirocha loaded his life in his car and drove down to the magazine's base in Orlando. Ever since that time, and as the writer now preps for coverage of the U.S. Women's Open at Interlachen, Mirocha's life continues to be loaded, as Golfweek has fast made him into a multi-media player, hustling him from print writing, to the web, to blogs, to video work, to Internet broadcasting.
"I really like the variety," Mirocha says from his Golfweek offices. "That's what appeals to me so much about this job. I've been lucky enough to have two cover stories in the magazine. I write a lot of original content for the web site, and everyone here is expected to blog. And I've also done a ton of videos for the site. It's been nice to do different things-to be a utility player."
Since his hire in the spring of 2006, Mirocha has quickly earned a readership, perhaps most notably in the circles of both junior, and collegiate golf.
"I was recently working at the NCAA women's East Regional, and just to see players and coaches and parents come up to me and introduce themselves- knowing I'm from Golfweek- they read the magazine, they're on the site, they're participating on our discussion boards. People are engaged. And it just makes the job so much more fun when you know that people are reading your stuff and interested in what you have to talk about. To be able to go out in the field and meet them-that's the most fun part of it for me."
But despite his increasing national reach and voice, Mirocha remains deeply connected to Minnesota golf, as evidenced by what he directly references as his favorite assignment to date-"Minnesota: No fish stories here," which provided him (with his best friend in tow) the unique opportunity to pen a travel piece on the Brainerd Lakes Area, while playing seven of the area's top courses in a week's time. As the title suggests, some angling was involved as well, in which Mirocha concludes the piece by making modest mention of landing an 18-inch walleye.
And his appreciation of the Midwest is not limited to his work alone. Rather, with the ability to now contrast his roots with countless other golf experiences, it's readily apparent that Mirocha breathes what he writes. He explains:
"Down here in Florida, there are so many serious golfers. There could be Brandel Chamblee from the Golf Channel hitting golf balls next to me at the range. I've seen Se Ri Pak there too. In Minnesota, it's just more fun. People are wearing T-shirts. It's so much more relaxed. People say hello. You hit into some else's fairway, and they have a little joke for you.
"I've played Sawgrass, Doral, Pinehurst-all over," Mirocha concludes. "But to me, Northern Minnesota is by far the best. You're never in a rush up there. Turn off the cell phone. To me, that's the life."
In the Field
"The U.S. Open will kind of be like a 'full-circle moment' for me," Dan Mirocha told me at the onset of June. "I worked so hard to get this job with Golfweek. And now, to be coming back to Minnesota, working in the media room alongside Randy Shaver, Eric Perkins, Mark Rosen, Jim Souhan, Pat Reusse, four years ago I was looking up to them and now-although it's not like we're on an equal playing field-I'll be doing my thing while they'll be doing theirs."
On the second Open practice day at Interlachen, three weeks to the day after Mirocha and I spoke on the phone-I watch him "do his thing" in person, on his home turf. And the guy is good.
Speaking from some of my own experiences in days of yore: approaching professional athletes and hammering them with questions isn't always as easy as some of the veterans make it look., especially in golf where a journalist is approaching an athlete in his/her direct element.
That's why I found Mirocha-working the practice range with his Golfweek cameraman in tow-to be truly impressive. With a natural enthusiasm for sport and an instinctive appreciation for people, Mirocha was able to approach these athletes at the Open, to talk them into doing a taped interview in which they would be asked a series of Minnesota-related trivia questions, and in a matter of mere minutes, he was able to turn them. In just a few ticks of the robust Rolex clock overlooking the driving range, Mirocha stuck his mike before an LPGA player like Jill McGill or a golfing luminary like Patty Sheehan, and he got them talking. And more importantly: laughing.
His inquiries, "What was Jesse Ventura's nickname?" and "What is our University's mascot?" were entertaining to watch, and for these pros, seemingly entertaining to ponder. In Ms. McGill's case, here was a women just hours away from playing a major, I watched Mirocha turn the situation from a potential interview with Jill McGill, to a scenario in which he had his subject loose and talkative and silly in less than five minutes.
Impressive work from an impressive young guy that, at present pace, will have the Shavers and Rosens and Souhans of this town looking over their shoulders in ensuing years to come.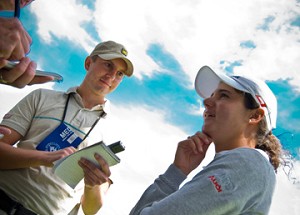 Dan Mirocha Interviews Lorena Ochoa - Photo Courtesy Mike Wolfe, Golfweek