Golf Clubs That Grow – Acculength Golf Clubs
By RJ Smiley
Kids grow like weeds and since quality junior golf clubs cost as much or more than a new bike, parents often have their children learn the game with clubs that don't fit. "Let's get the clubs a little too big she will grow into them by next season, we can get two or three years out these them" is often the thought process too often.
Shawn Benson, an entrepreneur with an eye for the future, has invented "golf clubs that grow," ensuring that the junior golfer in every family will have golf clubs that are the proper length and weight for up to five seasons. Shawn came up with the idea of "clubs that grow" about 10 years ago while watching a father and son hitting balls. His original concept was basic in its engineering, but the final product went through several changes before Shawn was satisfied.
Voted The Best New Product among all equipment manufacturers when originally launched at the PGA Merchandise Show, Acculength Golf Clubs feature a patented spacer system that allows up to four one-inch inserts to be easily added to the shaft of the golf club as a child grows in size. Based in Alpharetta, Georgia, Acculength Golf, is an acclaimed leader in junior golf and a staunch advocate of proper club-fitting – an often overlooked, but critical part of learning the game properly. Acculength Golf Clubs are available in four starter sets for junior golfers ages 3-13 and can be purchased online at www.clubsthatgrow.com. Acculength products range in price from $139 – $179, which includes four starter clubs, four one-inch spacers and a durable and attractive stand bag. Without much time or effort, each Acculength Golf Club can be extended without altering its nature or performance since each spacer becomes a permanent part of the golf club, thus preserving the integrity of the high-quality, graphite-wound shaft.
Since February, Benson and Chelle Hawn, his wife and business partner, have been aggressively activating the promotion of their game changing products. Recently, Acculength inked a soon-to-be-announced alliance with one of the world's most recognized and iconic brands. Acculength also recently developed a relationship with www.kidsplaygolffree.com, a North American directory of golf courses that allow kids to play golf free as long as they are with an adult who pays a green fee. KPGF Executive Director, R. J. Smiley, recently announced, "It is our goal to supply each member course with Acculength Clubs in a variety of sizes. Kids will be allowed to use these clubs at no cost (learn more at www.kidsplaygolffree.com) ensuring that kids, especially those new to the game, will learn with golf clubs that fit".
Go to www.clubsthatgrow.com select "buy now" and enter the promo code "kidsgolf" and automatically receive a 10% discount.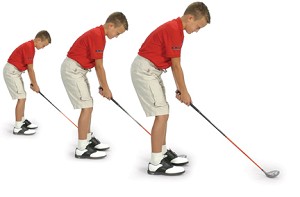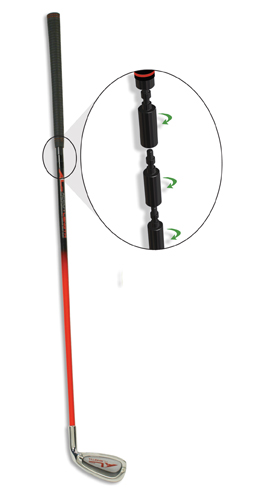 Acculength 7 Iron With Inset Image Of Spacer System