GAME CHANGERS – From the Oregon Trail to Brainerd
By Eric Hart
When those of us over 30 (barely) were kids "The Oregon Trail" was the hottest computer game on the market. That and "Bird vs. Magic." (Wow did I really just date myself there.) Today, if one were to mention the Oregon Trail, 9 out of 10 people would think they're either talking about a hiking trail in Oregon or golf. (Who knows what the other person would be thinking about?) Anyway.
The words "golf" and "trail" pretty much became synonymous when Dr. David Bronner (from Austin, MN) proposed building a ton of courses for the Retirement Systems of Alabama and connecting them all by brand to form one giant golf corporation… The Robert Trent Jones Golf Trail. Their billboards are scattered across the state of Minnesota and (having played 22 of their 28 courses in June) it really is the grandest golf entity in the country. Nothing else likely will ever compare. And that's no slight to any other trail. Not at all. Without the Robert Trent Jones Golf Trail, no one would even understand the concept of a golf trail. And yet now Louisiana has their own (the Audubon Golf Trail) and Iowa (the Iowa Golf Trail) and Utah, Nevada… and many other trails cover the country. But allow me to let you in on a little (not so) secret… the second best Trail in the entire United States is pretty close to you… right here in the land of ten billion puddles.
The Brainerd Golf Trail has been around for a while. The name doesn't resonate with people outside Minnesota (or perhaps Wisconsin) all that much because Brainerd is not really a state. Okay, it isn't a state at all. But those of us in the know, who have experienced the paradise of lakes and golf, know that there are few places we've ever visited anywhere that beat the Brainerd Lakes in the summer. Consider this… Floridians, Californians and Hawaiians come here in droves in June, July and August. They come here. Here.
And they should. The Brainerd Golf Trail consists of member courses from some of the world's greatest resorts… Breezy Point, Grand View Lodge, and Cragun's, and the cherry on top (north) is Golden Eagle. The Robert Trent Jones Trail has one non-member club in its "unofficial" rotation (Lakewood Golf Club) so I will take the same liberty for this piece with Madden's on Gull Lake. The phenomenal resort, and people who work there, deserve the recognition. That deep pool of hospitality talent provides the state of Minnesota with 7 Championship courses and arguably the best golf trail within 780 miles. (782 miles to the closest Robert Trent Jones Trail course.) Take a look at my choices for the 'best of the best' 18 holes on the 2nd Greatest Golf Trail in the United States.
Hole 1: Deacon's Lodge. Par 4. No better early morning starter. Carving right, around marsh. Wide-open tee shot, great approach, fun green. Photo Finish: The Preserve. Par 5. One of best/most elevated views in Brainerd from the 1st tee and/or clubhouse patio. (Don't recommend teeing off from the patio.)
Hole 2: The Classic. Beautiful short par 3, defended by the lake on your right, and typically a loon or two.
Hole 3: The Classic. Perhaps greatest short par 4 in Minnesota. No way to reach in one. Intelligent play rewards with more than the beauty of the lake/woods around you.
Hole 4: Cragun's (Bobby's). Uphill par 4, showcased by a bunker staircase to your left, marsh carry, and woods right. Tough, but visually so cool!
Hole 5: Deacon's Lodge. Another morning favorite. Uphill/downhill par 4 that dramatically plunges alongside Lynch Lake. Phenomenal approach. One of the few exceptions I have to my "Must See Green From Tee" rule.
Hole 6: Madden's (Pine Beach East). Only par 6 in Minnesota I've played. The design character makes playing it that much more memorable.
Hole 7: The Pines (Lakes). Cover model for this year's Sports Illustrated Golf Calendar, and deservedly so. Forced pond carry to a rock wall lined green… pond to your left, wooden wall to your right… Par 3's don't get much better than this. Photo Finish: Deacon's Lodge, one of the most scenic tee shots in Minnesota. LONG uphill par 4 with marsh pretty much everywhere.
Hole 8: Golden Eagle. Downhill par 3 with lake views.
Hole 9: The Pines (Woods). Best finishing hole at The Pines. Bending par 5 sets up your approach to an island green, waterfalls on both sides, adjacent one of the best lunch patios on the BGT.
Hole 10: Cragun's (Bobby's). Split-fairway risk/reward decision leaves you, either way, with an approach to a narrow green over a pond on this beautiful par 5.
Hole 11: The Classic. Par 4. Elevated tee shot leaves you with a memorable approach to a raised bunker-guarded, rock-wall fronted, lightning fast green.
Hole 12: Deacon's Lodge. Another nominee for "Best short par 4 in Minnesota." Elevated tee shot gives long hitters a shot at the green in one, and everyone else an easy tee shot for a short approach.
Hole 13: Cragun's (Bobby's). And another nominee for "Best short par 4 in Minnesota." Don't miss right approaching this green, towering over Legacy Lake. And watch for the two nesting Golden Eagles. Photo Finish: Golden Eagle. Magnificent downhill par 3, forced carry and pond to the left.
Hole 14: The Pines (Marsh). 5th hole (or #14 if it's your 2nd nine). Major elevation change par 3 to a skinny, pond protected, green.
Hole 15: Cragun's (Dutch). Downhill par 3 over a pond. You must carry this green, for anything short will find a watery grave.
Hole 16: Madden's (Pine Beach West). Madden's West is a par 64, tipping out at 5,000 yards, but its 16th hole would be the signature hole on most championship courses. Picture perfect par 3 over a pretty little pond. Photo Finish: Whitebirch. Another astonishing tee shot. Whitebirch's best hole. A definite must play! Photo Finish: The Classic. A troublesome blind tee shot results in a captivating approach over water and marsh to a green in the shadow of one of The Classic's incredible covered wooden bridges.
Hole 17: Cragun's (Bobby's). My 2nd favorite hole in all of Minnesota, behind #17 at the Legend at Giant's Ridge, the tee shot from the back two tee boxes is so jaw-dropping it could make a grown man cry… as could ending up short. The pursuant approach is great to a well-defended green. Photo Finish: Deacon's Lodge. One of Arnold Palmer's favorite 18 holes he designed, this lake lapped par 3 is a stunner.
Hole 18: Cragun's (Bobby's). Perhaps the best feature about this beautiful hole is the existence of a 19th hole afterwards to let you lick the wounds you'll likely acquire on #18. Play 18 smart and you'll love it. As photographic as it is punitive… Suffice it to say… we love it so much it hurts.
What is your favorite hole in Brainerd? How about in Minnesota? Let us know. We value your opinion. Unless it's different from ours! Just kidding. Email steve@teetimespress.com.



Deacon's Lodge #5 Photo Courtesy of Peter Wong Photography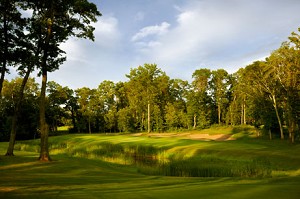 Bobby's Legacy #10 Photo Courtesy of Peter Wong Photography