Cragun's – A 9.5 Star Resort
By E. Nolan
For all the acclaim their Brainerd Lakes neighbors get, it would be easy to overlook Cragun's Resort. But that would be a significant mistake! Cragun's provides many of the same resort amenities as the others: cabins, lakeside/lake-view lodging, a spa, spectacular service and tons of water sports activities. But while they are happy to acknowledge and accept the cooperative comparisons in those categories, they believe they one up the competition when it comes to golf, and they're not alone. GolfDigest was so sold on the property as a whole that when it came to designating their star ratings for the two courses, they knew they had to give one of the courses 5 stars and the other 4.5 stars… they just weren't certain on which one should get which. While each could arguably be considered a 5 star design, in the end they gave the nod to the Dutch Legacy design over Bobby's. Why? Who knows? (Personally I prefer the other.) But while their tiebreaker method is uncertain, there is little debate about the quality of each of these Robert Trent Jones, Jr. designs. And when ONE resort has TWO such superfluous designs, both Audubon Certified, on one property, imagine what it says about their golf packages.
My editor insisted that I "Stop imagining and ask around." So I did. For the purpose of this piece I drove around the courses last summer and polled about thirty golfers on what they loved the most about Cragun's and, in particular, the golf. Dave and Mary Thompson (mostly Mary) from Kansas City, Missouri (claims I mispronounced Missouri) were more than happy to opine. "All the personal touches; from the service at the hotel, to the greeting at the golf course. The inscribed bag tags and social activities they always have going on in the clubhouse. We never know what we're going to get, but we always know we're going to get something extra. They know how to make you feel special. All of that for a great rate!" (Are you in marketing Mary?) What about the golf… Dave? (Mary again.) "We love it. I prefer the Dutch course, while Dave prefers Bobby's." I look to Dave for confirmation but Mary even nods for him. Favorite hole? (Mary again.) "Three or twelve on Dutch. The two beautiful holes on Legacy Lake." (Pretty sure she mispronounced Legacy.) Thank you… Mary. Moving on.
A foursome of guys, the final foursome in a larger group of 15 guys is next. John Daniels (no relation to Jack) from St. Paul loves the fact that you can bring so many golfers up from the Twin Cities and fit in anywhere any day, even on weekends. "It's full, but there's always space. You know?" (I think so.) "We can play 18 on one course in the morning, and fit in 18 on the other in the afternoon, and then, with their golf package, we can play their Reversible 9 hole course the next morning (or whenever you want) for FREE to settle all our bets… and still make it back to the Cities without taking a day off work." (I considered interrupting him to explain what a run-on sentence was but I don't think he'd have cared.) Hopefully his enthusiasm is as transparent in print as it was in person. Mark Peters from just across the Mississippi River, in Hudson, Wisconsin (another member of that foursome) asked me what my favorite hole at Cragun's was. "No question… #17 on Bobby's. I consider it the second most scenic hole in the entire state of Minnesota." (Behind only #17 at the Legend at Giant's Ridge.) When I reversed the question on these guys their responses were so varied and so lengthy I'd need another page. (Although my favorite response was Mark's "Whichever one I hole out with the same ball I teed off with.")
In essence, Cragun's has an abundance of special holes. Of the thirty people I asked, there were several holes that received multiple votes. On Dutch people tend to love the dogleg 3rd with Legacy Lake to the right, the split-fairway 11th, and scenic par 3 12th (that I call "Loons Landing" because I ALWAYS see a loon there.) Thirteen and 16 are always "glass half-somethings." Loved for their unique beauty around all the marshland, hated for their knack in racking up scores. On Bobby's there is the epic trio ending the first nine, with two very scenic par 3's bookending a crazy difficult but super fun water and hill guarded green. The dramatic drop on the par 3 9th to a green surrounded by water is a consensual favorite, as is the approach shot to another water-guarded green on 10. But with all that said, the best holes on the property are yet to come, in the unforgettable par 4 13th, personal favorite 17th with its enormous panoramic carry, and the horseshoe/wraparound 18th that you'll want to drive back and replay instantly. While that is likely not possible, given the tee sheet demand, the resort was kind enough to build a 19th hole to end Bobby's… "The Gambler's Hole"… a little par 3 with big bite, that will lead you contentedly back towards the clubhouse.
Looking into these superior "golf packages" I found they really do go above and beyond what you'd expect. Their "5-Star Package" (April 12th – October 20th) offers "1-night/1 round" combos with breakfast and dinner. These packages are extremely flexible and allow you to add as many nights and rounds as you'd like. (An added bonus is the option of booking rounds at other neighboring courses like The Classic and Deacon's Lodge.) Awfully enticing! And yet, no matter how enticing those options got, nothing seemed to compare, to us or the people we spoke with, to their incredible "Unlimited Play & Stay Packages", with unlimited golf, breakfast each morning and dinner off the menu each night. Management informed us these are most popular for many golfers in the Twin Cities and we didn't see the need to ask why. The reasons were as obvious as picking Georgetown over Florida Gulf Coast College. No brainer. (But this way you'd win.)
Make the short ride up on Friday after work (still arriving before dark) have dinner, spend the night in a cozy lakeside room, golf all day Saturday, be pampered again Saturday night, and play away the day on Sunday, pack up, get home, and feel refreshed and de-stressed. (Have Monday off? – Take advantage of their Super Sunday Special (May 19-September 22) with lodging in a Lakeview Fireplace Room, 45 holes of golf, dinner Sunday night and breakfast Monday morning… and, while I don't like putting rates in my reviews, I can't help it with this one… You get all of that FOR ONLY $169. $ONE-SIX-NINE!) Uh… wow! Here's to taking several Mondays off this year!
Turns out it doesn't matter who you ask… management, visitors, media or your mom. Whoever has been to Cragun's knows the incredible value they provide on and off their spectacular golf courses. With the amenities they provide, and the packages available it behooves you to not explore your personal calendar and find at least one weekend this year to get up there. If my editor approves my request for Mondays off for the remainder of 2013, you might find me and my tent on the back tee box of Bobby's #17. Just don't tell the management I'm out there. It will be our little secret!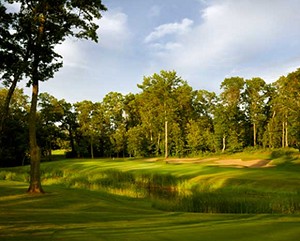 Bobby's Legacy #10 Photo Courtesy of Peter Wong Photography

Bobby's Legacy #12 Photo Courtesy of Peter Wong Photography